14 September–20 October 2019 Preview: Friday 13 September 6.30–8.30pm
Offer for Sale is an exhibition that looks at John Latham's conceptual understanding of art and economics shaped by his involvement in the Artist Placement Group. Central to the exhibition is a reconstruction of the previously lost seminal work Offer for Sale (1974).
Offer for Sale is a radical proposal, a financial report detailing the activities of the Artist Placement Group and presented to the Arts Council on the occasion of the 1971–72 Hayward Gallery exhibition inn7o – Art & Economics. It was then represented for exhibition as a display structure at The Gallery, London in 1974 with the support of the then artist-directors, Nicholas Wegner and Vaughan Grylls.
Using original archival documents and artworks, this exhibition contextualises this artwork within Latham's understanding of economics including exposition on the alternative to pound sterling 'unit of attention' Latham designated as 'delta' (Δ).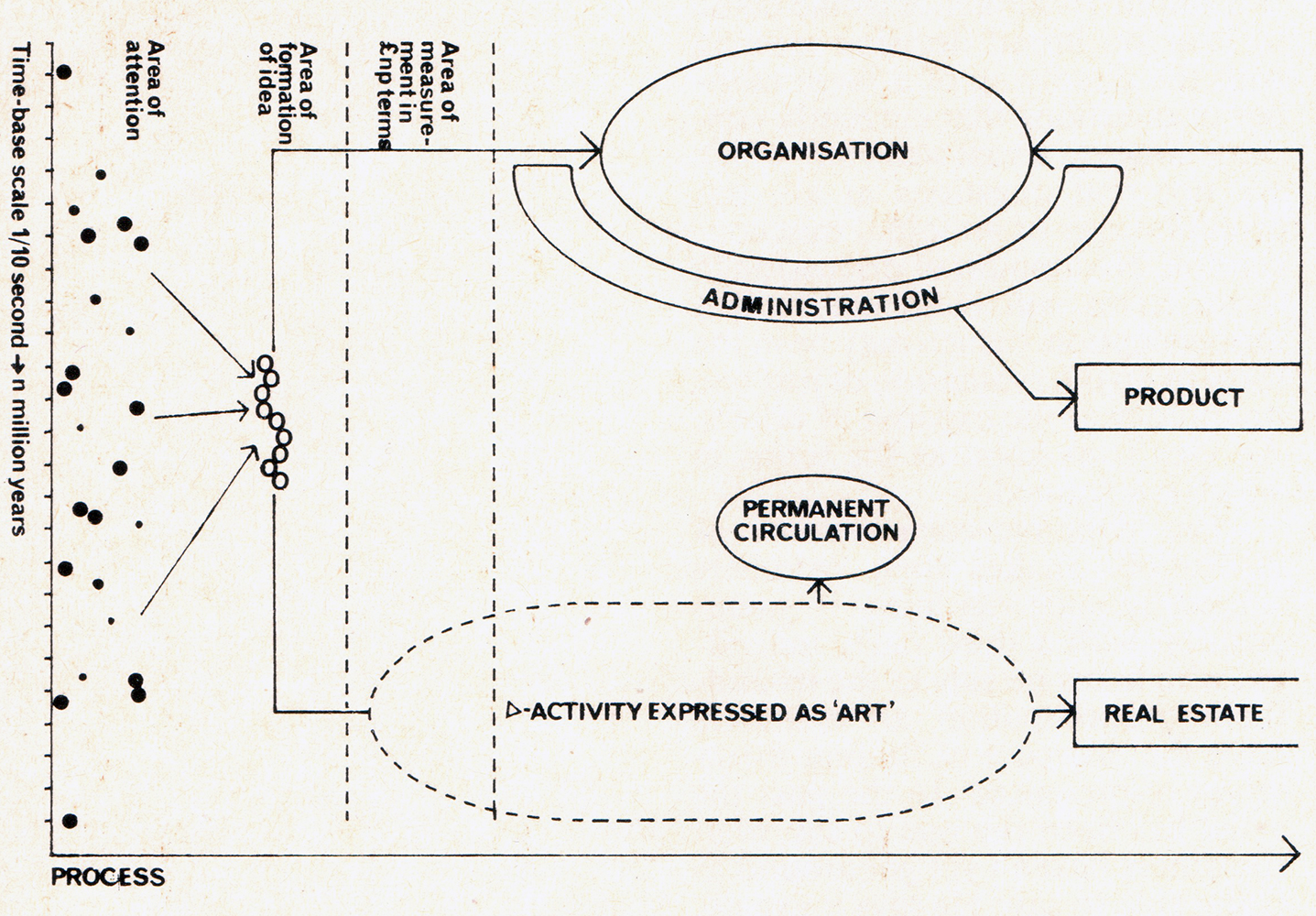 Image: John Latham, diagram from Δt and the relevance to 'the economy' by our noit correspondent from inn70, records of an exhibition located in the period 1970/1971 and culminating at the Hayward Gallery, organised by Artist Placement Group and printed by courtesy of Studio International  
EVENTS
ENVIRONMENT AND INDUSTRY:
A CONVERSATION BETWEEN CURATOR ESTHER MOERDLER AND ARTISTS KATY CONNOR AND ANDREA KHÔRA
Thursday 19 September 7–9pm
How do we start to rethink how we approach discussing climate change, and consider issues of timeliness, urgency, and ethics? This conversation will explore how artists and curators are reflecting on and reacting to the climate crisis. More information here. Free but booking recommended, please book through eventbrite here.
NICHOLAS WEGNER AND VAUGHAN GRYLLS IN CONVERSATION WITH GARETH BELL-JONES
Thursday 10 October 7–9pm
Between 1973 and 1978 artist Nicholas Wegner presented a succession of seminal exhibitions at his studio in Lisson Street, London. Under the banner of 'The Gallery', these projects confronted current trends in the art world, including Performance, Body, Land and Theoretical art. As well as working with artists including John Latham, Rita Donagh, Gerald Newman and Stephen Willats, The Gallery also, more originally, exhibited companies including German manufacturers H. Stoll and Co., Hasselblad Cameras and Artforum Magazine.
A partnership with artist Vaughan Grylls between 1974 and 1975 resulted in a series of exhibitions utilising modular display units and with a distinct graphic identity. This included the re-working of John Latham's Offer for Sale, a typically radical proposal in a series that also included socio-political subjects such as Drug Abuse in Maine and Belfast In Art. Free but booking recommended, please book through eventbrite here.
A recording of this event is available to listen here
DAVID RAYMOND CONROY
DEVELOPING NEW AUDIENCES FOR CONTEMPORARY ART
Friday 18 October 2018 Doors 7pm, Presentation 7.30pm
A short presentation about Artist Placement Group and the Arts Council
"Looking at the Art's Council's current funding criteria we can see that developing new audiences is their primary concern. Strangely there is nothing mentioned in their literature about existing audiences, about art for people who have already decided they like art; the entire drive of the Arts Council is give artists money only if they are taking the Arts Council logo to new people, people who, for the moment at least, don't have any interest in art. Perhaps these people can be convinced that they do in fact like art if they are shown art that is really nothing like the art that the people who like art like, but is instead an awful lot more like something else." Information Here
AERIAL LANDSCAPES
Saturday 19 October 12–4pm
A one day event focusing on contemporary artists' engagement with the Five Sisters' Bings and specifically Latham's approach to site from above as manifested in his 1975–76 APG placement with the Scottish Development Office. With contributions from Joy Sleeman, Katherine Jackson, Nicky Bird and Onya McCausland. More information here. Free but booking essential, please book through eventbrite here.
This exhibition coincides with the culmination of the Incidental Unit's Incidental Futures touring programme which through 2019 has explored the ongoing relevance of the APG's ways of working at meetings at organisations throughout the UK. On Friday 13 September a study day will explore historical examples of Artist Placement Group to consider how these experiments anticipated key challenges presently facing art, artists, the worlds of art and beyond. On Saturday 14 September, a curated assembly will convene contemporary practices inspired Artist Placement Group. Activated by their artist practitioners, each instance will highlight the long-term impact of the Artist Placement Group on cultural production across the UK. For more information click here.
The Gallery (1973–1978) was formed by artist Nicolas Wegner at his studio in Lisson Street, London and presented over 40 projects including exhibitions with Vaughan Grylls, John Latham, John A. Walker, Rita Donagh, Gerald Newman, Stephen Willats, Tony Rothon and Jonathan Miles. In partnership with Vaughan Grylls in 1974-75 The Gallery exhibited companies H. Stoll and Co., Reuitlingen Germany, Hasselblad Cameras and, in 1976, Artforum Magazine NYC.
The Artist Placement Group (APG) was conceived by the artist Barbara Steveni in 1965 with the original concept of expanding the reach of art and artists into commercial and industrial concerns, government agencies and organisations of all kinds, at all levels, including decision-making, and on a basis equivalent to any other engaged specialist. Its founding artists were Barry Flanagan, David Hall, John Latham, Anna Ridley and Jeffrey Shaw. APG became a Company Limited by guarantee as the Artist Placement Group in 1970.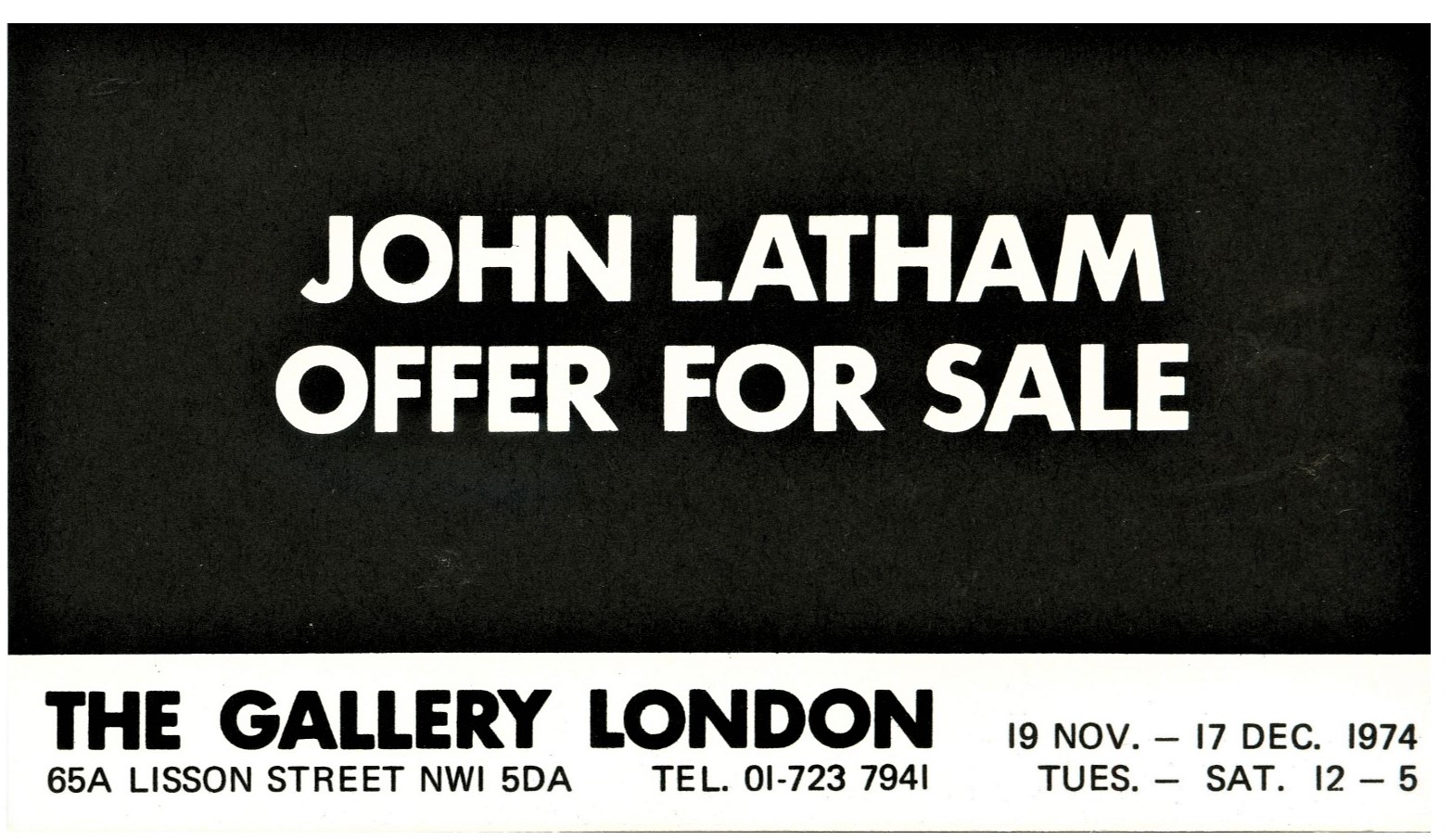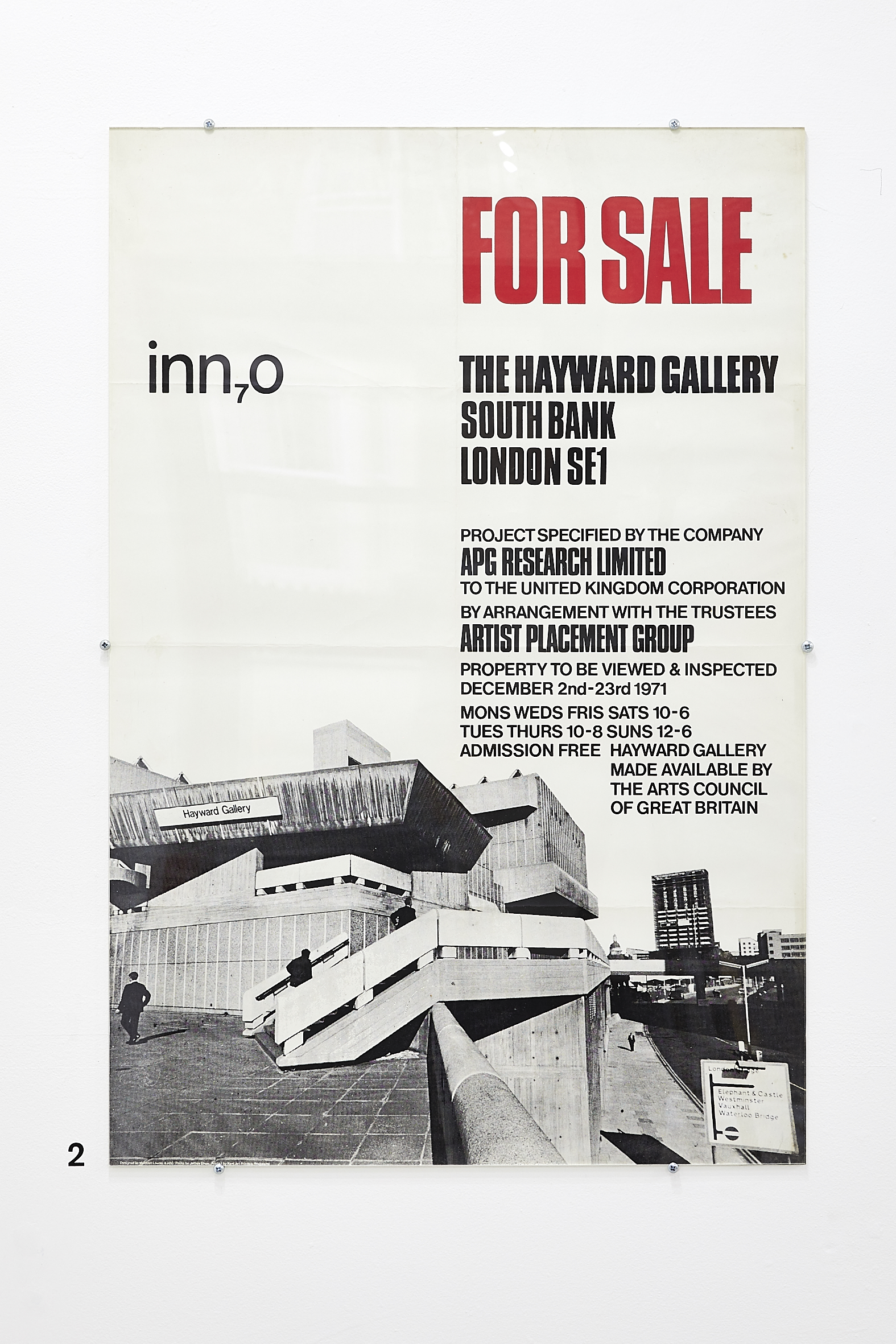 Poster for inn₇o – Art & Economics organised by Artist Placement Group at the Hayward Gallery, 1971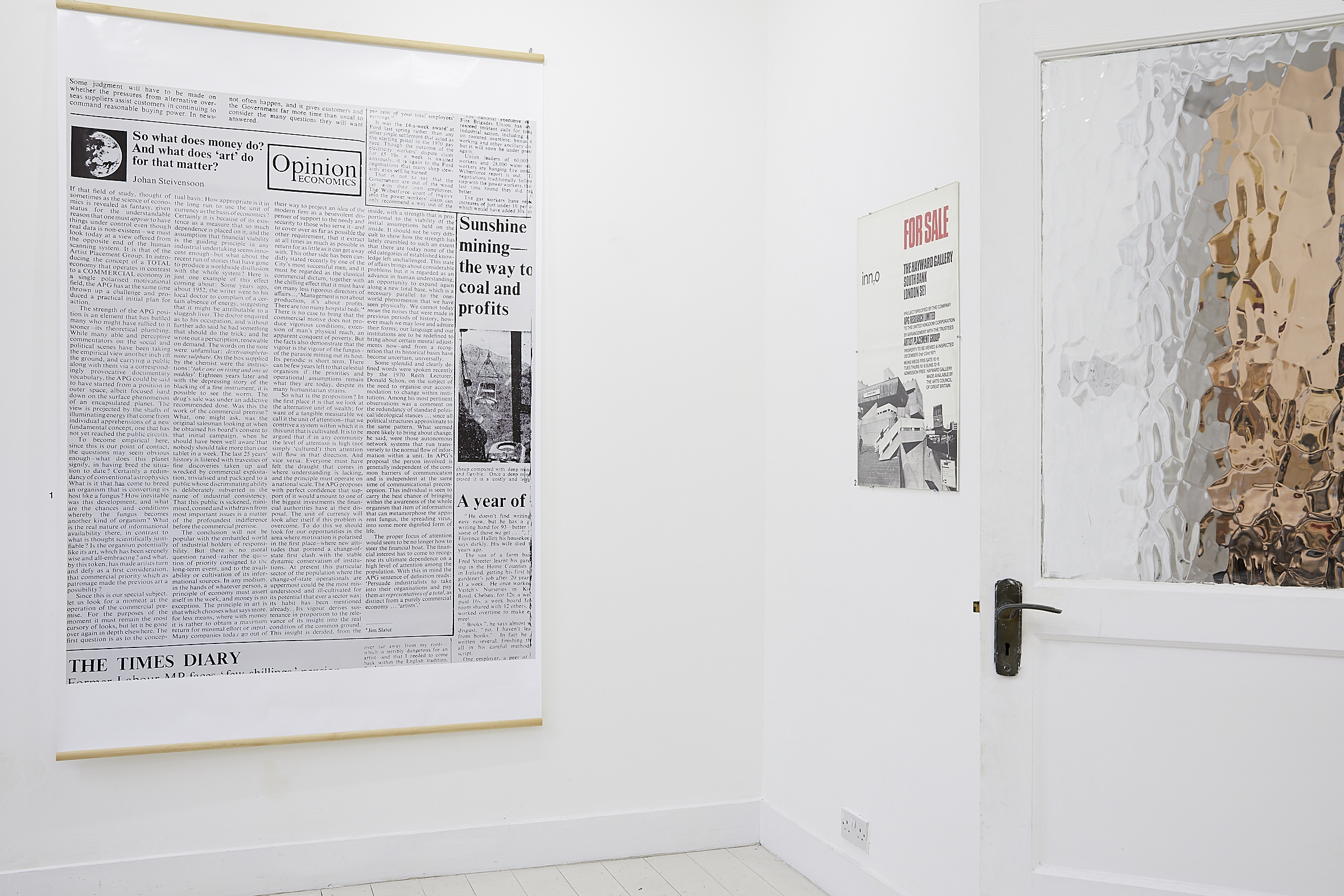 l–r Artist Placement Group, Art as Social Strategy – Artists negotiate the commercial premise, 1970–71. Reproduction banner depicting insert from Studio International, including article by John Latham under moniker Johan Steviensoon: 'So what does money do?'
Poster for inn₇o – Art & Economics organised by Artist Placement Group at the Hayward Gallery, 1971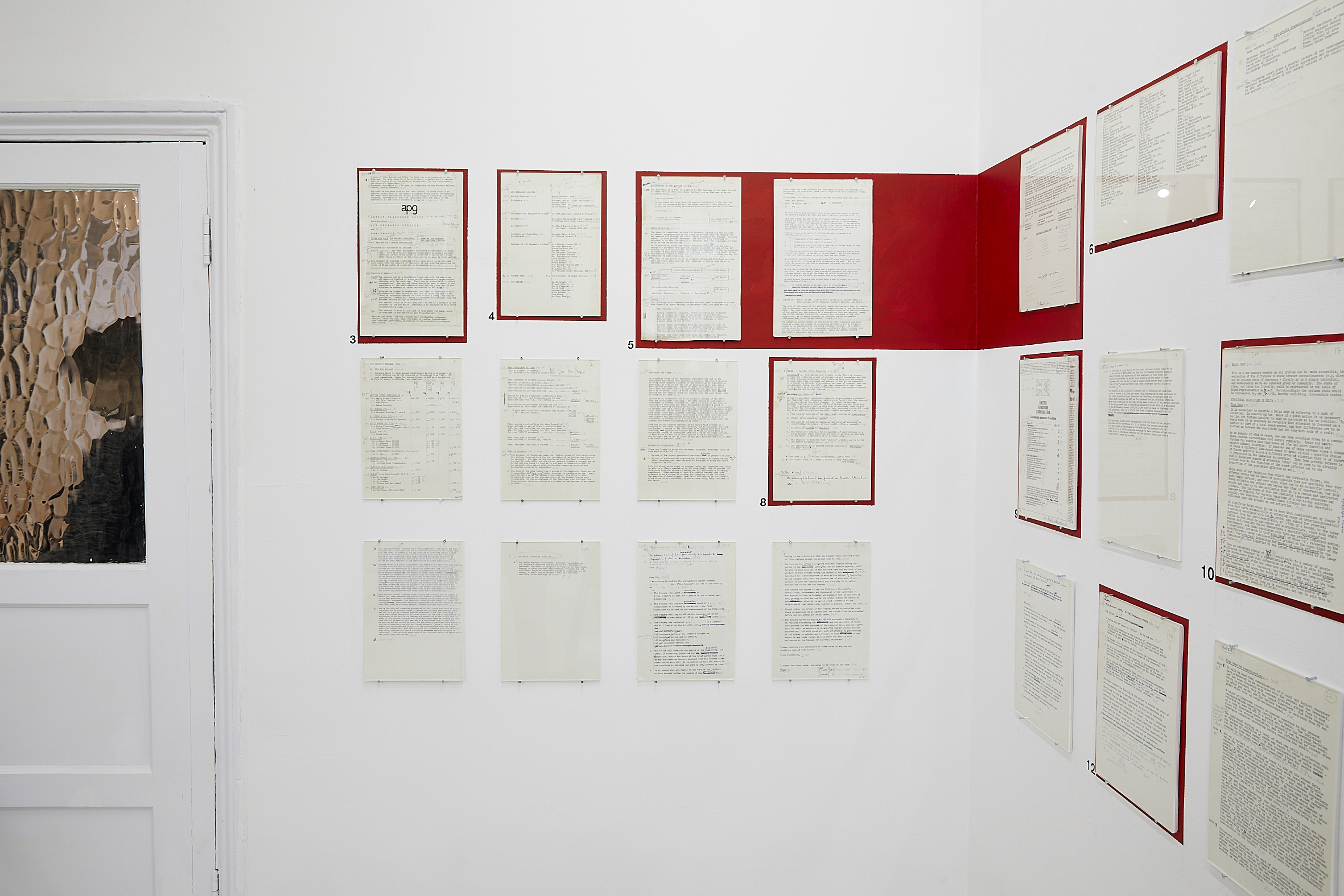 Offer for Sale Draft copy including annotations, 1971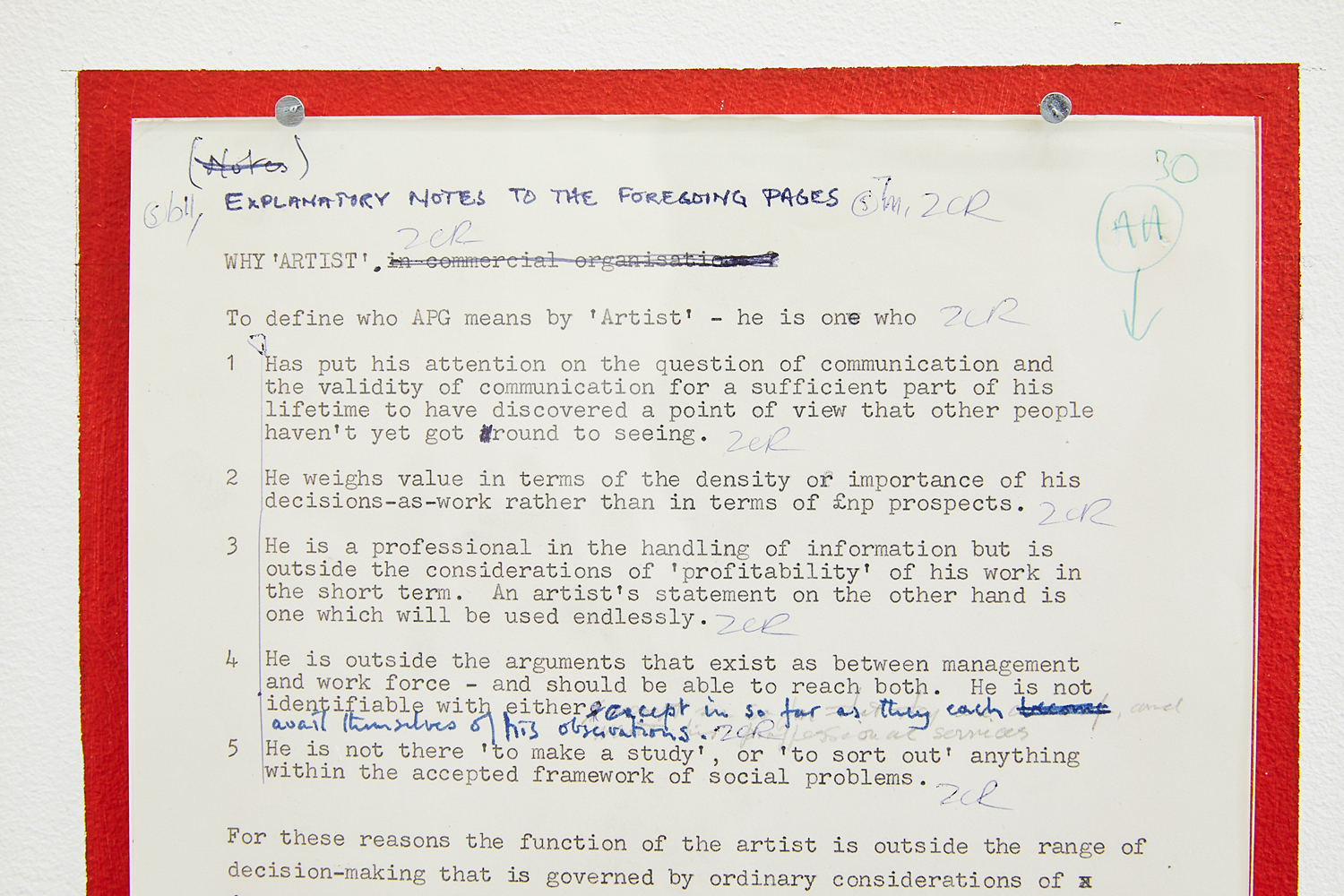 Explanatory notes on the 'Function of the Artist': 'The artist is outside the range of decision-­‐making that is governed by ordinary considerations of day-to-day or even annual accounts … he is radically different to an employee.'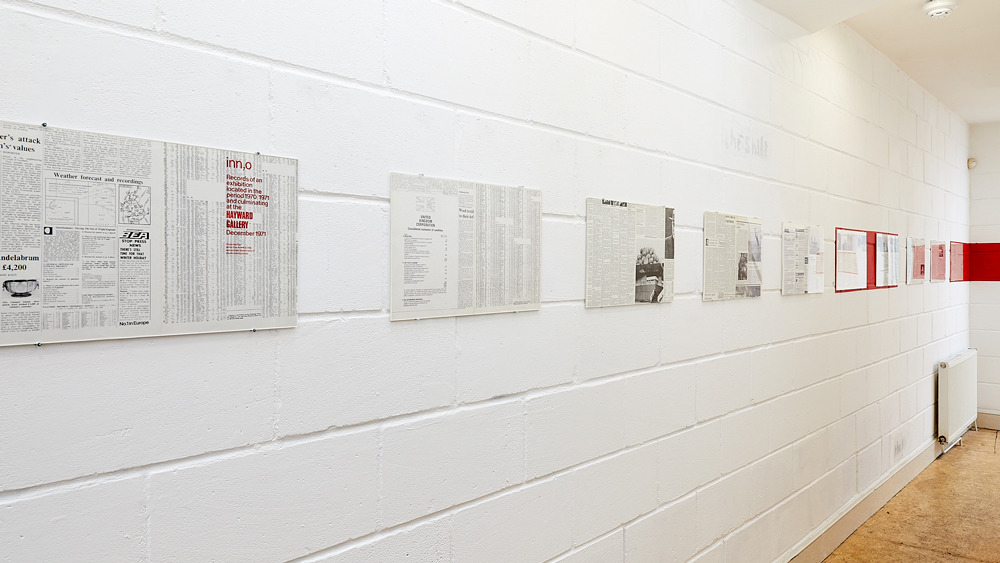 Artist Placement Group, catalogue for inn₇o – Art & Economics organised by Artist Placement Group at the Hayward Gallery, 1971. Front and back cover and fifteen page spreads, originally published as inserts in Studio International between April 1970 and December 1971. Courtesy Barbara Steveni Archive.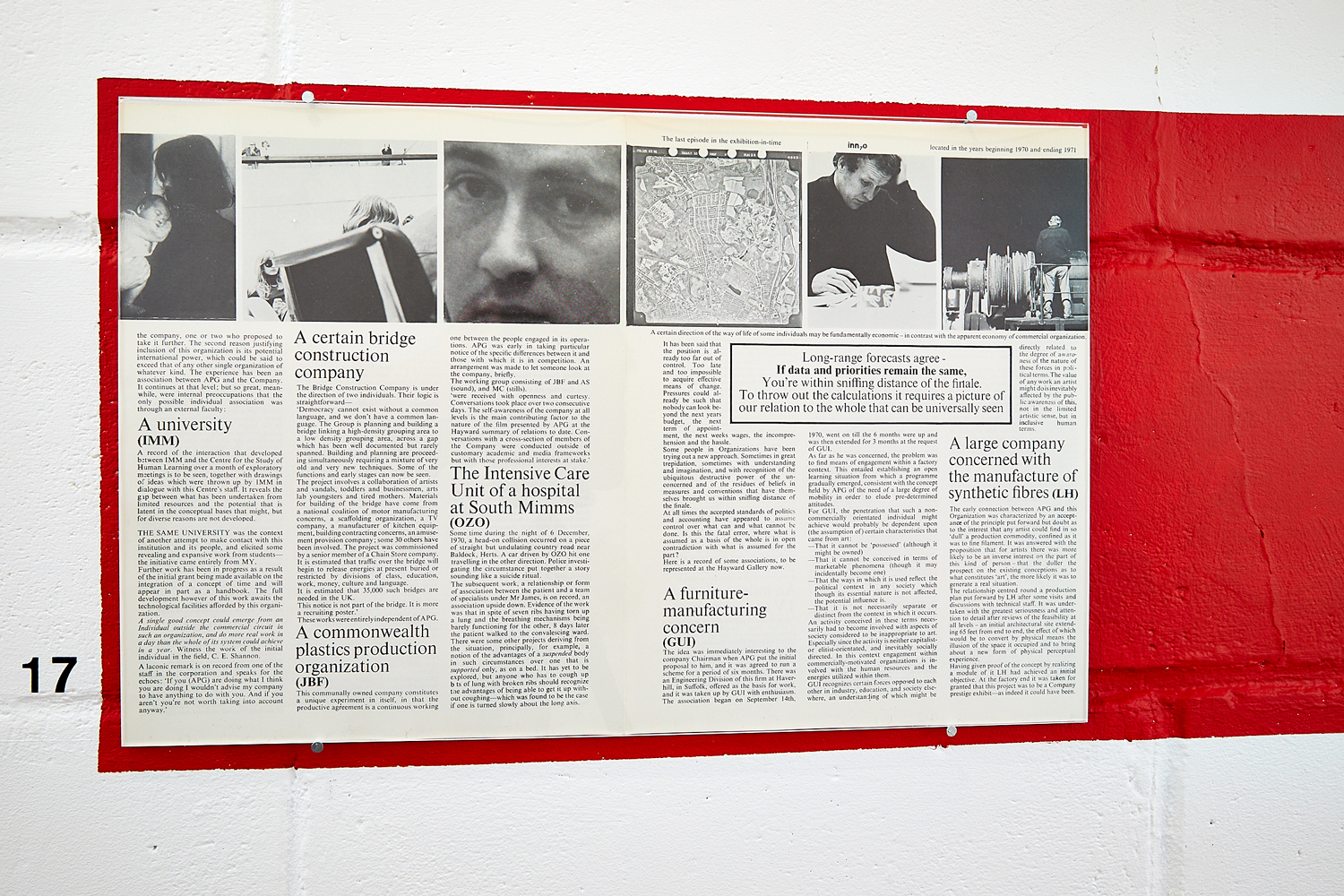 Insert outlining APG Placements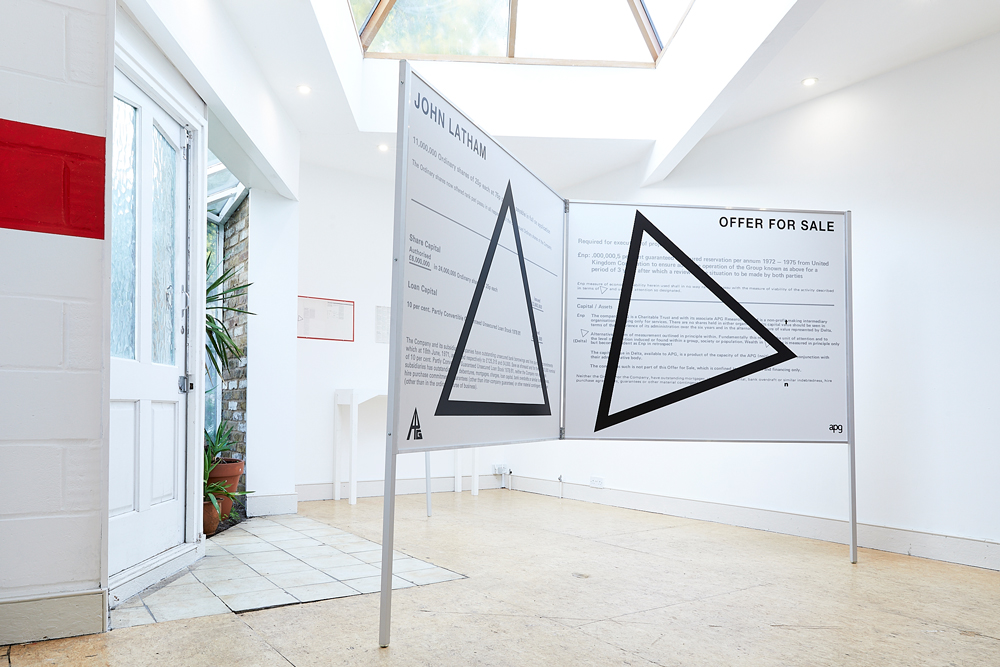 John Latham, Offer for Sale, 2019 reproduction of 1974 original. Display © N. P. James/Vaughan Grylls, The Gallery.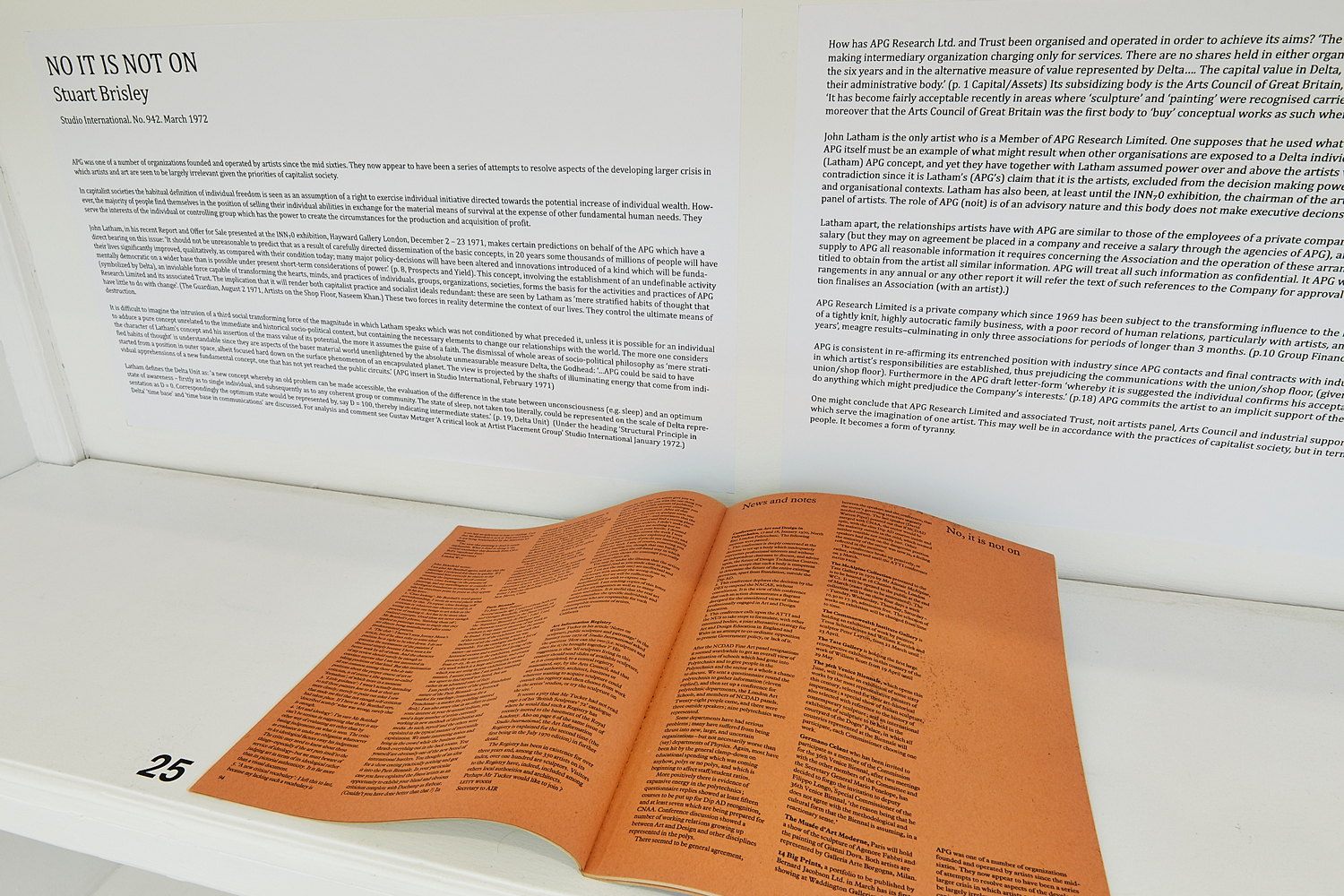 'No It Is Not On', Stuart Brisley, article relating to the Artist Placement Group published in Studio International March 1972. Transcription presented alongside original publication.
All photographs Jean-Philippe Woodland