Saturday 19 October 12–4pm
A one day event focusing on contemporary artists' engagement with the Five Sisters' Bings and specifically Latham's approach to site from above as manifested in his 1975–76 APG placement with the Scottish Development Office. With contributions from Joy Sleeman, Katherine Jackson, Nicky Bird and Onya McCausland.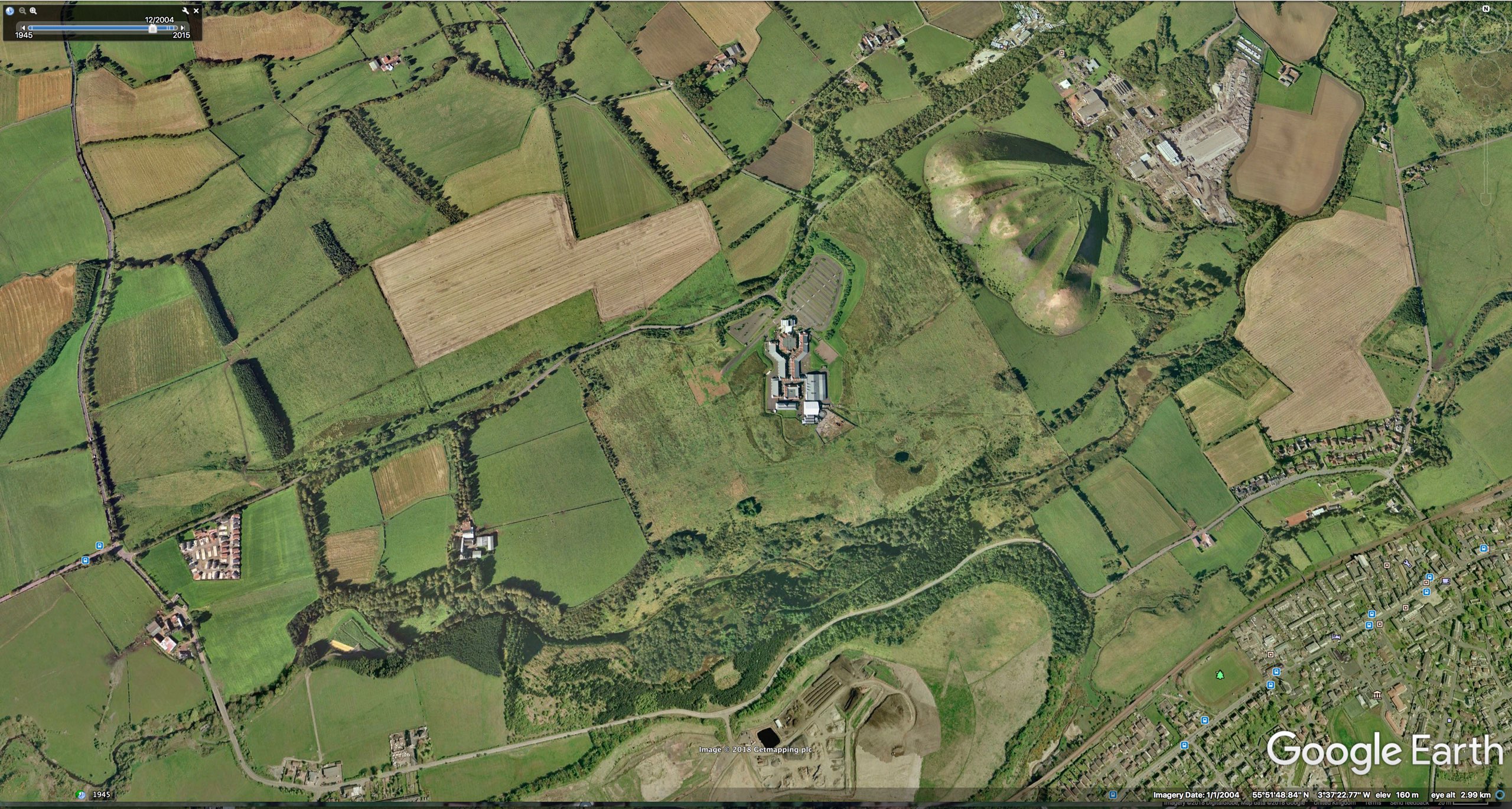 Whilst on placement as part of the Artist Placement Group with the Scottish Development Agency in the 1970s John Latham was invited to suggest solutions for the problem of derelict land outside Edinburgh. When asked 'from which perspective would he be looking at Scotland', he apparently pointed to a map of the country and responded 'from this distance'. The aerial viewpoint, from war-time reconnaissance photography to our contemporary dependence on satellite navigational systems such as Google Earth, allows for a new consideration of the Earth's aesthetic form; a perspective so compelling that it inspired artists from the 1960s, most significantly John Latham, to consider the site itself a work of art. However as conceptual art, land art and minimalism developed, the formal qualities of site became increasingly linked to its materiality, its complex natural, social and economic context could only begin to be understood through the holistic perspective of the aerial.
This event brings together artists and art historians who have developed research and practices born from a focused examination and integration of landscape and land use in relation to the aerial view. In the year celebrating the 50th anniversary of the moon landings, and as Google Earth becomes increasingly ubiquitous, this event will explore how visions of the Earth through the aerial have shaped consciousness and our sense of place and experiences of landscape. Building on evidence and material housed at the John Latham archive at Flat Time House this event presents significant current research findings and artworks that foreground consideration to longer temporal spans that question the idea that memory acquires depth when entangled with the physicality of site. 
This is a one day conference/symposium where invited speakers will present their research in the form of papers, performance and artwork, followed by a panel discussion and questions from the audience.
Free but booking essential, please book through eventbrite here.
Katherine Jackson is a doctoral candidate whose institutional affiliation is University of British Columbia, Vancouver, Canada. Her thesis is on the Artist Placement Group, whose founders included Barbara Steveni and John Latham. 
Nicky Bird is Reader in Photography Glasgow School of Art. Her work investigates the contemporary relevance of found photographs, the hidden histories of archives and specific sites.
Joy Sleeman is Professor of Art History and Theory at the Slade School of Fine Art, whose research concerns the histories of sculpture and landscape, especially 1960s Land art. A current project, 'Future Land Art' concerns both the future of Land art and notions of futurity and anticipation in Land art from the 1960s and 1970s.
Dr. Onya McCausland is Leverhulme ECR fellow at the Slade School of Fine Art. Her practice exploits access to satellite navigational systems to examine perception of landscape with a particular focus on viewing materials and processes underway in otherwise hidden ex-coal mine sites across the UK.
This will be followed by the launch at the Slade Research Centre of an accompanying publication that collates material generated form the first event. A screening of archival film footage from the John Latham archive will take place and the event will include discussion and debate with an invited panel of artists, scientist and curators. More information and date TBA.