THE BARD

WILLIAM BLAKE AT FLAT TIME HOUSE
30 January–8 March 2020
Opening 29 January 6–8.30pm with a reading from William Blake's Jerusalem by poet Chris McCabe.
With contributions from Keith Jarrett, Chris McCabe, Niall McDevitt, Robert Montgomery, Karen Sandhu, Iain Sinclair and Tamar Yoseloff 
Curated by Chris McCabe in partnership with Flat Time House and Magnus Rena of the Sir Denis Mahon Foundation
This exhibition gives a unique opportunity to view Blake's work in the domestic environment of Latham's home – the 'living sculpture' of Flat Time House and embodiment of Latham's worldview. The show is also an opportunity to bring Blake back to Peckham, at a site close to the Rye where, as a young boy, he had his vision of "a tree filled with angels, bright angelic wings bespangling every bough like stars."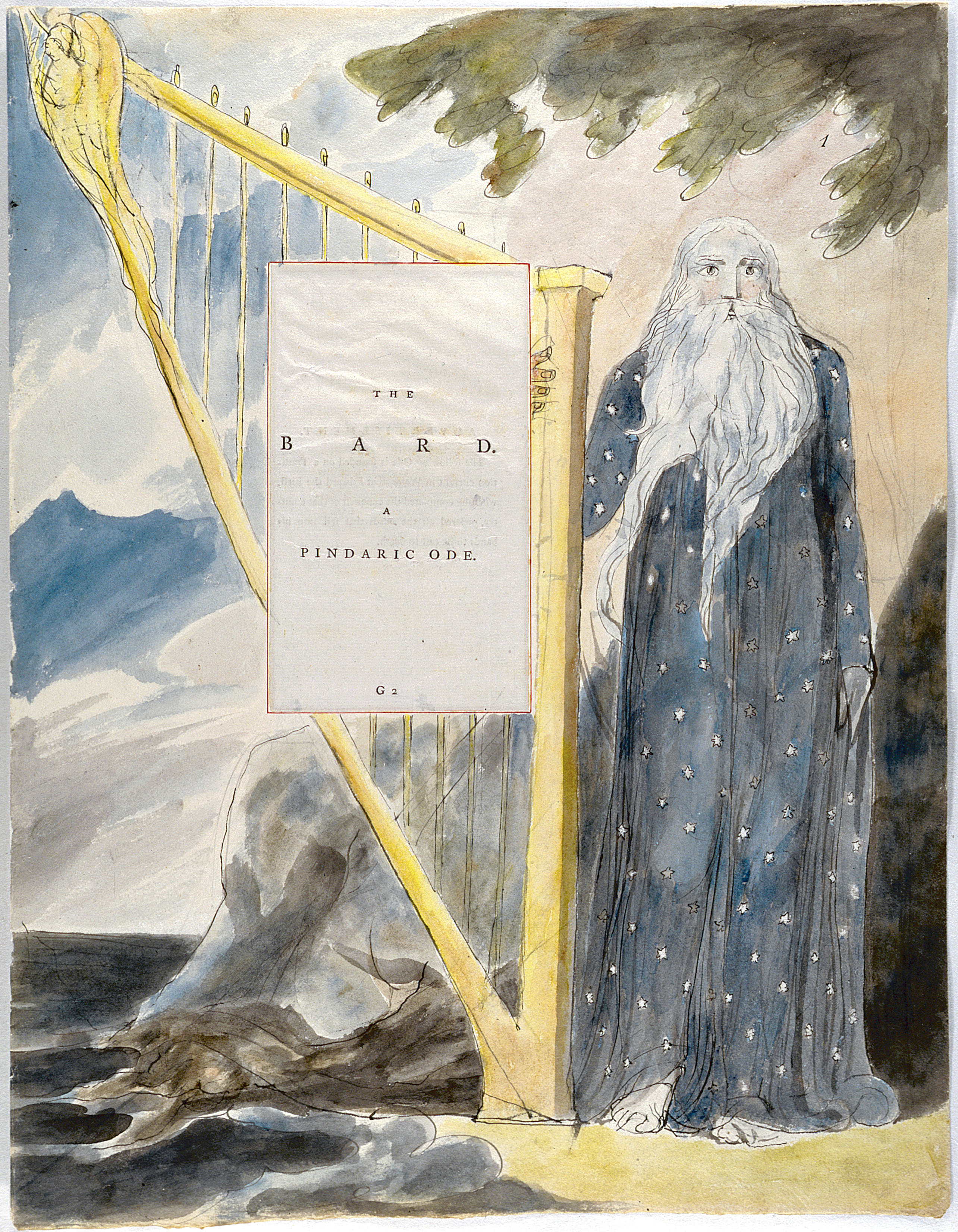 Image: Title-page of The Bard illustrated by William Blake, c. 1798, one of a set of 14 sheets, collotype and hand-colouring on wove paper with separately printed paper (unbound). Part of William Blake watercolour designs for the Poems of Thomas Gray, published by Trianon Press for the William Blake Trust, London 1972
The two series of works by Blake, from a private collection, generously lent for this exhibition by The Sir Denis Mahon Foundation, are prints by Blake in which he illustrated two poems by Thomas Gray, 'The Bard' and 'The Fatal Sisters'.  They were commissioned in 1797 by Blake's friend, the sculptor John Flaxman and produced over the following year. Blake mounted Gray's poems to windows cut into large sheets of paper, then drawing and colouring his designs to surround the text. The full series is regarded amongst Blake's major achievements as an illustrator. Throughout the series Blake emphasises the importance of imagination at work in the world through inspired acts of reading, writing, and performing music.[1]
Thomas Grey's poem, The Bard, was itself a potent influence on future generations of poets and painters, seen by many as the first creative work of the Celtic Revival and as lying at the root of the Romantic movement in Britain. Blake's Gray works were pretty much unknown until 1919 and the twentieth century reprint as hand-coloured collotypes are significant in playing an important part of the process in making the piece more widely known.
Alongside these works, poets, writers and artists using language, have been commissioned to reflect on the contemporary relevance of Blake and Latham's work. Blake and Latham each created complex, esoteric and all-encompassing cosmologies, which examined the nature and structure of the universe from within the constraints of daily life.  The poetic responses to their ideas are presented alongside the artwork and written word by Blake, within the context of Latham's home and in Peckham, a spiritual home for Blake.
Accompanying the exhibition is a programme of recitals, guided walks and performances featuring contributions from poets, writers and artists:
Wednesday 19 February - POETS IN RESPONSE TO BLAKE: Chris McCabe, Niall McDevitt, Karen Sandhu and Iain Sinclair
Wednesday 26 February - POETS IN RESPONSE TO BLAKE: Keith Jarrett, Chris McCabe, Robert Montgomery and Tamar Yoseloff
Sunday 23 February - WILLIAM BLAKE WALK OF PECKHAM: with Chris McCabe and Niall McDevitt 
[1] The William Blake Archive. Illustrations to Gray's poems (Composed c. 1797-98). Retrieved from http://www.blakearchive.org/work/but335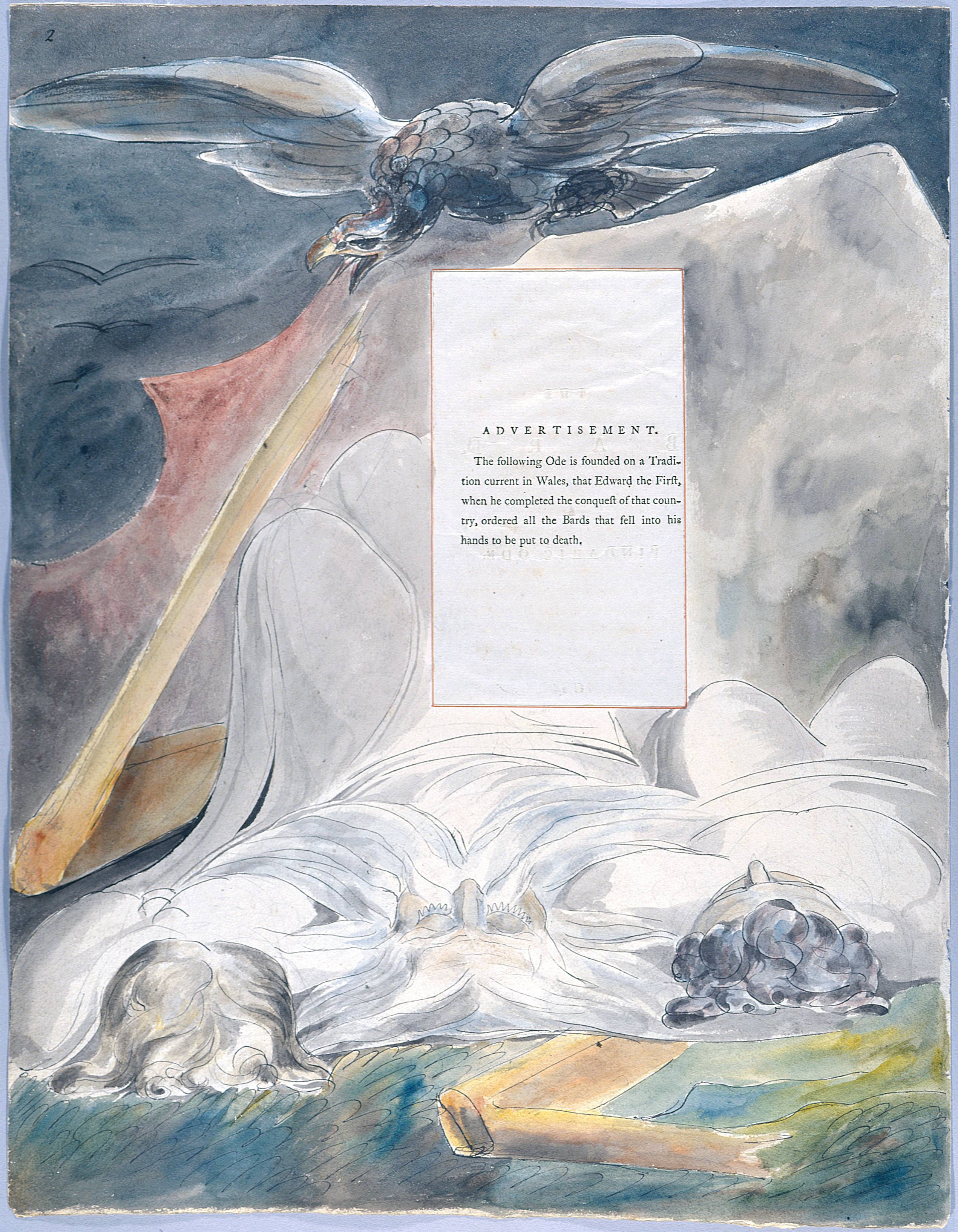 William Blake (28 November 1757 – 12 August 1827) was an English poet, painter, and printmaker. Largely unrecognised during his lifetime, Blake is now considered a seminal figure in the history of the poetry and visual arts of the Romantic Age. What he called his prophetic works were said by 20th-century critic Northrop Frye to form "what is in proportion to its merits the least read body of poetry in the English language". His visual artistry led 21st-century critic Jonathan Jones to proclaim him "far and away the greatest artist Britain has ever produced". In 2002, Blake was placed at number 38 in the BBC's poll of the 100 Greatest Britons. While he lived in London his entire life, except for three years spent in Felpham, he produced a diverse and symbolically rich œuvre, which embraced the imagination as "the body of God" or "human existence itself".
Chris McCabe's work crosses artforms and genres including poetry, fiction, non-fiction, drama and visual art. He was shortlisted for the Ted Hughes Award in 2013 and his five collections of poetry include The Triumph of Cancer (Penned in the Margins, 2018), which is a Poetry Book Society Recommendation. His first novel, Dedalus, was published by Henningham Family Press in 2018 and was shortlisted for the 2019 Republic of Consciousness Prize. His latest novel is Mud, a version of the Orpheus and Eurydice myth, set beneath Hampstead Heath. His non-fiction work includes an ongoing series of books which document his search to discover a great forgotten poet in one of London's Magnificent Seven cemeteries; titles include In the Catacombs (2014), Cenotaph South (2016) and the The East Edge: Nightwalks with the Dead Poets of Tower Hamlets, all published by Penned in the Margins. He is the co-editor of The New Concrete: Visual Poetry in the 21st Century (Hayward Publishing, 2015) and the editor of Poems from the Edge of Extinction: An Anthology of Poetry in Endangered Languages (Chambers, 2019). He works as the UK's National Poetry Librarian.
Sir Denis Mahon (1910–2010) was one of the most distinguished art historians and collectors of the 20th century, and a determined campaigner and philanthropist. The Sir Denis Mahon Foundation was created by Sir Denis in his lifetime. It aims to continue Sir Denis's philanthropic work, his art historical research and his passionate promotion of young scholars. It promotes his art collection and lifelong work and studies to the general public, organises exhibitions, supports museums, and also endows two annual prizes for young scholars and artists.

This exhibition and events programme is made possible by the generous support of The Sir Denis Mahon Foundation.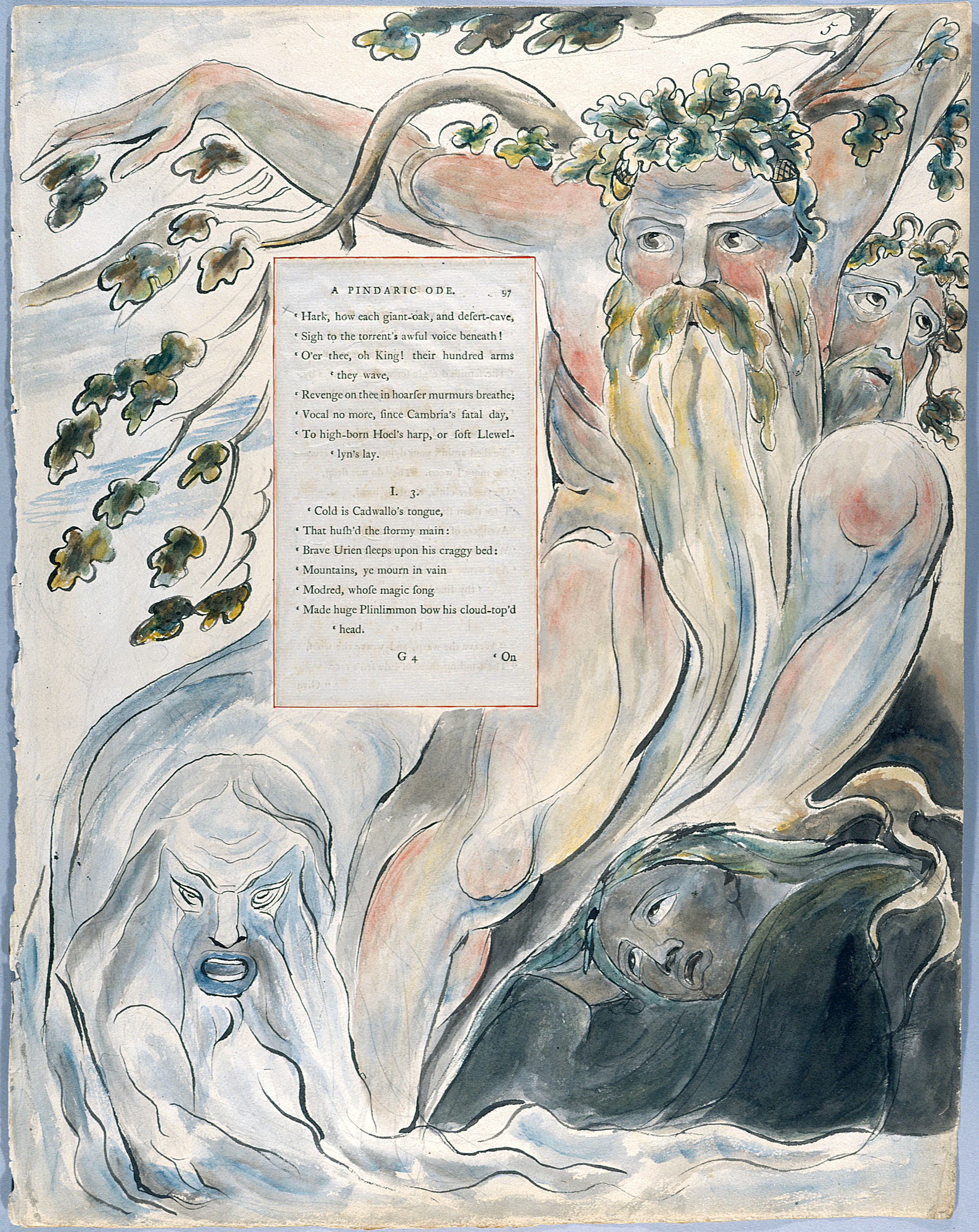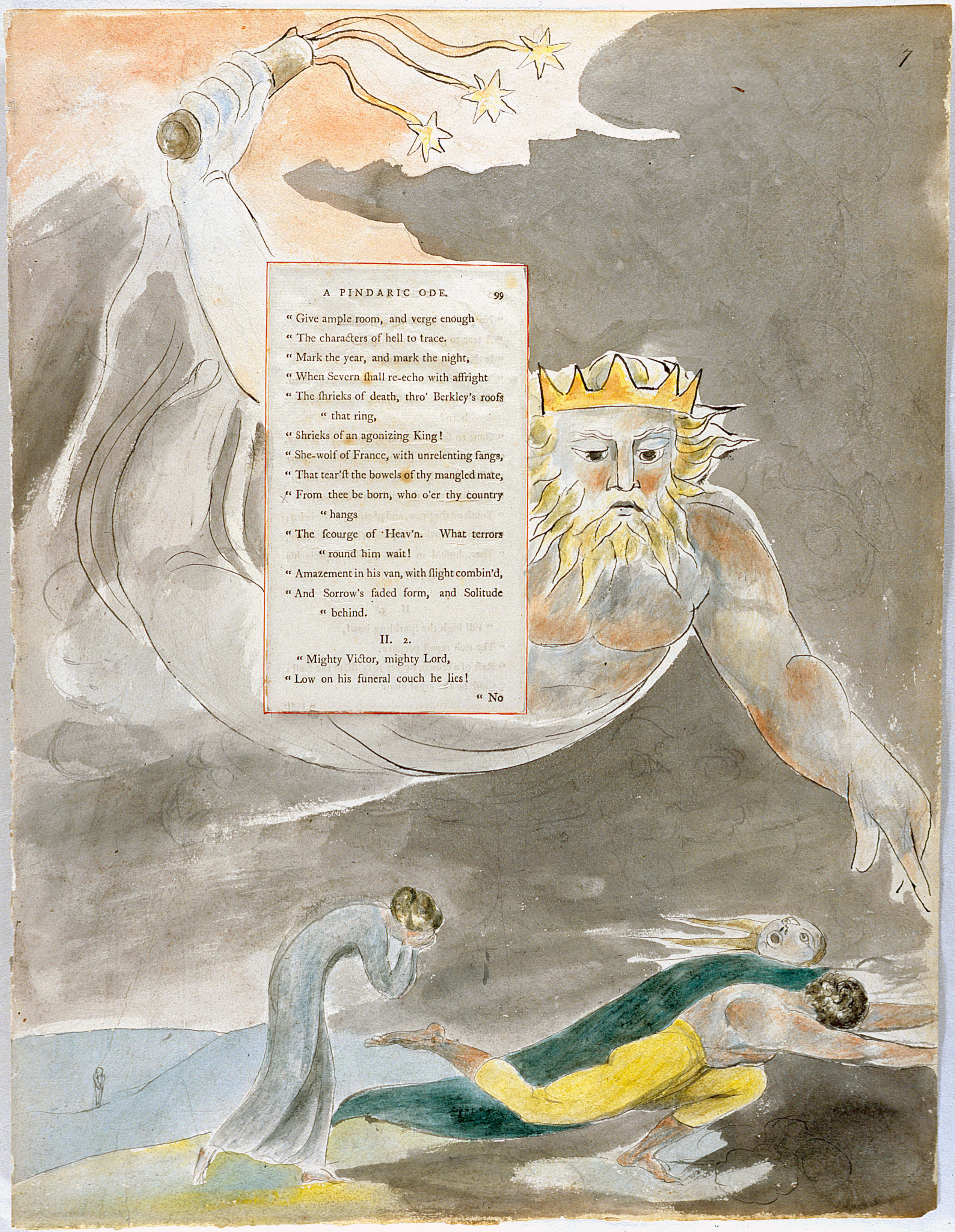 Biographies
Keith Jarrett is a writer, performer and educator. UK poetry slam champion and Rio International Poetry Slam Winner, his work has included bilingual performances in Bilbao and Madrid, in addition to UK-wide commissions, from arts institutions to St. Paul's Cathedral, and the Houses of Parliament. His play, Safest Spot in Town, was aired on BBC Four, and his book of poetry, Selah, was published in 2017. Keith was selected for the International Literary Showcase by Val McDermid as one of 10 most outstanding LGBT writers in the UK. Having recently completed his PhD at Birkbeck University, he is finishing his first novel.
Niall McDevitt is the author of three collections of poetry, b/w (Waterloo Press, 2010), Porterloo (International Times, 2013) and Firing Slits, Jerusalem Colportage (New River Press, 2016). He is also known for his poetopographical walks such as The William Blake Walk, An Arthur Rimbaud Drift, A Chaucer London Pilgrimage, The Kensington Modernists, and many others. As art-activist he has campaigned to save the Rimbaud-Verlaine house in Mornington Crescent, and against development of sites near Blake's burial ground in Bunhill Fields. In 2012 he read at Yoko Ono's Meltdown at the Future Exiles: Poetry, Activism and the Future event. In 2016, he performed his poetry in Iraq at the Babylon Festival. His latest book BABYLON (a neoliberal theodicy) is forthcoming from New River Press. He blogs at poetopography.wordpress.com
Robert Montgomery works in diverse mediums- billboard pieces, light works, fire poems, woodcuts, paintings and watercolours. He was the British artist selected for the 2012 Kochi Biennale and the 2016 Yinchuan Biennale. Along with the architects Allied Works he was a shortlisted finalist for the UK National Holocaust Memorial in 2017 with the scheme exhibited at the V&A Museum in London. He has had solo museum exhibitions at Cer Modern in Ankara, and at the Aspen Art Museum in Colorado, and his work is hugely popular on the internet, the artwork The People You Love Become Ghosts Inside of You has been shared online more than 20 million times. His poetry collection Coltash was published by New River Press in 2016.
Karen Sandhu is working on her PhD in contemporary poetry and artists' books at Royal Holloway. Her poetry has been published by The Archive of the Now, DATABLEED, HOW2, and BlazeVOX. She has collaborated with the Institute of Contemporary Arts and performed at Camden People's Theatre, Battersea Arts Centre, Rich Mix (London) and Arnolfini (Bristol). She has also written for The Blue Notebook: Journal for Artists' Books and her bookworks have been exhibited at The Showroom (London) and Galerie éof (Paris). Her latest projects are based on the unorthodox practices of artist John Latham, and the archive as a fictional site for performance.
Iain Sinclair was born in South Wales. He lives, walks and writes in East London. His books of fiction include White Chappell, Scarlet Tracings, Downriver and Radon Daughters. His poetry, mostly published through small or independent presses, includes Lud Heat, Suicide Bridge, The Firewall and Fifty Catacomb Saints. His most recent project, The Gold Machine, is set in Peru, where he follows the map of an expedition made by his great-grandfather in 1891.
Tamar Yoseloff's sixth collection, The Black Place, was published by Seren in 2019. She's also the author of Formerly, a chapbook incorporating photographs by Vici MacDonald (Hercules Editions, 2012) shortlisted for the Ted Hughes Award; two collaborative editions with artist Linda Karshan; and a book with artist Charlotte Harker. She's a freelance tutor in creative writing, and runs poetry courses for galleries including the Hayward, the RA and the National Gallery. She's a lecturer on the Poetry School / Newcastle University MA in Writing Poetry.