Join poets and psychogeographers Chris McCabe and Niall McDevitt on a Blake-inspired walk through Peckham. Drawing on The Bard exhibition at Flat Time House, McCabe and McDevitt will lead you through this area of London associated with Blake's ramblings.
Walk begins at 1pm. Exhibition at FTHo free to view from 12noon.
Free but booking essential, please click here to book through Eventbrite

This event is made possible by the generous support of The Sir Denis Mahon Foundation
Beginning at Flat Time House, the walk will visit the Goose Green mural which depicts Blake's boyhood vision of an angel on Peckham Rye. The walk will then go to the Rye itself in search for the tree that Blake saw his angel in, and then on diversion along the River Peck, one of many rivers that Blake was drawn to in his lifetime. The walk will end at Nunhead Cemetery, known as Nunhead Hill in Blake's day, where Blake's words will be read out loud to the urban dead. This walk is participatory and will invite thoughts and readings from Blake's poems from everyone on the walk who would like to contribute.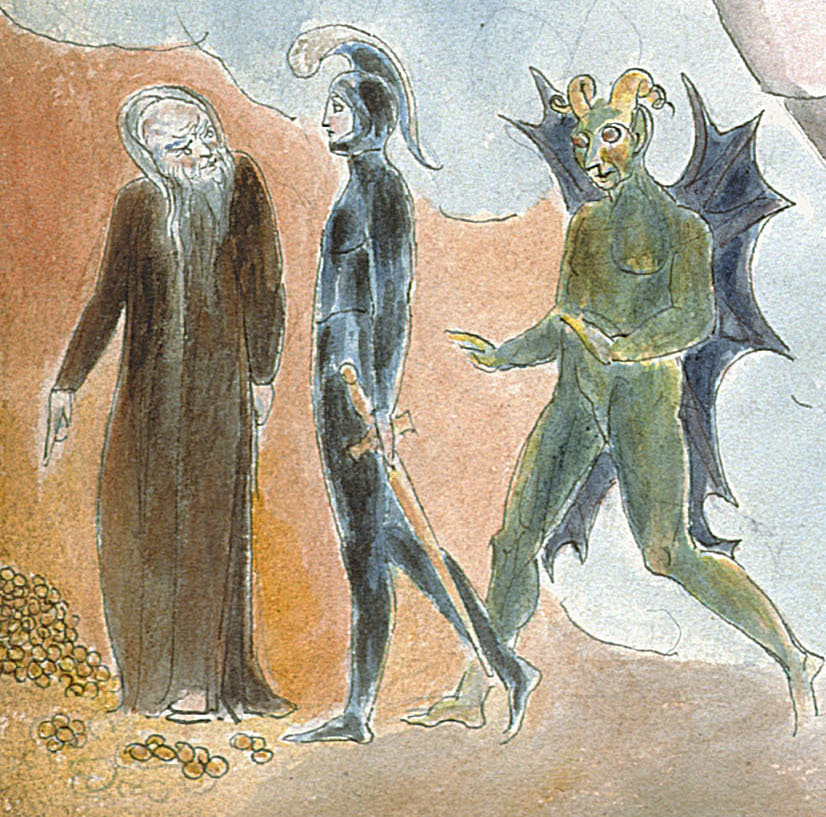 Image: Detail from The Bard illustrated by William Blake, c. 1798, one of a set of 14 sheets, collotype and hand-colouring on wove paper with separately printed paper (unbound). Part of William Blake watercolour designs for the Poems of Thomas Gray, published by Trianon Press for the William Blake Trust, London 1972
Chris McCabe's work crosses artforms and genres including poetry, fiction, non-fiction, drama and visual art. He was shortlisted for the Ted Hughes Award in 2013 and his five collections of poetry include The Triumph of Cancer (Penned in the Margins, 2018), which is a Poetry Book Society Recommendation. His first novel, Dedalus, was published by Henningham Family Press in 2018 and was shortlisted for the 2019 Republic of Consciousness Prize. His latest novel is Mud, a version of the Orpheus and Eurydice myth, set beneath Hampstead Heath. His non-fiction work includes an ongoing series of books which document his search to discover a great forgotten poet in one of London's Magnificent Seven cemeteries; titles include In the Catacombs (2014), Cenotaph South (2016) and the The East Edge: Nightwalks with the Dead Poets of Tower Hamlets, all published by Penned in the Margins. He is the co-editor of The New Concrete: Visual Poetry in the 21st Century (Hayward Publishing, 2015) and the editor of Poems from the Edge of Extinction: An Anthology of Poetry in Endangered Languages (Chambers, 2019). He works as the UK's National Poetry Librarian.
Niall McDevitt is the author of three collections of poetry, b/w (Waterloo Press, 2010), Porterloo (International Times, 2013) and Firing Slits, Jerusalem Colportage (New River Press, 2016). He is also known for his poetopographical walks such as The William Blake Walk, An Arthur Rimbaud Drift, A Chaucer London Pilgrimage, The Kensington Modernists, and many others. As art-activist he has campaigned to save the Rimbaud-Verlaine house in Mornington Crescent, and against development of sites near Blake's burial ground in Bunhill Fields. In 2012 he read at Yoko Ono's Meltdown at the Future Exiles: Poetry, Activism and the Future event. In 2016, he performed his poetry in Iraq at the Babylon Festival. His latest book BABYLON (a neoliberal theodicy) is forthcoming from New River Press. He blogs at poetopography.wordpress.com