Artist Christopher Steenson is in residence at Flat Time House to develop a new commission drawing from research into John Latham's work Big Breather (1972), a structure which simulated the movement of tides using sea water and a bellow system, and which was considered by Latham to present a method of capturing tidal energy. Whilst in residence Steenson has used video and sound recordings to explore how the building connects to its surrounding environment, thinking upon the circulatory action of inhalation and exhalation in relation to Latham's ideas around event structure.
The resulting commission, Breath Variations, will be presented at Flat Time House between 12–14 May 2023. More information to follow.
Curated by: Cindy He, Thomas Cury, Salomé Jacques, Romy Lagesse, Napas Mangklatanakul, Ariana Martin, Liyin Wang and Hyora Yang as part of the MA Curating Contemporary Art Programme Graduate Projects 2023, Royal College of Art in partnership with Flat Time House.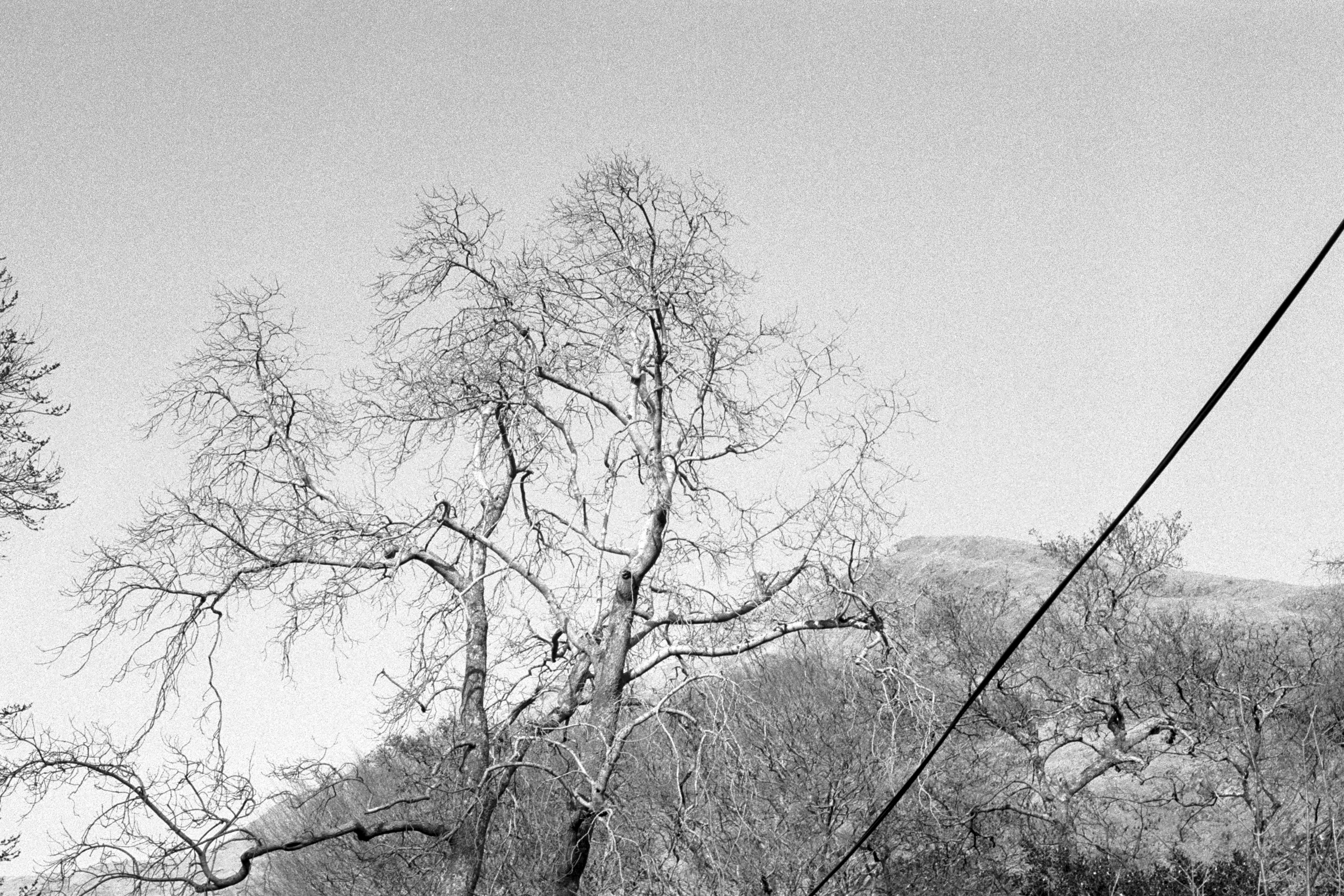 Image: Christopher Steenson Research Image (Connemara) 2022, 35mm scan
Christopher Steenson is an artist based between the north and south of Ireland. With a background in psychology and the sonic environment, his work uses sound, analogue photography, writing and digital media to forge ways of 'listening to the future'.
Drawing upon the open methodologies of John Cage, and the idea of 'correspondences' proposed by anthropologist Tim Ingold, Steenson's sound-based artworks attempt to operate as a collaborative process, emerging as a field of potentialities between listeners and (speculative) environments. Often taking the form of installations, public interventions and broadcasts, these artworks use the conventions of radio and transmission-based infrastructure to locate audiences within a 'dreamtime' – a space in which pasts, presents, and futures are negotiated on a continuum.
Recent and upcoming presentations include: Almanac for a Walled City for the Derry city walls (2023); the site-specific sound work Let it run all over me for Lagan Weir, Belfast (2023); 'Periodical Review 12: Practical Magic' at Pallas Projects/Studios, Dublin (2022); 'TULCA Festival of Visual Arts 2022: The World Was All Before Them', curated by Clare Gormley;  'Soft Rains Will Come' at VISUAL Centre for Contemporary Art (2022), curated by Emma Lucy O'Brien and Benjamin Stafford; 'Translations' at Project DivFuse, London (2022), 'Connemara Landscape' for Sonorities sound biennale, Belfast (2022); the group exhibition 'Urgencies' at CCA Derry~Londonderry (2021), curated by Locky Morris and Catherine Hemelryk; and the national public sound artwork On Chorus (2020).
In March 2022, Steenson was artist-in-residence at Interface, Connemara, Galway. In July 2019, he participated in Sounding Paths, an international residency for site-specific sound and intermedia projects on the remote island of Syros, Greece. He will be artist-in-residence at Bemis Center for Contemporary Arts, Omaha, USA, in Fall 2023. In 2020 Steenson's artwork proposal Wren Radio received a high commendation by the judges at VISUAL Centre for Contemporary Art for their public art open call. His work has also been covered by various publications and media outlets including Paper Visual Art, Irish Times, RTÉ News, RTÉ Radio 1, The Irish Examiner, Dublin Inquirer, The Quietus and BBC Radio Ulster. He has received funding from the Arts Council of Ireland (2019–2022), the Arts Council of Northern Ireland (2019, 2020 & 2022); Kerry Arts Office (2020) and the ESB Brighter Future Fund (2022–2023). Steenson is currently part of the fourth and final cohort participating in the PS² Freelands Foundation Artist Programme (2022–2023).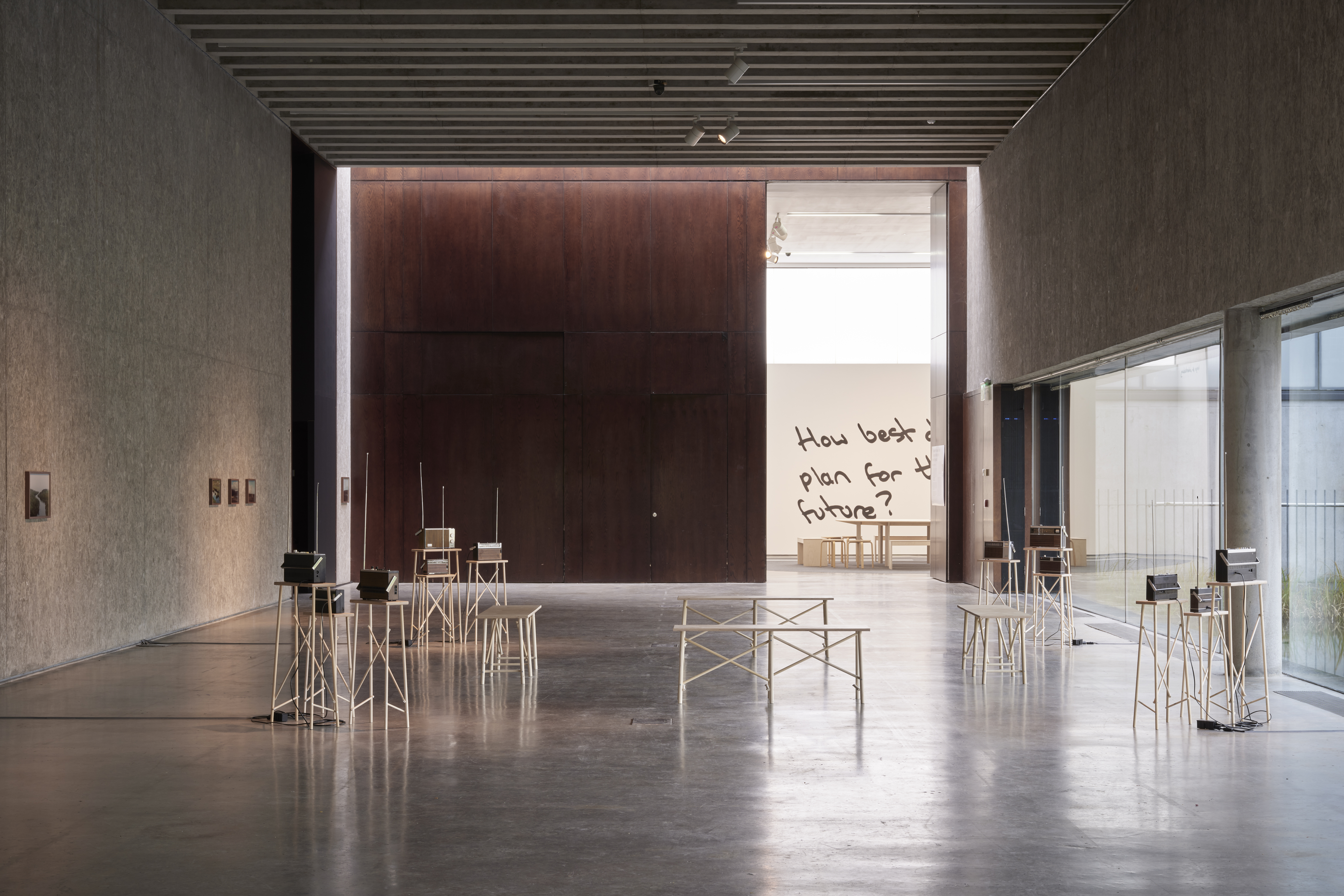 Christopher Steenson, Soft Rains Will Come, 2022, indeterminate sound artwork for twelve Cold War-era radios placed on stilts (to protect against eventual submersion). Infinite duration (or until the electricity stops). Bespoke algorithmic audio system, live shortwave radio signals, field recordings, voiceover and collected shortwave radio recordings. Broadcast via radio transmitters. Dimensions variable. Installation view, VISUAL Centre for Contemporary Art, Carlow, Ireland (26 February – 22 May 2022). Photograph by Ros Kavanagh, courtesy the artist and Arts Council of Ireland Visual Art Collection.