The future of Flat Time House, Peckham, the studio home of the late British artist John Latham, has been secured. The Estate of John Latham and Flat Time House Institute are delighted to announce that a purchaser for 210 Bellenden Road has come forward, generously allowing Flat Time House Institute to continue operating in its current premises. The Santarelli Family and Dino and Ernesta Santarelli Foundation will take ownership of the property that accommodates Flat Time House and the institute will continue to operate independently in the original studio and home of John Latham.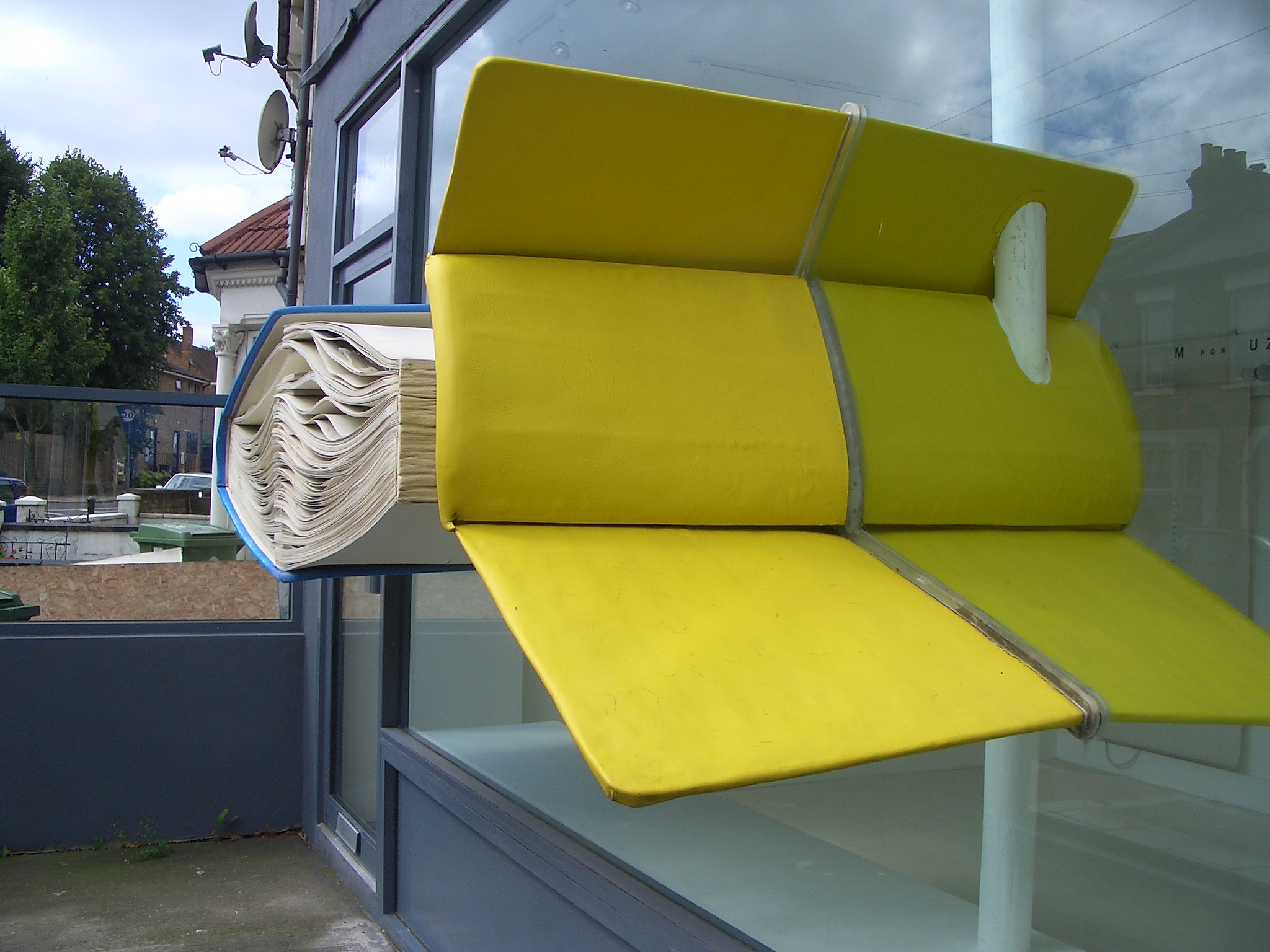 Latham transformed 210 Bellenden Road into a 'living sculpture' in 2003, naming it Flat Time House (FTHo) after his theory of Flat Time. A giant cantilevered book emerges through the glass facade of the building. Inside, Latham assigned the rooms with the anthropomorphic attributes of the living body, with the aim of taking visitors on a physical and metaphorical journey. Until his death in 2006, Latham opened his door to anyone interested in thinking about art. In 2008, the Latham family opened Flat Time House to the public as a gallery, museum and centre for alternative learning.
Flat Time House will reopen in April with an exhibition, Living Sculpture, and a talks and events programme to coincide with A World View: John Latham at the Serpentine Gallery (2 March - 21 May). Gareth Bell-Jones will continue in his position as FTHo curator/director and the Institute will use FTHo as a space to commission and promote the work of artists and academics inspired by or developing the legacy of John Latham. The institute will continue to house the John Latham Archive and maintain its core aims of exploring John Latham's practice, his theoretical ideas and their continued relevance.
The Dino and Ernesta Santarelli Foundation is a non-profit organisation based in Rome with the mission to support research and promote art history and the history of Rome both in Italy and abroad, with particular reference to stone sculpture, coloured marbles and glyptic art. The Santarelli family first came across John Latham's work in 2014 at La Triennale di Milano curated by Alessandro Rabottini, which was Latham's first show in a public institution in Italy. Deeply touched by the exhibition, the family saw parallels in the development of Latham's work and the history of Italian art from the 1960s.
Rome was a city of great significance for John Latham. In 1944 during the city's liberation by the allies as part of World War II, Latham visited the Palazzo Venezia where two paintings by El Greco were like an "instant vision" for him. "When I saw them," he said, "I knew then that I wanted to be an artist."
Paola Santarelli, president of the Dino and Ernesta Santarelli Foundation said: "On discovering this event we followed Latham's work and Flat Time House's activities very closely. By stepping in to secure the property of 210 Bellenden Road, the Santarelli family and the Dino and Ernesta Santarelli Foundation would like to create a bridge between the ancient and contemporary, allowing Flat Time House to continue its programme of exhibitions, residencies and workshops so central to its ethos."
For press information contact:
Gareth Bell-Jones, gareth@flattimeho.org.uk, +44 (020 7207 4845
Flat Time House, 210 Bellenden Road, London SE15 4BW flattimeho.org.uk
Nancy Groves, nancyg@serpentinegalleries.org, +44 (0)20 7298 1544
Image Credit: Flat Time House by Ken Adlard
Notes to Editors
John Latham
John Latham was born in Livingstone, Northern Rhodesia (now Maramba, Zambia) in 1921. After serving in the Royal Navy, he enrolled at Regent Street Polytechnic and then studied painting at Chelsea College of Art and Design (1947–51). Solo exhibitions include Henry Moore Institute, Leeds, UK (2016); Triennale di Milano, Milan, Italy (2014); Whitechapel Art Gallery, London, UK (2010); P.S.1 Contemporary Art Center, New York City, USA (2006); John Hansard Gallery, Southampton, UK (2006); Tate Britain, London, UK (2005, 1976); Mattress Factory, Pittsburg, USA (1996); MoMA Oxford, UK (1992); Staatsgalerie, Stuttgart, Germany (1991); Société des Expositions du Palais des Beaux-Arts, Brussels, Belgium (1984); and Städtische Kunsthalle, Düsseldorf, Germany (1975). Multiple shows in the Lisson Gallery. His work was shown in many group exhibitions including Documenta 6, Kassel, Germany (1977) and the 51st Venice Biennale, Venice Italy (2005). His work is held in collections worldwide, including Tate Collection and MoMA. 
The Dino and Ernesta Santarelli Foundation is a non-profit organisation of social utility. It was created to support research and promote art history and the history of Rome both in Italy and abroad, with particular reference to stone sculpture, coloured marbles and glyptic art. The foundation promotes exhibitions, research, seminars and scholarships for deserving and disadvantaged students.
The Foundation preserves many works of ancient and modern sculpture – from the Ptolemaic period up to late eighteenth century – and a collection of nearly 600 glyptic cameos, carvings and seals on display at the Capitolini Museums in Rome. It brings together more than 1,800 works from three different collections of architectural fragments and coloured marbles of the Imperial Age and preserves and promotes the study of the entire collection of sculptures of the Italian art historian Federico Zeri. The study and research of each artwork has been guided by the primary intention to maintain the integrity of the collection and to make the works available for a larger public. The headquarters of the Dino and Ernesta Santarelli Foundation is the Castle of Cecchignola in Rome.
John Latham Season at the Serpentine Galleries
As a pioneer of British conceptual art, John Latham has exerted a powerful and lasting influence, not only on his peers but on generations of younger artists. This spring, the Serpentine hosts a new exhibition, A World View: John Latham (2 March - 21 May 2017) that encompasses all strands of Latham's extraordinary practice, including sculpture, installation, painting, film, land art, engineering, found-object assemblage, performance and the artist's theoretical writings. In dialogue with the Serpentine Gallery survey, the Serpentine Sackler Gallery presents Speak (2 March - 21 May 2017), a group exhibition bringing together four contemporary artists – Tania Bruguera, Douglas Gordon, Laure Prouvost, Cally Spooner– whose diverse work has affinities with Latham's ideas. 
For more details on education visits please look here.
For further information please contact: