Seventeen years to the day since the Flat Time House's famous Face sculpture was completed, the work has been de-installed for extensive conservation work.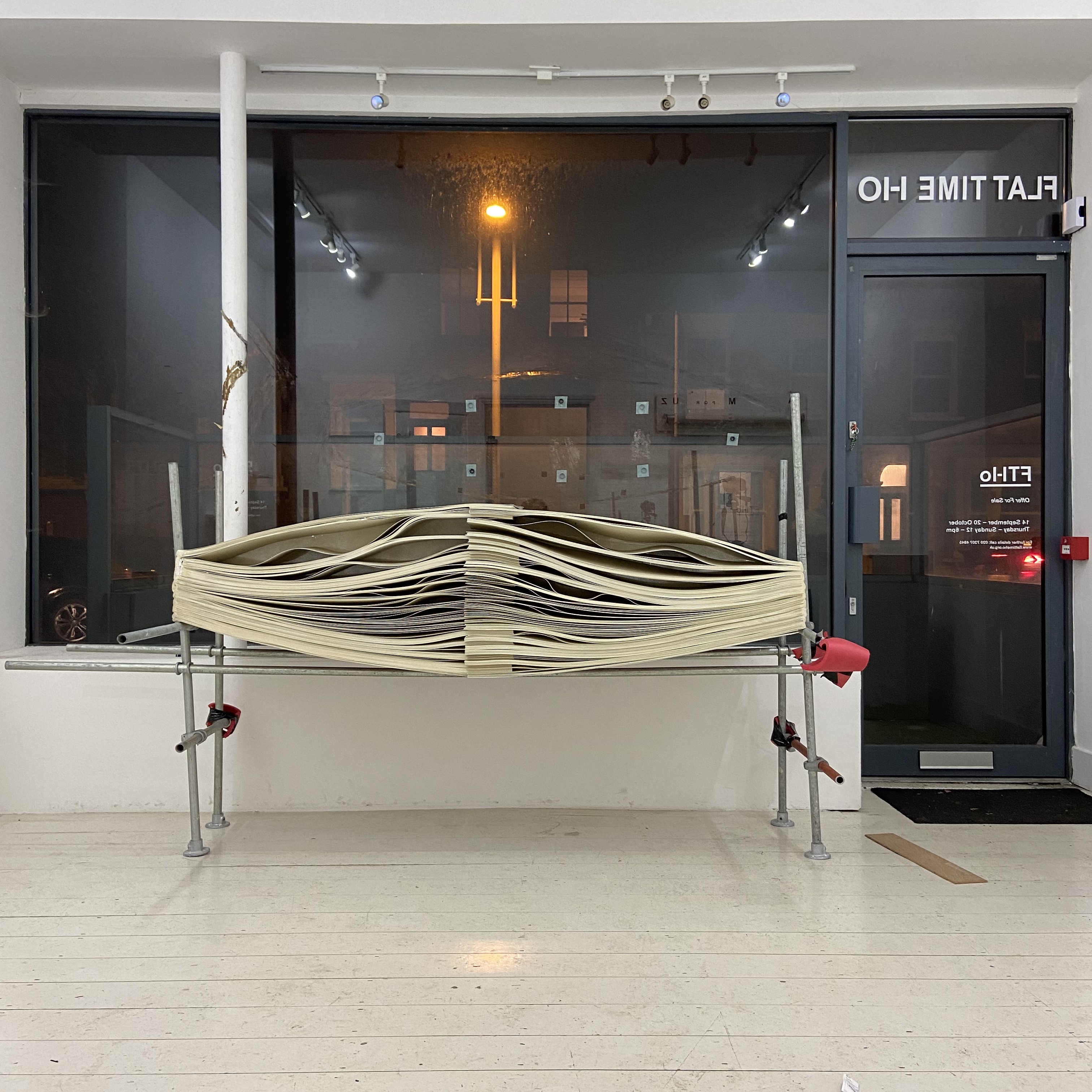 Fabricated from Fibreglass and Jesmonite with an aluminium and stainless steel support, significant weathering has caused the outside parts of the book to become fragile and distorted. Conservation work by art fabricators, Arteffects, will ensure the book is safe to remain on the front of Flat Time House for, at least, another 17 years. The window will be vacant for the current exhibition, The Bard: William Blake at Flat Time House, but the Face sculpture will return within a few months.
When commissioned by Southwark Council to produce a sculpture for the regeneration of his street in Peckham, John Latham chose not to produce a traditional public sculpture, but rather designate his house itself an artwork. For the passer-by, the most apparent manifestation of his intention is this book sculpture that pierces the front of the house. Held by the glass pane of the front window of the house, it hovers suspended half in the public realm and half inside. The title on the spine of the book reads 'HOW THE UNIVOICE IS STILL UNHEARD', referring to Latham's unifying cosmology, Flat Time. Latham renamed the house FLAT TIME I-IO, (usually referred to as Flat Time House).
Latham had lived on Bellenden Road since 1983 but the process of commissioning and production in the early 2000s led to him reconsidering the nature of the building he lived and worked in. At the point of the book sculpture's completion in 2003 he had come to think of it as an organism, describing it as a living sculpture. The front of the house is known as the Face, the sculpture intersecting the front window acting a signifier for all the activity, continuing to this day, that takes place within.
We would like to thank Steve Haines and the rest of the Arteffects team for their dedicated work and the Henry Moore Foundation and the John Latham Foundation for their generous support of this important conservation project.