MACHISMO

AT VILLA LONTANA, ROME
25 May – 20 July 2019
FTHo's friends at Villa Lontana present, MACHISMO, the third in a series of contemporary art exhibitions in collaboration with Fondazione Dino ed Ernesta Santarelli's Collection. The series aims to create fluid platforms of encounter between the sculptures and works from the collection with contemporary art practices. 
Curated by Jo Melvin and Vittoria Bonifati.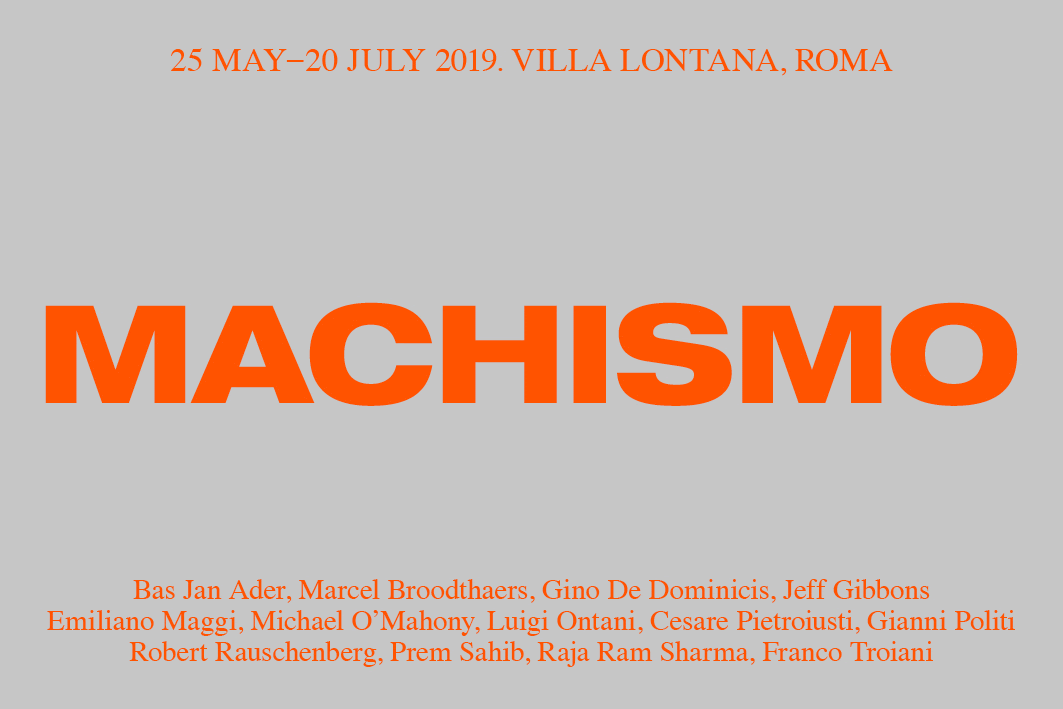 This exhibition concentrates on how machismo's presence haunts contemporary art practice. This vast topic is embedded in Western art's history, in its representations of power and strength and in displays of technical virtuosity. Machismo's iconography is both weighty and light. It traces to the ancient gods, Apollo, Heracles, Hermes, Dionysius, Pan and Bacchus; wisdom, power and strength, to masculine beauty in conflict and to emasculation. MACHISMO creates a dialogue between selected sculptures from the Santarelli Collection and thirteen contemporary male artists across generations from Belgium, Italy, India, the Netherlands, USA and the UK, who in different ways interrogate and critique iconographies of machismo. The media of film, sound, painting, performance and sculpture in works by Bas Jan Ader, Marcel Broodthaers, Gino De Dominicis, Jeff Gibbons, Emiliano Maggi, Michael O'Mahony, Luigi Ontani, Cesare Pietroiusti, Gianni Politi, Robert Rauschenberg, Prem Sahib, Raja Ram Sharma and Franco Troiani, experienced in juxtaposition with the ancient sculptures, creates new dialogues with the construct of machismo.
Open Wednesday - Saturday, 11am - 6pm and by appointment
Villa Lontana, Via Cassia, 53, Roma