Saturday 15 July 2023 2–5pm
A relaxed afternoon of food and conversation, performance, talks and installed art works. Inviting an exploration of themes in art and socially engaged practice, from economies and resources, to power and indigenous knowledges. The gathering will build upon a collective narrative that considers ways of critiquing, shifting and transforming hierarchies, and building upon vulnerability. 
Contributing artists and curators: Amina Lawal Agoro, Manon Awst, Jordan Rowe, Kate Mahony, Laura Eldret, Monica Tolia, Rebecca Moss and Taey Iohe. 
Event free but booking essential, please click here to reserve a place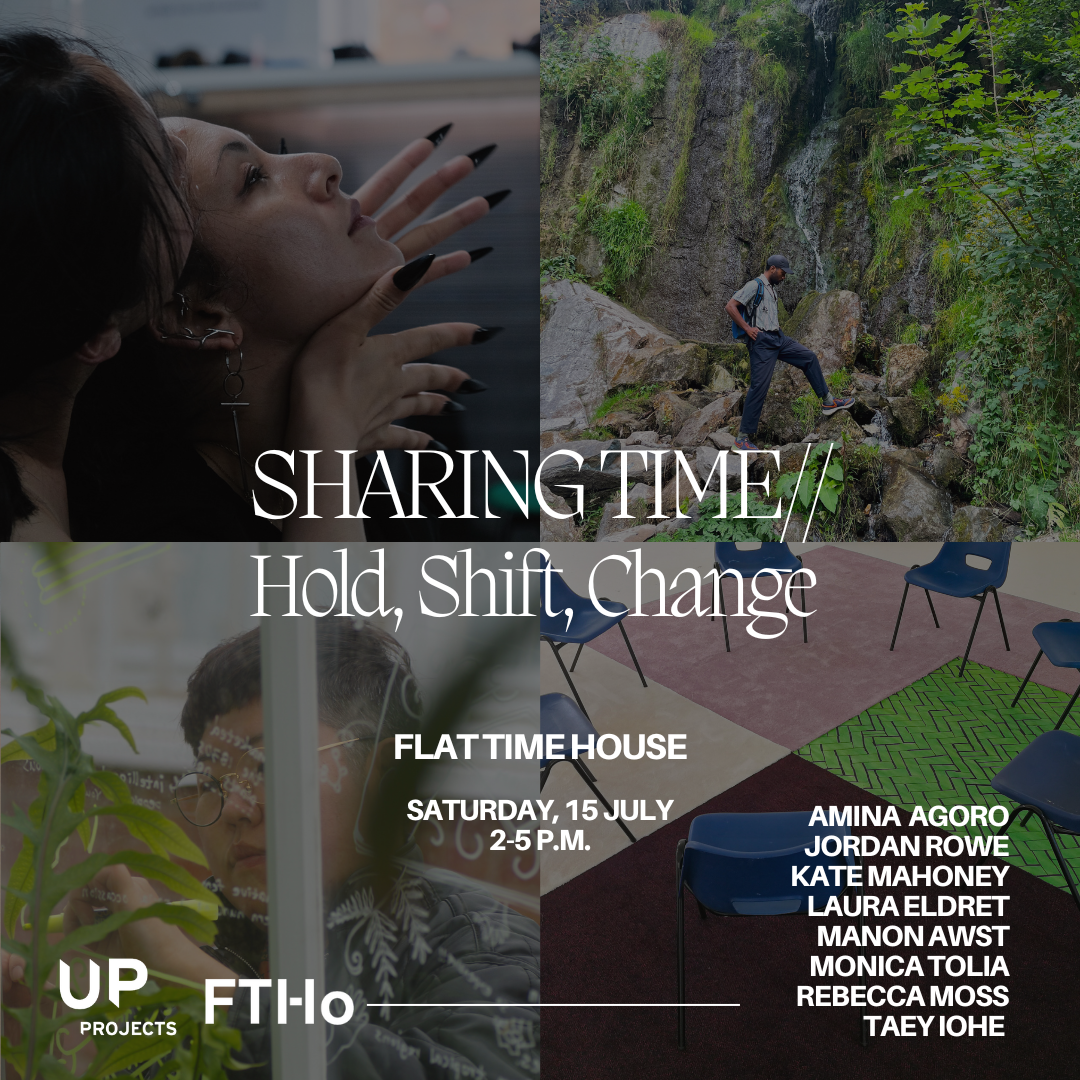 The afternoon will consist of:
– 2pm Presentations from Jordan, Taey and Amina

– 3pm A performance from Kate, followed by a guided rest from Monica

– 4pm Open conversation facilitated by Laura and Taey, and including a reading from Rebecca.

Also on show artworks from Manon and Laura. Refreshments will be served.
Contributors originally connected by taking part in the Cohort strand of Constellations 2022, a learning and development programme for public art practitioners curated and delivered by UP Projects and realised in partnership with Flat Time House and Liverpool Biennial. Independent curator and writer Jes Fernie contributed to the curatorial development of the Constellations ° Assemblies programme, and artist Harun Morrison facilitated the Constellations ° Cohort seminars over the course of the 2022 iteration.  
Contributor Biographies
Kate Mahony 
Kate Mahony (she/ her) makes work in front of people. Her practice has come out of framing performance within a 'gig' economy that is an artistically unrestricted and often unpaid platform. By catering to the 'gig' at hand, Mahony's performances are quick, cheap and site responsive. Mahony is a PT PhD candidate in Art at Goldsmiths College looking at Disordering practices in Performance and Moving Image.
Jordan Rowe 
Jordan Rowe (he/him) is a writer, curator and researcher on urban culture and rural identities with a particular interest in institutions and placemaking. His co-curated exhibition Doors of Learning: Microcosms of a Future South Africa opened at the Bauhaus Dessau in 2022 and an accompanying publication will be released this summer. Jordan has previously served as the first ever Urbanist in Residence at the Museum of London, and as the manager of UCL Urban Laboratory.
Laura Eldret
Laura Eldret makes installations, posters, drawings, textiles, videos, and events. Operating as an artist, researcher and educator she is interested in the commonalities that bring diverse things and people together and the productive tensions of togetherness. Her art offers a gentle nudge towards communal consciousness and action, bringing alternative voices to the fore. Her projects have involved working locally and transnationally, in both metropolitan and rural areas. Recently, she has become interested in growing practices, commoning, ruralities and the interconnectedness of humans and nature. Drawing on practices of ethnography, social ecology and conversation, she is exploring ways to contest art's autonomy and affirm the value of social encounters. Laura is founder/director of More Than Ponies, an occasional artist-led programme of contemporary art for/ about the New Forest and nearby. She was co-founder/director of CollectingLiveArt 2007-10 and for many years worked in art galleries and the public realm. She is an Associate Artist on 'Schools of Tomorrow' at Nottingham Contemporary. She also works as an artist mentor and visiting lecturer.
Monica Tolia 
Monica Tolia (she/they) is a London-based visual artist, performer & organiser. Monica's research is rooted in the communal, movement, and spiritual practices related to their heritage, informing their approach to decoloniality through collective-building, collaboration and symbiotic healing across human and more-than-human worlds. They create sensory performances and event-based contexts that offer cathartic counter-expressions to historical and contemporary Eurocentric narratives, media and technological affects felt at the intersection of diaspora and racial identity, class structures and disability. Since 2021, they are co-founder of the ESEA diaspora collective 'Have you eaten yet?', organising performance-based events on the intersections of food, migration, art/activism & creating affectionate space.
Taey Iohe 
Taey Iohe is a transdisciplinary artist and writer whose work spans across diverse media, including text, moving images, social practice and assemblage through an Asian crip queer feminist lens. Their practice fuses research-based works with narratives that challenge historical and personal entanglements in ecology, reproduction and climate justice. Taey is a co-founder of the Decolonising Botany Working Group and has presented a performance, A Refusing Oasis at Documenta 15 (2022). Taey holds a PhD in the programme of Gender, Identity and Culture, funded by Writing on Borders, at University College Dublin. Currently, Taey is a working member of the Feminist Duration Reading Group and an exchange resident at Somerset House.
Amina Lawal Agoro 
Amina Lawal Agoro is a researcher and cultural producer moving between the UK and West Africa, working meaningfully within and across geographies to mediate points of connection and tension across cultures. Amina is currently undertaking a practice led research PhD exploring the possibilities for reconstructing architectural heritage in Lagos using curatorial and participatory methods and underpinned by an autoethnographic approach. The enquiry aims to move beyond / expand the western canon and harness alternative knowledge systems and philosophies in the sphere of African art history.
Rebecca Moss
Rebecca Moss is an artist based in Essex and East London. Moss makes work across a variety of media and is inspired by slapstick performance: precarious scenarios that emphasise an interaction between the human gesture and elemental forces, where an absurd idea or gesture is earnestly played out, to a point of futility, chaos or crisis. She is inspired by slapstick humour for its sense of reciprocity - that our surroundings can act back upon us, and we are not always in control.
Manon Awst
Manon Awst is a Welsh artist who makes sculptures and site-specific artworks woven with ecological narratives. The ways in which materials stick to and transform locations and communities is at the forefront of her creative research. Her interdisciplinary approach is moulded by her upbringing in North Wales, her academic studies in Architecture and Artistic Research, and ten years of collaborative practice in Berlin as part of artist-duo Awst & Walther. She has exhibited widely in the UK and Germany including at Cass Sculpture Foundation, National Museum Wales, Mostyn, Boros Collection, Georg Kolbe Museum and Kunstverein Braunschweig. Her work is part of the National Library of Wales, the UK Government and Welsh Parliament art collections and she has long-term installations on the Wales Coastal Path at Nant Gwrtheyrn and at Rosa-Luxemburg-Platz, Berlin. She was recently granted a Henry Moore Foundation Artist Award.