30 August–15 October 2019
Athanasios Argianas, John Baldessari, Julius Heinemann, John Latham & Rachel Reupke
Preview: Friday 30 August 4pm
Exhibtion open: Tuesday – Saturday 1–7pm
lítost
Vlkova 23, Žižkov, Prague, Czech Republic

an action
distress over parliament
to mark the occasion of its assent to acts of official censorship, conversion and contempt of truth, the bearing of false witness and assassination by stealth under cover of Royal Charter…
will take place during Sunday, 1st May, 1983


lítost gallery is hosting Flat Time House as part of Friend of a Friend, a collaborative series of exhibitions and public programmes by 21 galleries across 9 Prague spaces. Flat Time House will be presenting documentation of John Latham's rarely acknowledged 1983 happening Distress Over Parliament alongside work by four other contemporary artists.

lítost is a contemporary art and design gallery situated on Vlkova street in Prague's Žižkov district. The gallery presents up to four exhibitions per year alongside a parallel public programme. With a focus on speculative design and durational art, lítost's objective is to present collaborations between artists, designers, cultural practitioners and specialists from other disciplines.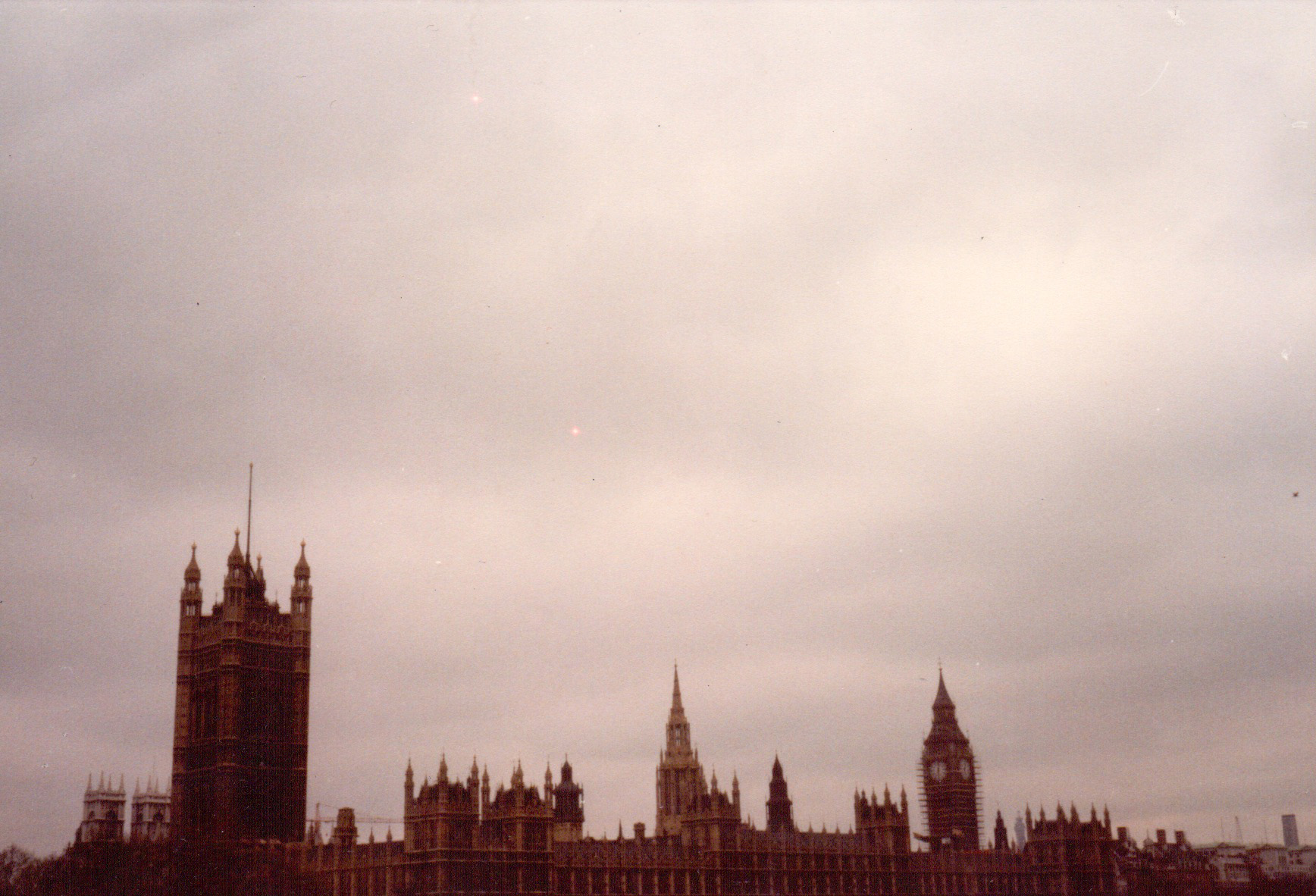 The photographic documentation of Distress Over Parliament, never previously exhibited, provides the centrepiece of the exhibition. This work was produced on Mayday 1983 in response to the Arts Council of England's refusal to take his time-based ideas seriously. The event coincided with the aftermath of the UK's involvement in the Falklands War, and Margaret Thatcher's defence of the controversial sinking of the Argentine cruiser the Belgrano to great loss of life. In a publicised event John shot two maritime flares over the top of the Houses of Parliament. This deliberately controversial action, intended to bring attention to the issue, was barely noticed. As his one time partner Barbara Steveni has stated: 'Sometimes when John was attempting to be controversial no-one noticed, and at times when he thought he was making something innocuous, people were outraged'.
Alongside this piece is artwork by contemporary artists, which resonate and exist in intuitive dialogue with Latham's work. Included are twelve photographs by pioneering American conceptual artist John Baldessari Throwing Three Balls in the Air to Get a Straight Line (Best of Thirty-Six Attempts), (1973), a full gallery installation by German artist Julius Heinemann, a new sound based work by Athanasios Argianas, and Rachel Reupke's video work Infrastructure (2002).
The sinking of the Belgrano remains persistent in the British popular consciousness. As Robert Rowland, Brexit Party MEP for South East England recently stated via twitter: "We are behind all our fisherman and the restoration of sovereignty over our waters. 200 miles of exclusion zone with any foreign fishing vessel given the same treatment as the Belgrano! …" Whilst the current fiasco of UK parliament and its chaotic relationship with Europe continues, it is timely to exhibit this work in a fellow EU state. Latham's ultimately futile gesture of activism in the face of an unknowing and uncaring response still resonates today.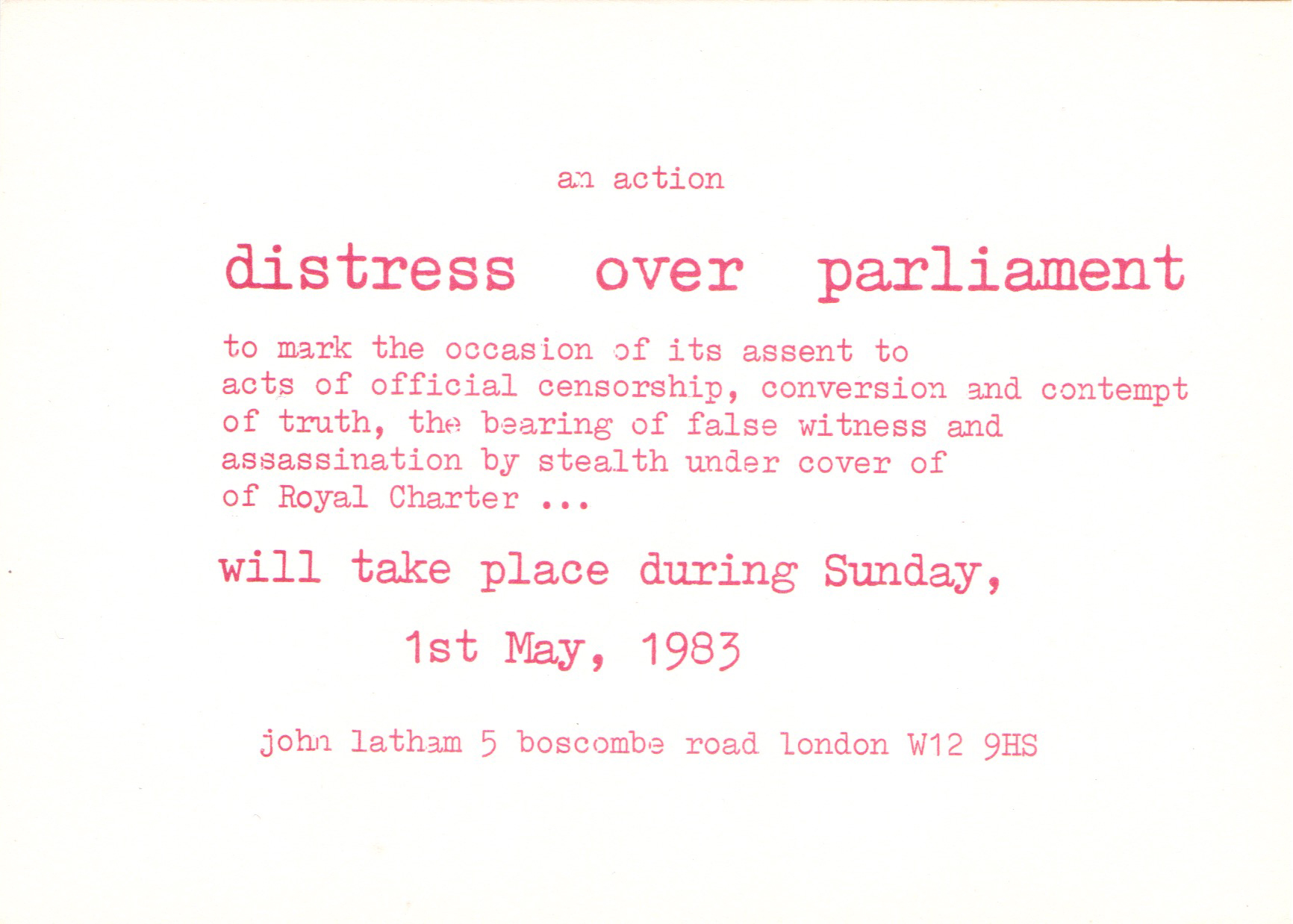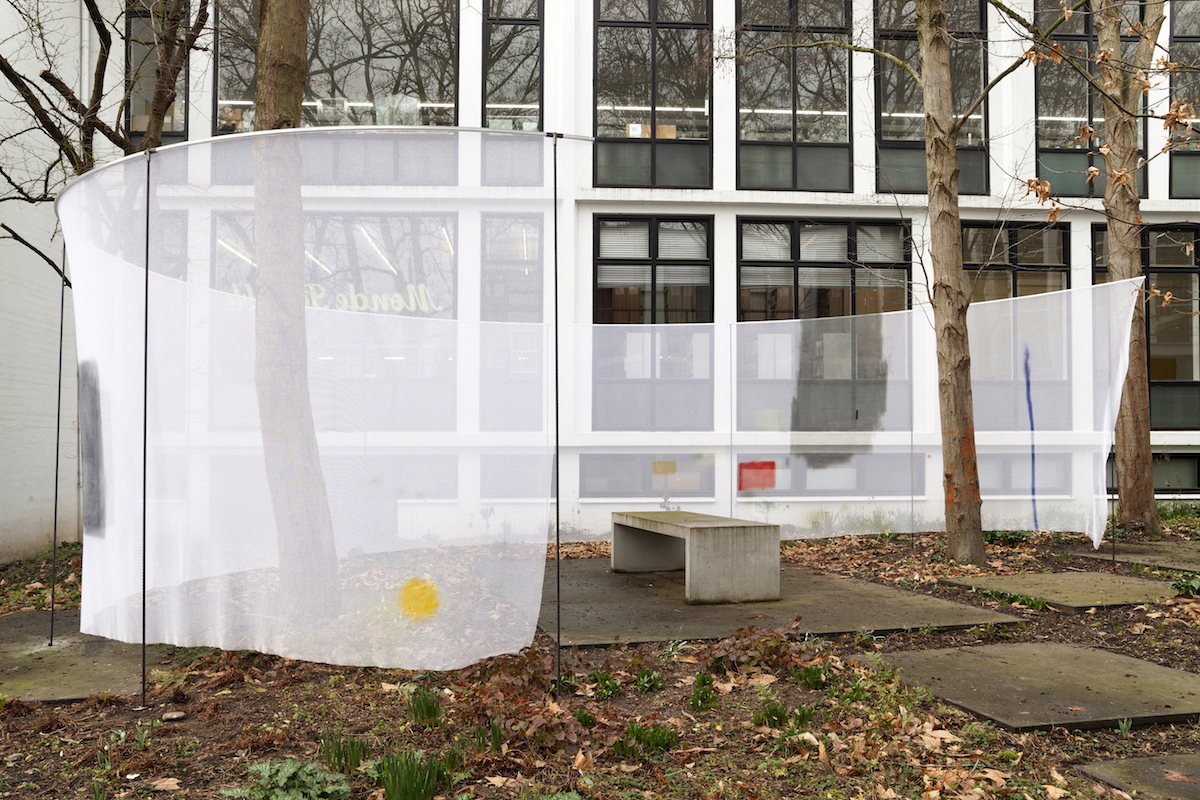 Artist Biographies
Athanasios Argianas (b. 1976, Greece) is a London and Athens based artist with an interdisciplinary practice incorporating sculpture, painting, text, performance and often composed music or sound, and concerns itself with translations between media and the production of affect and hybridity.
He has held solo exhibitions and performances at institutions including: Camden Arts Centre, London (Fellowship 2018-19, solo exhibition 2020), EMST National Museum Of Contemporary Art, Athens, The Barbican Art Gallery, London and The Serpentine Gallery Pavillion, The Serpentine Gallery, London, and group shows at: Kunsthalle Wien, GAM Milano, Villa Reale, Milan, Fondazione Prada, Ca Corner,Venice, The Pulitzer Foundation For The Arts, St Louis, MO, Centre Rhénan d'Art Contemporain / CRAC Alsace, Arnolfini, Bristol and Dundee Contemporary Arts, Art Now, Tate Britain, London, and La Galerie Noisy Le Sec, Paris, Eastside Projects, Birmingham. In 2012 his work was featured in The Imminence Of Poetics - The 30th Biennale Of Sao Paulo, Pavilhão Ciccillo Matarazzo, Brazil, in 2013 at PERFORMA 13 Biennial New York, and in 2017 at Antidoron, at Documenta14, Fridericianum, Kassel. He also participated in the 2nd Athens Biennial, The 3rd Thessaloniki Bienniale, and the 1st Prague Biennial.
John Baldessari (b. 1931, USA) is an American conceptual artist known for his work featuring found photography and appropriated images. He lives and works in Santa Monica and Venice, California.
Initially a painter, Baldessari began to incorporate texts and photography into his canvases in the mid-1960s. In 1970 he began working in printmaking, film, video, installation, sculpture and photography. He has created thousands of works that demonstrate—and, in many cases, combine—the narrative potential of images and the associative power of language within the boundaries of the work of art. His art has been featured in more than 200 solo exhibitions in the U.S. and Europe. His work influenced Cindy Sherman, David Salle, Annette Lemieux, and Barbara Kruger among others.
Julius Heinemann (b. 1984, Germany) is a Berlin based artist whose practice is based on the study of the different layers of perception. He analyses how perception forms "images" –fragments of continuously updated information– with which we can deal with concepts such as time and space. Through all his body of work, he formally researches the preconceived ways to interpret abstract values such as scale, colour, shape, and light in order to redefine strategies to understand, from a subjective position, our relationship with what surrounds us.
Heinemann studied at Folkwang University (Essen), HGB (Leipzig), Royal College of Art (London) and recently was a researcher at the Van Eyck Academy (Maastricht). Recent solo exhibitions include Proyectos Monclova, Mexico City 2019 and 2016; Jahn & Jahn, Munich, 2018; Vitrine/Kunsthalle São Paulo, São Paulo; 2015, Barcú, Bogotá, 2015; Galerie der HFBK, Hamburg, 2015.
Rachel Reupke (b.1971, UK) is a London-based artist who uses filmmaking to experiment with ideas about interpersonal communication, desire and other methods of interface with the external world. Her work often draws upon influences from advertising, cinema and image archives, using commercial motifs as a model with which to examine a particular social situation or relationship.
Reupke's solo exhibitions include Künstlerhaus Stuttgart, Germany (2015); Cubitt Gallery, London (2015) and Cell Project Space, London (2014). Her work has also been shown at Staatsgalerie, Stuttgart; Ullens Center for Contemporary Art, Beijing; Museum of Modern Art, Vienna; Wattis Institute, San Francisco; Tate Britain and ICA, London.

Friend of a Friend is a collaborative series of exhibitions and public programmes by 21 galleries across 9 Prague spaces. Friend of a Friend is a gallery sharing initiative launched in Warsaw in 2018.