Flat Time House is pleased to collaborate with Künstlerhaus Bremen on Lina Hermsdorf's exhibition Vantage Point with contributions by Casper-Malte Augusta and John Latham and sound design by Marian Mentrup.
Lina Hermsdorf´s exhibitions unfold as time-based processes that place the experience of the viewer at their centre. Their non-linear, polysemous narratives often materialize in installations and performances, with a particular focus on biological phenomena relating to the corporeal and temporal texture of technologically infiltrated bodies. Frequently taking into account the specific histories of her performers, Hermsdorf combines biographical material with a multitude of voices, forming avatar-like characters that meander between virtual and physical realities.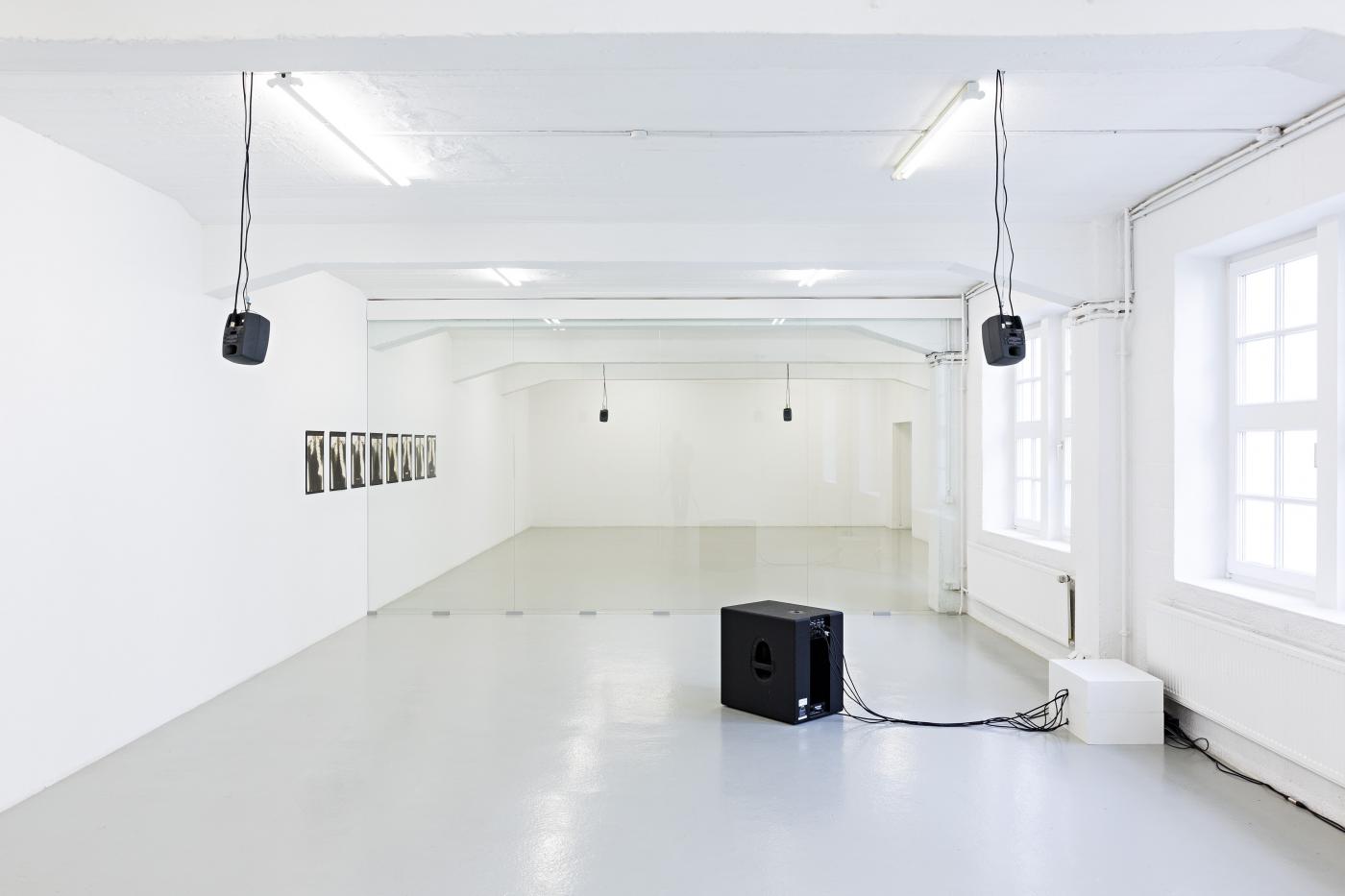 At the Künstlerhaus Bremen, Hermsdorf (b. 1985 in Hamburg) presents Vantage Point, a new sonic and architecture-based project that revolves around the figure of the Doppelgänger and its relation to transparency as a fantasy of unlimited access to all forms of information.The term Doppelgänger, which first emerged in German Romantic literature and art, acts here as an opaque foil to the omnipotent gaze of the systematizing, information-gathering machines and corporations of today´s world. Prefigurations of the Doppelgänger can be found in ancient mythology where they represent a loss of the past and an externalization of the soul, which becomes separated from the body and exists at the threshold of the visible and invisible worlds. The performance on the opening weekend operates within the gap between the externalized and visible, the internal and elusive, with the performer Casper at times blending into their voices through movement and lipsynching. Casper´s recalling of their former lives, which will remain as a decorporealized shadow within the audio piece, explores the experience of a schism and alludes to a multitude of possible selves. 


Flat Time House are collaborating with Künstlerhaus Bremen on Vantage Point. Included are John Latham's X-Rays from his placement at Clare Hall Hospital. The second chapter of the project will open at Flat Time House in October.

The Künstlerhaus Bremen was founded in 1992. With its 16 artists's studios, two guest studios and an exhibition space, it aims to provide alternative environments and structures for artistic production. It also hosts two artist associations, various small business companies, the Bremer Kunst Satellit and a restaurant.

In the 90's, the exhibition programm introduced artists such as Thomas Hirschhorn, Mike Nelson, Anya Gallacio and Roman Signer to the german audience. Later, major experimental film artists like Kenneth Anger and Hans Richter exhibited at the Künstlerhaus, but also Emily Jacir, Simon Dybbroe Møller and Ahmet Ögut. In the recent years, solo exhibitions presented new projects by Sidsel Meineche Hansen, Marie Angeletti or Lina Hermsdorf, among others. Every year, four to five exhibitions and projects are realized with the intention to deliver a contribution to the current issues in the field of contemporary art.

For many years the Künstlerhaus Bremen has co-operated successfully with various local and international partners, such as the GAK Gesellschaft für Aktuelle Kunst, the Hochschule für Künste Bremen, the Museum Weserburg, the Künstlerhäuser Worpswede, but also Triangle Marseille, Temporary Gallery, Köln, and Flat Time House, London. Together with the BBK and GEDOK Künstlerinnen Verband –two artists's associations– it is involved in a group working on developping new modes of support for artists in Bremen.