20 May–27 June 2021 Preview Day Thursday 20 May 12–8pm Open Thursday–Sunday 12–6pm
Pavel Büchler, Eva Kot'átková, John Latham & Sarah Lucas with musical composition by John Cage
Curated by David Thorp
'The status of art has become uncertain. At least, it is ambiguous. No one can say with assurance what a work of art is—or, more important, what is not a work of art. Where an art object is still present it is what I have called an anxious object: It does not know whether it is a masterpiece or junk.' [1]
–Harold Rosenberg
 ANTS AND GRASSHOPPERS: reflections on the anxious object examines whether or not art can have the capacity to subvert, and indeed, create anxiety. Does the art object have that potential? Or is any anxiety that abounds rather an indication of its maker's existential state? This exhibition queries whether the 'psychophysical sculpture' that is Flat Time House could be an example of an anxious object. Alongside the newly restored book sculpture that transects the façade of the building, is presented the work of three contemporary artists, and a musical composition by John Cage, for each of whom in different ways this condition is evident.
[1] Harold Rosenberg. On the De-Defininition of Art, University of Chicago Press,1983. p12
In the 1950s Harold Rosenberg, the influential American art critic, coined the expression 'anxious object'. He was referring to the condition in which an audience for art, when confronted with some contemporary art objects, are uncertain about their status as art. Rosenberg asserted that artists had become players in an art world where success was dependent upon an ability to contend with a range of issues. These issues, including identity, and societal, environmental and political crises, create an uncertainty about where artists perceive themselves to be going or being taken, as one movement is succeeded by another.
The conceptual background to this exhibition begins with a dialogue between Rosenberg (1906–1978), John Latham (1921–2006), and James Joyce (1882–1941). Latham intuitively responded to Joyce's writing, expressly Finnegans Wake, as a literary anxious object by making objects that are philosophically and formally disquieting. As Joyce authority Finn Fordham writes, Finnegans Wake can be approached like a grasshopper, jumping through it, alighting on random places to produce one's own "musically phrased series" or like an ant, progressing sequentially "from beginning to middle to end, to finish (again) where you began."[2]
The artist and writer Pavel Büchler was born in a country that no longer exists, Czechoslovakia, but moved to Britain nearly forty years ago where he found a West he knew less about than he expected. The immigrant experience of living with the real and false antinomies between communism and capitalism anchors a common perspective in much of his work. It is the lived – in the sense of the everyday – slippages and imperfections in the various forms of cultural unity promised by translation, assimilation, democratisation and collective action that preoccupy him. Büchler presents us not with a nihilist art but with a poetic vision connected with the repurposing of things that have seemingly come to the end of their useful life but from which a renewed and very contemporary sentiment emerges. Büchler's formal training in C­zechoslovakia, first as a print student at the School of Graphic Arts (1970–72) and later as a typography student at the Institute of Applied Arts (1973– 76), has informed his recent artworks that depend upon the aesthetic imprint of letterpress printing as both a technological referent and means of production. This biography reflects a nuanced conception of nostalgia and analyses the unique qualities of letterpress in a post-digital mediascape.
Eva Kot'átková's work addresses the social, institutional and physical structures of everyday life: the rules and restrictions that shape how we think, learn, move, behave and create. She often focuses on the situation of groups or individuals that are for various reasons excluded, discriminated, silenced. In her ongoing series Theatre of Speaking Objects she tries to find alternative ways of expression for those who are not able to communicate and integrate in the standard way. Kot'átková creates installations made up of objects, drawings, collages, photographs, performance, video and text that engage spectators in new environments to expose them to new perceptual experiences and approaches. She is co-founder of a platform, Institute of Anxiety, that sees anxiety as a result of social, political, economical and ecological forces. It argues that both in an attempt for structural changes and system critique, but also in diverse acts of sharing, there is potential for positive change. 
Although artists of subsequent generations acknowledge John Latham's importance and influence, and eminent writers and thinkers have offered explanations of his theories, their complexity still leaves many people mystified and his resulting works frequently capture an existential anxiety. In 1998 Latham was approached by Southwark Council to participate in their regeneration project the Bellenden Road Renewal Scheme. Latham suggested a large-scale book sculpture, incorporating two key materials in his work, glass and books, and planned to transect the three stories of his house at 210 Bellenden Road. When Latham's application for planning permission was turned down he had a new idea: "the new envelope concept of FLAT TIME" where the artistic realisation of this envelope would be his home itself. The whole house would become "a psychophysical sculpture", including but not restricted to the book-sculpture on the façade. And, as the proposed book sculpture was to be no more than six feet high, there was no need for planning permission. The book was fabricated and installed in 2003. The story of the development of the extant sculpture within the context of the Bellenden Road Renewal Scheme and the creation of Flat Time House as a psychophysical sculpture is explored in the exhibition. 
Since the late 1980s Sarah Lucas has transformed found objects and everyday materials such as cigarettes, vegetables and stockings into disorienting confrontational tableaux that boldly challenge social norms. The human body and anthropomorphic forms recur throughout her work that often appears erotic, humorous, fragmented or reconfigured into fantastical anatomies of desire. Lucas' works engage with debates about gender and power, along with the legacy of Surrealism – from her transformation of everyday objects to her exploration of sexual ambiguity and the tension between the familiar and the absurd. In the 1988 Lucas was one of the exhibitors in the seminal exhibition Freeze that became the benchmark of the YBA generation. In 2015 Lucas represented Britain at the Venice Biennale, as the British Council writes: "Sarah Lucas' works for the Pavilion reprise and reinvent the themes that have come to define her powerfully irreverent art – gender, death, sex, and the innuendo residing in everyday objects. Throughout this latest group of works, the body – sexual, comedic, majestic – remains a crucial point of return, while Lucas's work continues to confront big themes with a distinctive wit."
As a backdrop to the exhibition a recording of John Cage's 1979 sound work Roaratario, an Irish Circus on Finnegans Wake (which is described as a 'means of translating a book into a performance without actors, a performance that is both literary and musical or one or the other') will be played throughout. 
[2] Finn Fordham, Finnegans Wake: Novel and Anti-novel in 'A Companion to James Joyce'. Oxford: Blackwell Publishing 2007, p73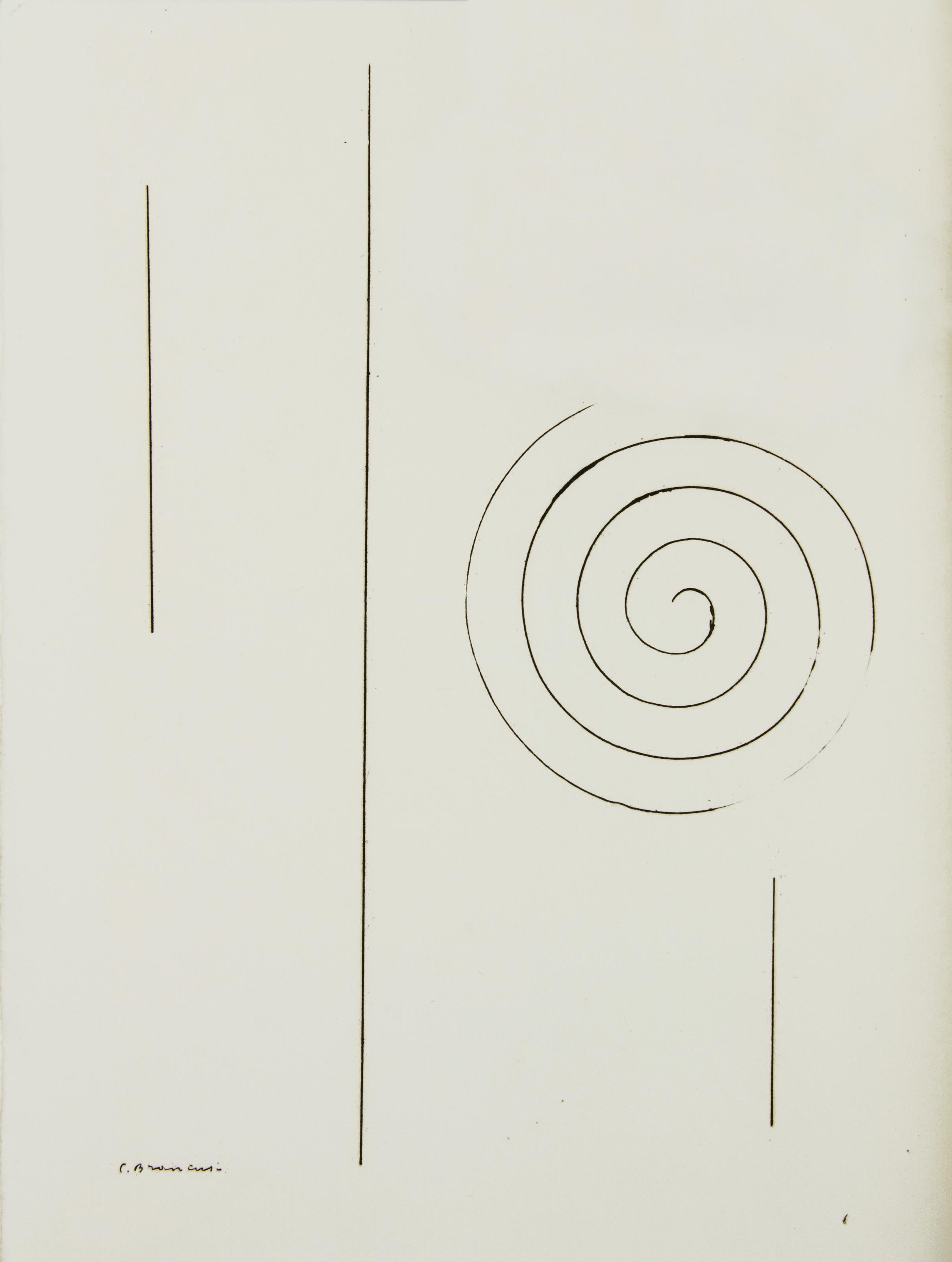 Portrait of James Joyce by Constantin Brancusi, frontispiece to Tales Told of Shem and Shaun: Three Fragments from Work in Progress. Paris: The Black Sun Press, 1929, an early publication of sections of Finnegans Wake.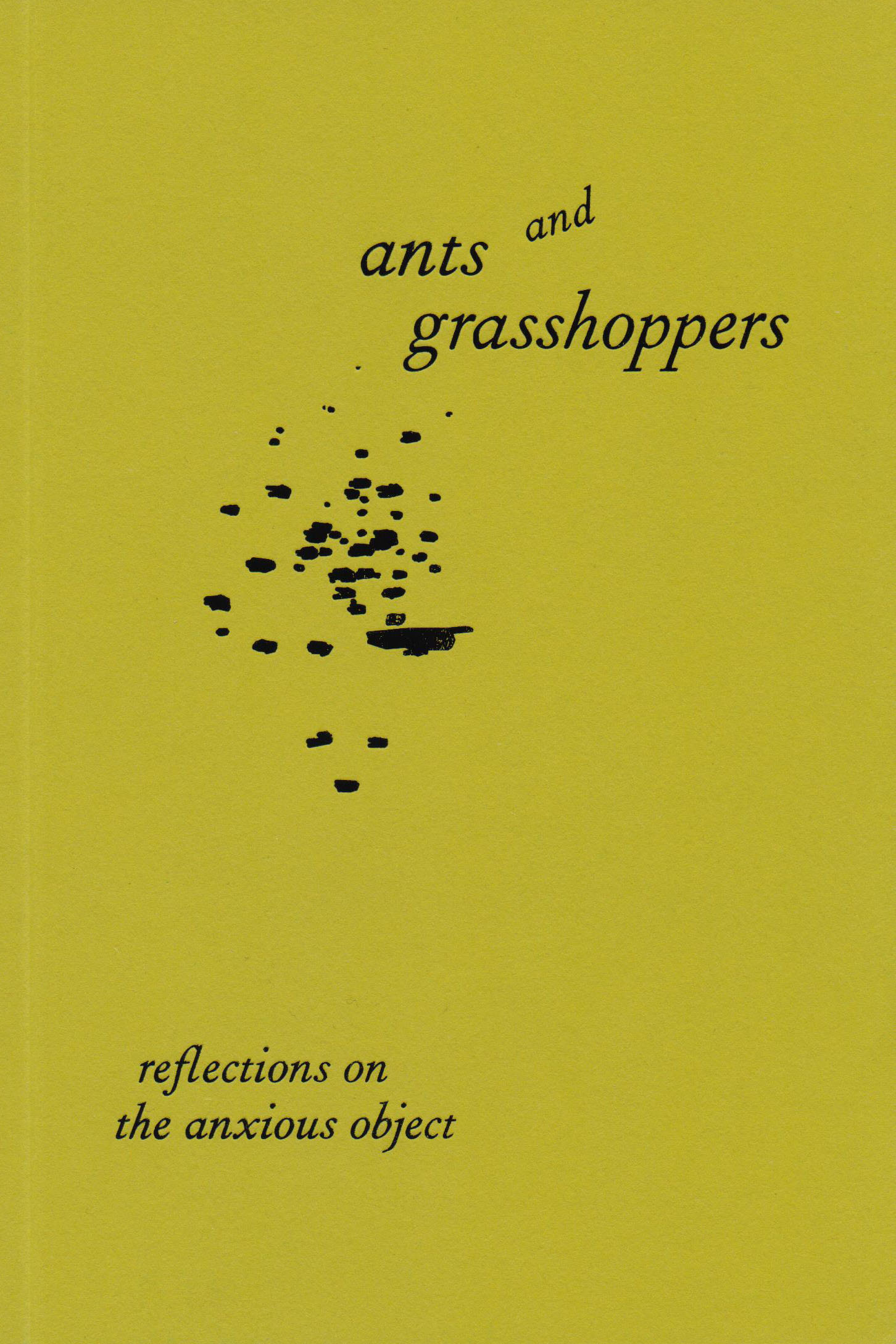 Published 20 May 2021
Publication is available to purchase for £10. Please click here to order. 
David Thorp has been the Director of Chisenhale Gallery; The Showroom; The South London Gallery; Curator of Contemporary Projects at the Henry Moore Foundation and International Adjunct Curator PS1 MoMA, New York. He was curator of GSK Contemporary at the Royal Academy of Arts, and curator of the annual Sculpture Park for the Frieze Art Fair in London. From 2009–2011 Thorp oversaw a period of transition at the ICA and in 2013 he was the Interim Director at Modern Art Oxford and Associate Director of Artes Mundi, Cardiff, UK. Since then he has pursued a career as an independent curator.
Flat Time House's recognisable book sculpture has transected the 'Face' of the building since 2003. Fabricated from­fibreglass with an aluminium and stainless steel support, significant weathering had caused the outside parts of the book to become fragile and distorted. The book has recently undergone extensive conservation work by art fabricators, Arteffects to ensure it is safe to remain cantilevered through the front of Flat Time House for, at least, another 17 years. Flat Time House would like to thank Steve Haines and the rest of the Arteffects team for their dedicated work and the Henry Moore Foundation and the John Latham Foundation for their generous support of this important conservation project.
John Latham was born on 23 February 1921, in Livingstone, Zambia. To mark this centenary, Flat Time Houseis presenting a series of special exhibitions and events through 2021. These began on his birthdate, 23 February, when Agness and Lawrence Yombwe of Wayiwayi Art Studios & Gallery, Livingstone, Zambia hosted an online event to launch the centenary year, marking and mapping the anniversary by relating it to creative initiatives in contemporary Livingstone. The centenary programme will continue with a series of exhibitions and events. More information to be announced.
Information for visitors
Only two households/groups will be allowed to visit the gallery at any one time. We ask that visitors wear a face covering unless exempt. Hand sanitiser will be available on entry to the gallery. A one-way system will be in operation for the preview day. We will not be taking bookings, but we kindly ask visitors to wait to enter if necessary and to respect social distancing guidelines.
The curator of the exhibition will be present for the preview day on Thursday 20 May, which includes extended hours from 12–8pm. No booking required.
Exhibition supported by Paul Mellon Centre for Studies in British Art, the Czech Centre London, The John Latham Foundation, Henry Moore Foundation and Southwark Local History Library & Archive.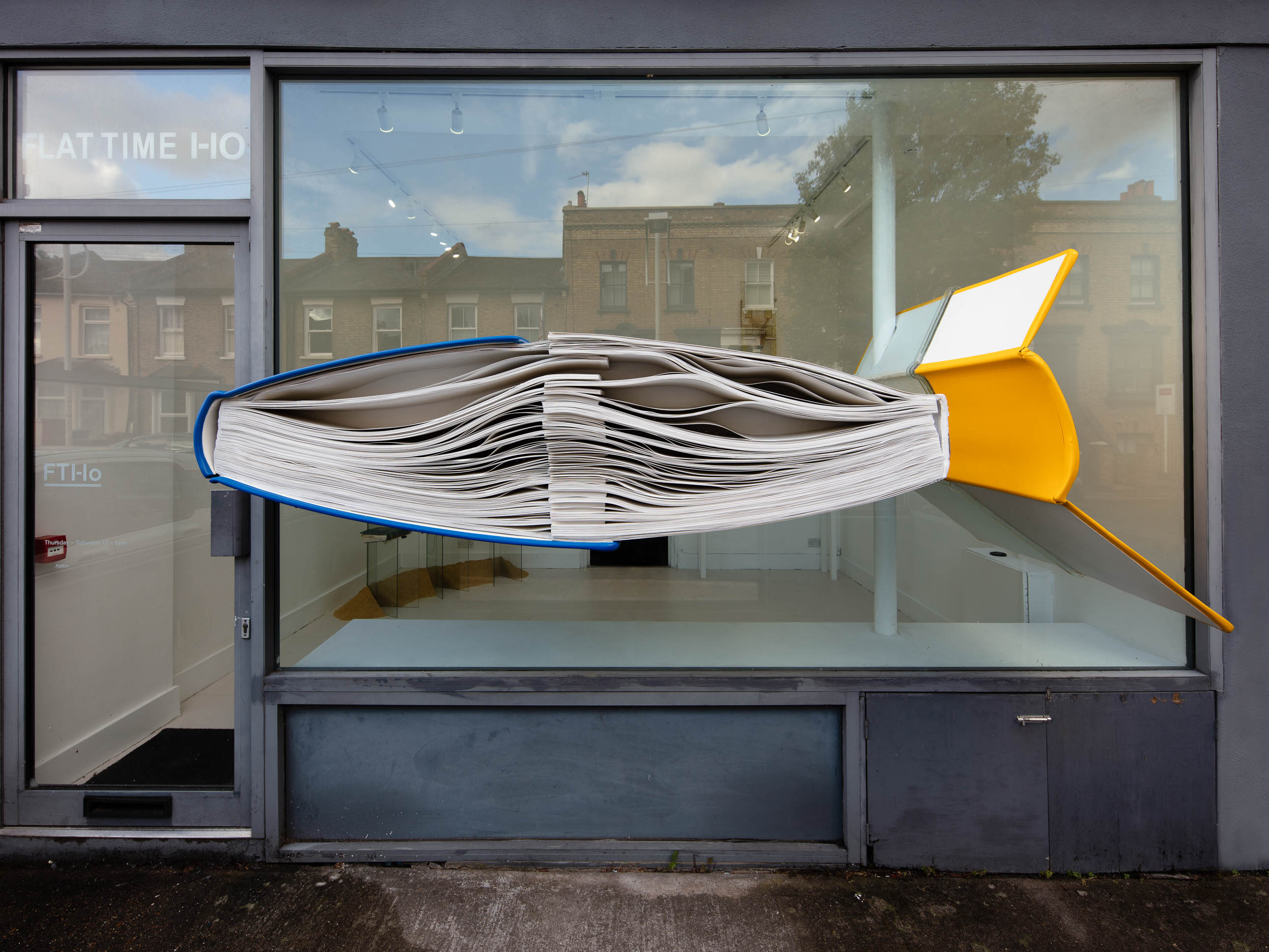 John Latham, 'The Face' Flat Time I-Io, 2003 Fiberglass, stainless steel, aluminium, acrylic, glass, plywood, car paint. Courtesy Flat Time House, 2021. Documentation: Plastiques Photography.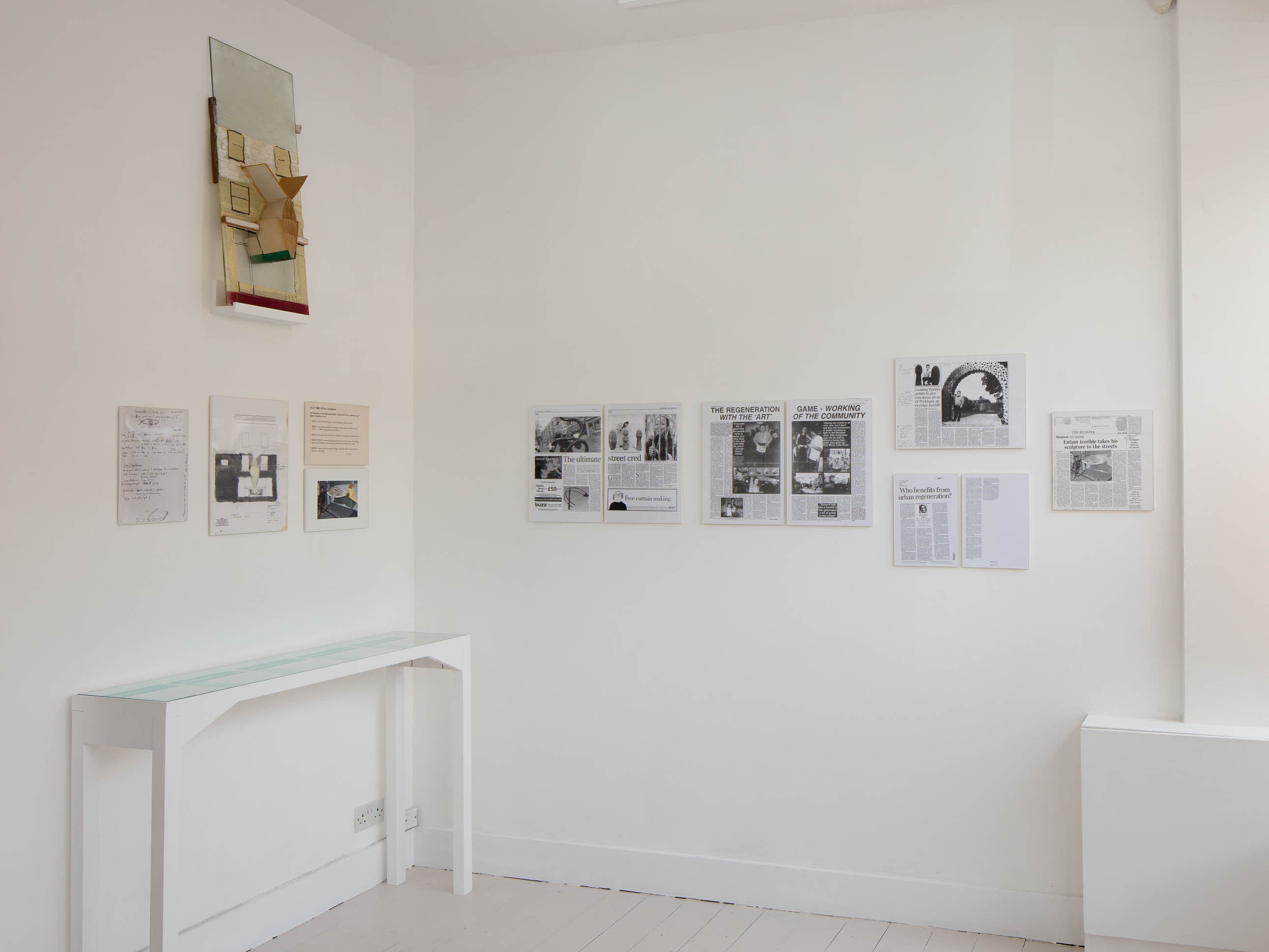 John Latham, Maquette, drawing and plans for 'The Face' Flat Time I-Io, 2001-03. Vitrine – Bellenden: imagination + innovation = regeneration, 5 pages from 'Bellenden Renewal Area Pack', Southwark Housing, 2003, News Articles on 'Bellenden Renewal Area', 2001-2003. Courtesy Southwark Local History Library & Archive. Courtesy Flat Time House, 2021. Documentation: Plastiques Photography.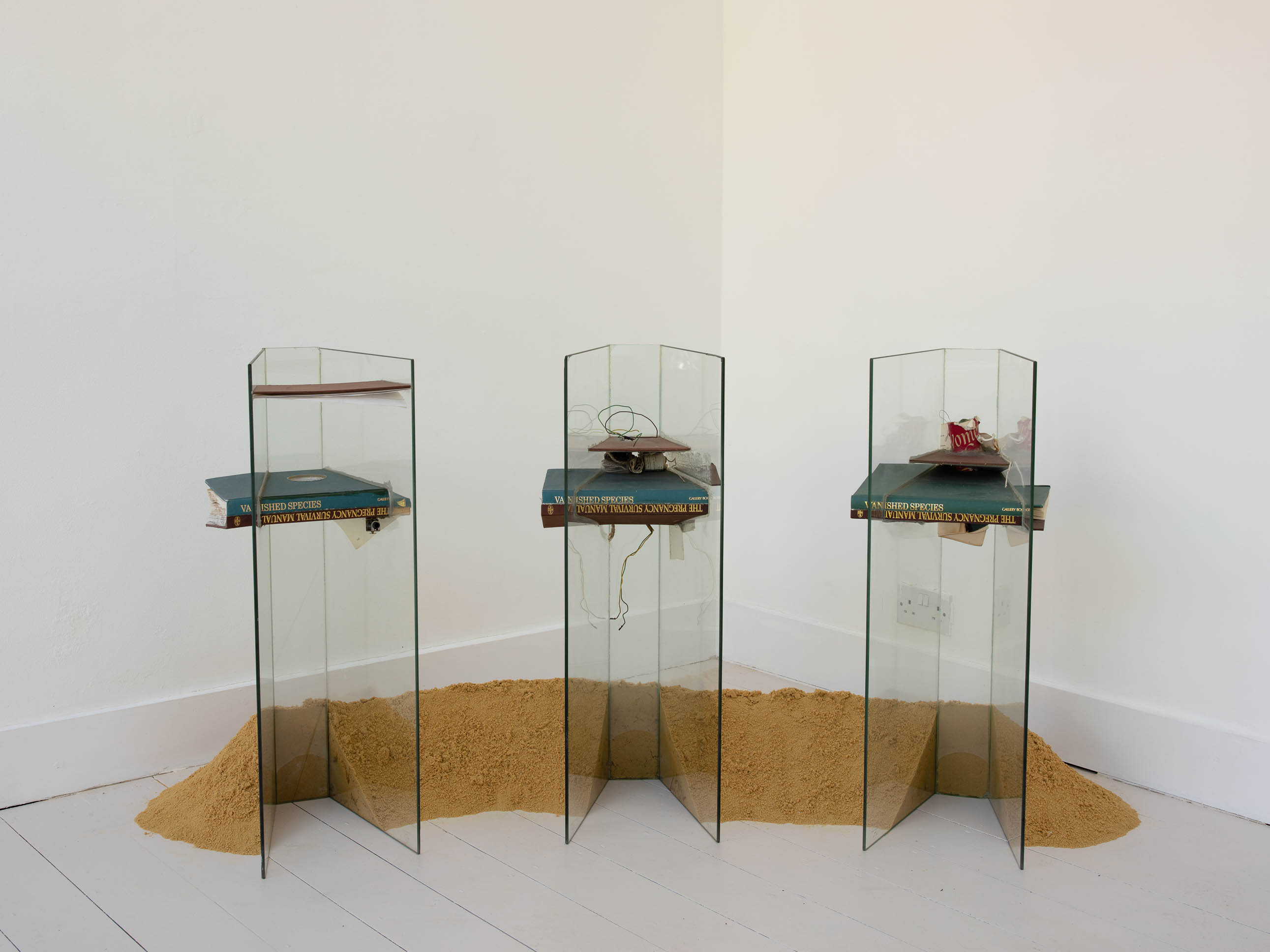 John Latham, N-U Niddrie Heart, 1991 Glass, books, paper, plaster, electrical wire, metal fittings, sand; Numbers 10, 11 and 24 of total of 37 pieces. Courtesy Flat Time House, 2021. Documentation: Plastiques Photography.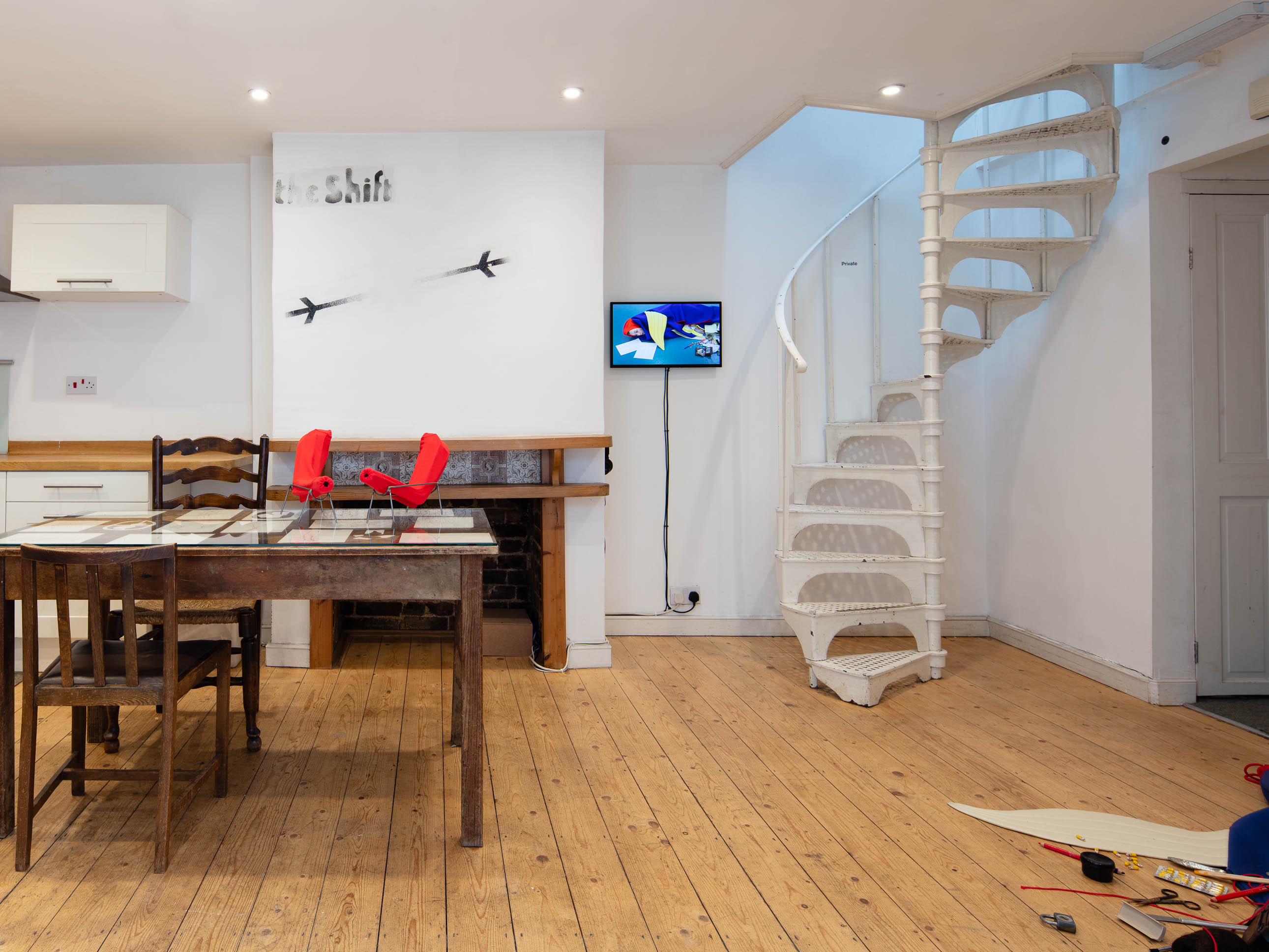 Eva Kotátková, 'untitled' from the series Woman in a Box, 2018 Fabric over metal frame, 16 of 25 pencil and ink on paper drawings installed on table; and documentation of In the Body of a Fish Out of Water, 2018, Performed at Flat Time House, May 2021. Courtesy Flat Time House, 2021. Documentation: Plastiques Photography.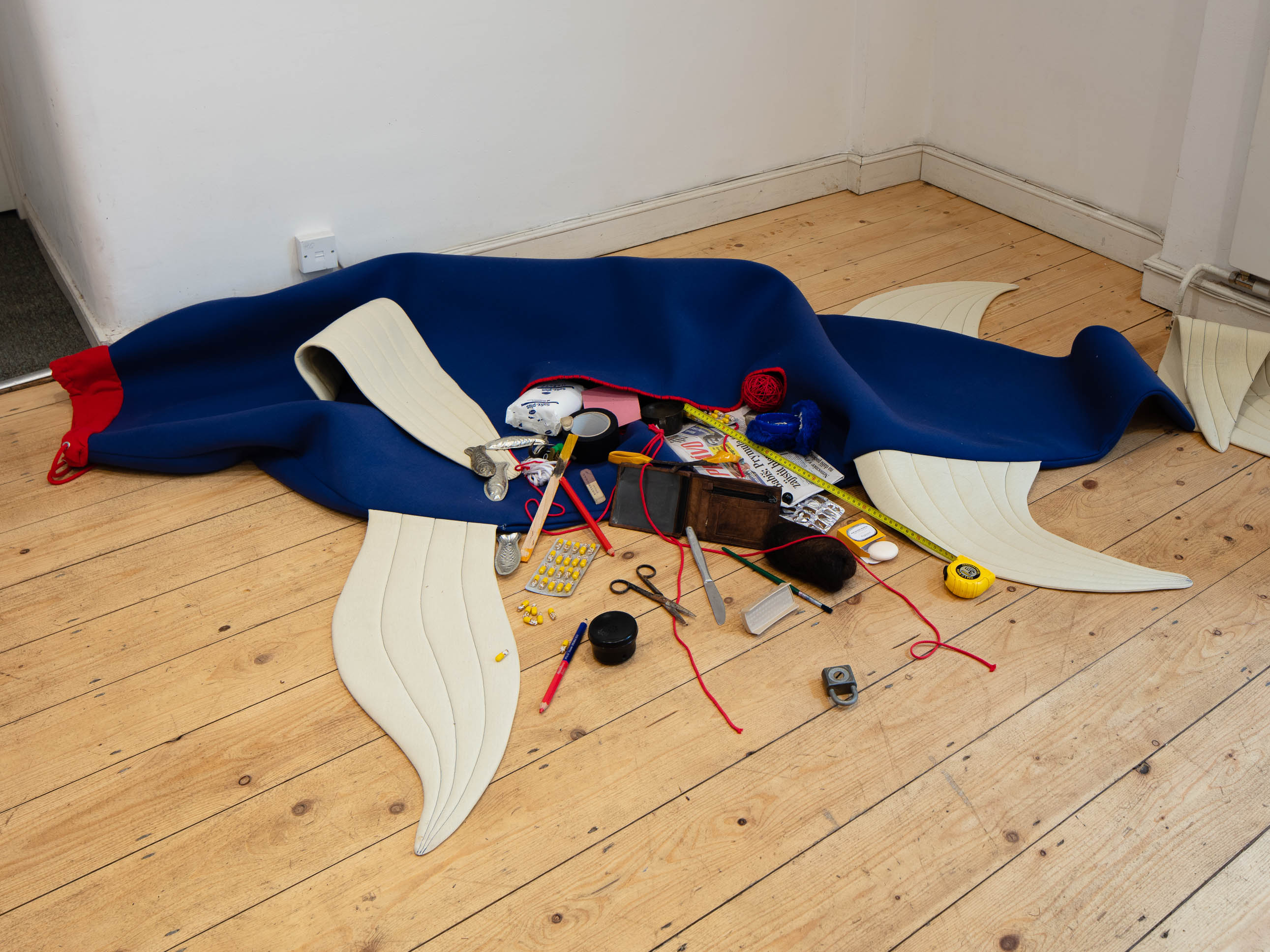 Eva Kotátková, Fish costume, 2018, Fabric and miscellaneous small objects. Courtesy Flat Time House, 2021. Documentation: Plastiques Photography.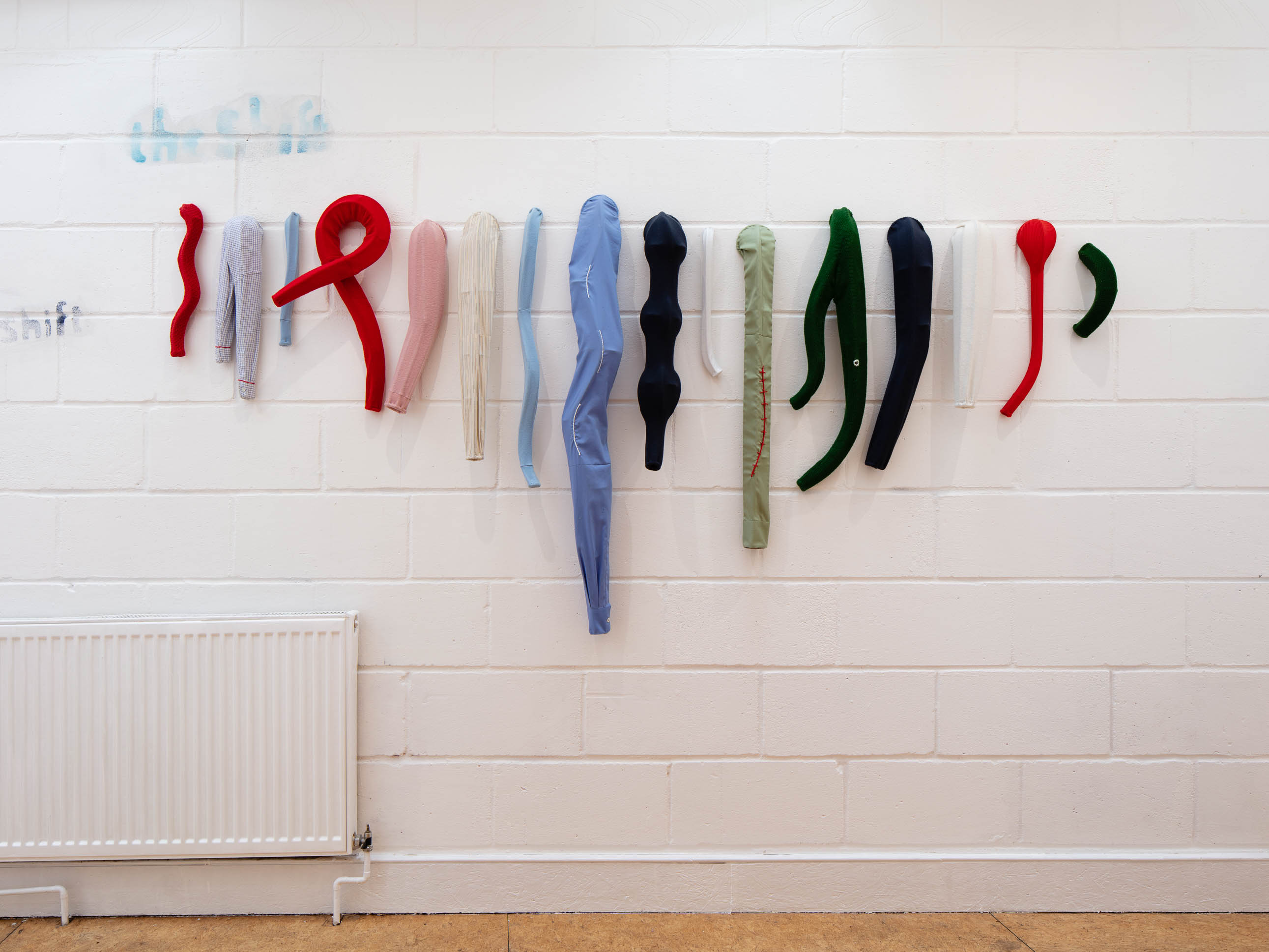 Eva Kotátková, Institution - Pause, 2018 Fabric on metal frame, 16 'sleeves'. Courtesy Flat Time House, 2021. Documentation: Plastiques Photography.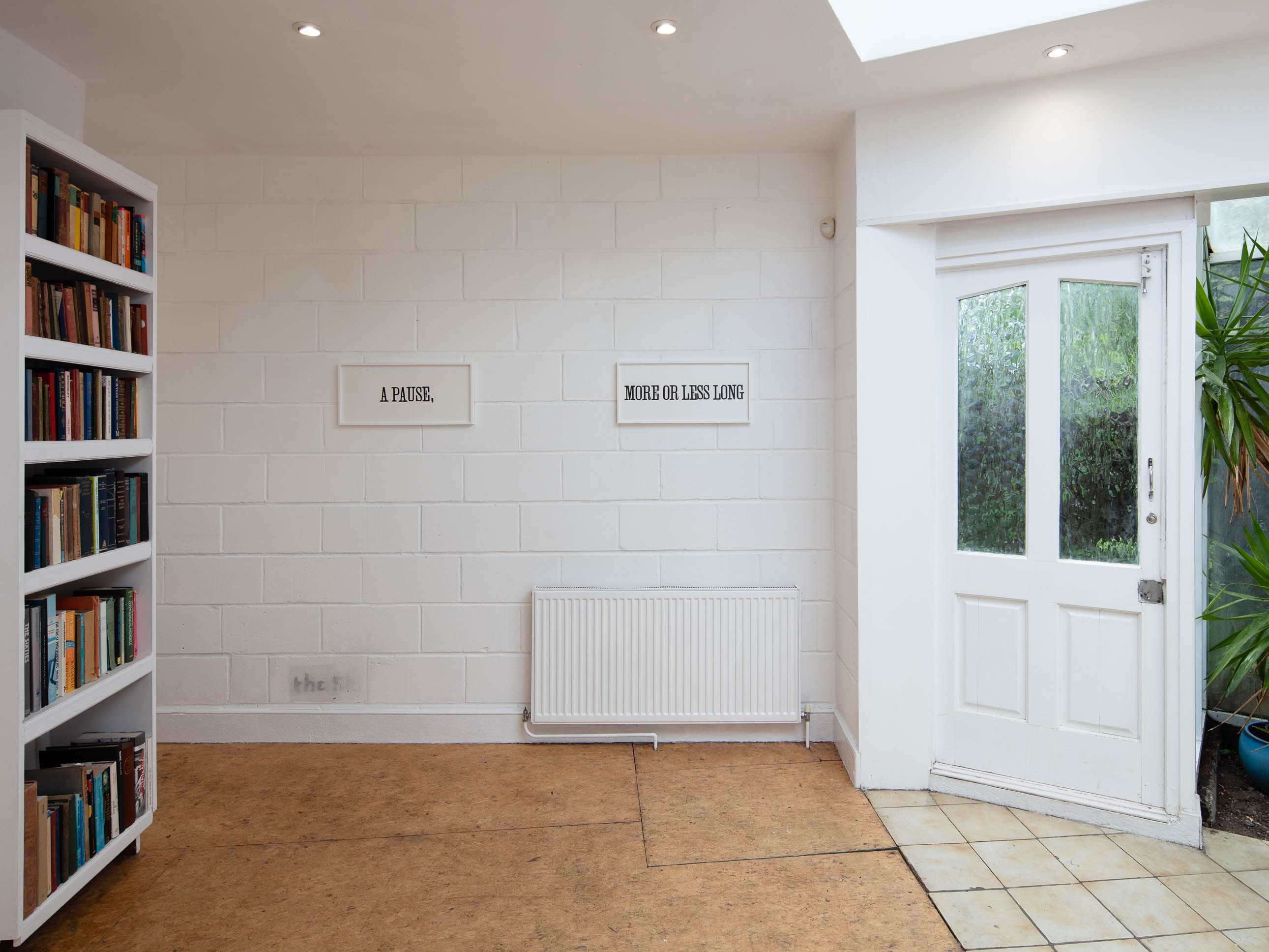 Pavel Büchler, Beckett's Cage, 2019 Letterpress on paper, 2 parts. Courtesy Flat Time House, 2021. Documentation: Plastiques Photography.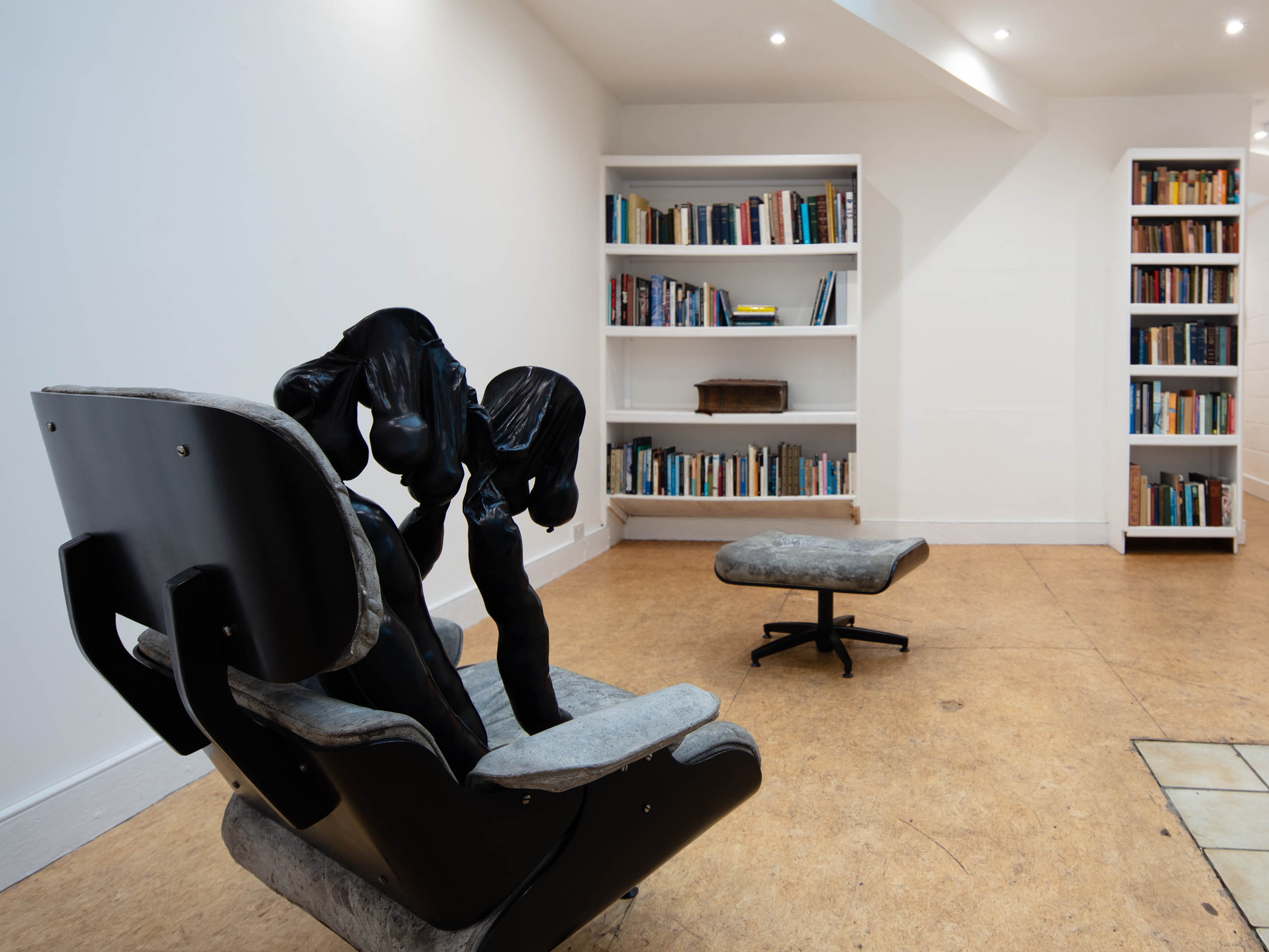 Books from the collection of John Latham. Courtesy Flat Time House, 2021. Documentation: Plastiques Photography.