Thursday 2 July, 7.00pm. Offsite at the PeckhamPlex
A screening curated by LUX Artists' Moving Image Curator in Residence Ellen Greig.
Flat Time House in partnership with LUX Artists' Moving Image present VERTIGO at Peckham Plex, a screening of artist film and video that meditates on the limits of the visual, interplanetary travel, and vertical free falls into power, fear and love. Artists include, Harun Farocki, Marlene and Paul Kos, Sandra Lahire and Margaret Tait, among others.
This is the final event in response to Ellen Greig's recent post as Curator in Residence at LUX.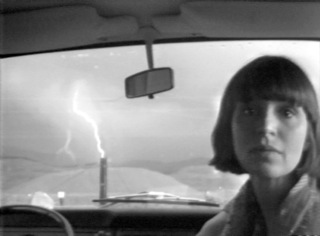 Ellen Greig is a curator and writer based in London. Most recently she was Curator in Resident at LUX Artists' Moving Image, London. She was Assistant Curator at Liverpool Biennial 2014, where she worked with artists Bonnie Camplin, Aaron Flint Jamison, Angie Keefer, Hassan Khan and Peter Wächtler, among many others. Curatorial projects include, 'A Picture is no Substitute' (Seventeen Gallery, 2014), London; 'In the presence of multiple possibilities', (French Rivera, 2010); 'Are You Experienced (?)', (SPACE, 2010) and 'The Object of the Attack', (David Roberts Art Foundation, 2009). Ellen has worked as a visiting lecturer at Camberwell College of Arts, London and College of Fine Arts: UNSW COFA, Australia. She holds an MA in Curating Contemporary Art at the Royal College of Art, London (2011 – 2013).
Programme:

Aerial, Margaret Tait, 1974, 4.00 minutes
The Receding Landscape, Jenny Okun, 1977, 10.00 minutes
Flight One, John Goff, 1988, 5.00 minutes
Machine Eye II, Harun Farocki, 2002, 15.46 minutes
B.I.T Plane, Bureau of Inverse Technology, 1999, 14.34 minutes
Lightning, Marlene and Paul Kos, 1976, 1.23 minutes
Satellite, Nelson Henricks, 2004, 6.00 minutes,
Eerie, Sandra Lahire, 1992, 1.00 minutes
vertigo
thursday 2 july, 7.00pm
PeckhamPlex
95a Rye Lane, se15 4st