Wednesday 25 October 11am–2.30pm
Free event but an expression of interest is required to participate. Info below.
This autumn, The Feminist Duration Reading Group hold a special gathering for making and eating stone soup at Flat Time House. Taey Iohe's ongoing 'Leak' research is the starting point for this event, which explores the socio-botanical entanglement of excavated land and our wounded bodies through slow metabolic practice. Taey invites a medical herbalist, Rasheeqa Ahmad, and artist, Rachel Pimm, who, together, have broadened the invitation to create a circle of growers, cooks, thinkers and artists involved in daily practices at the critical intersections of land and food to make a stone soup.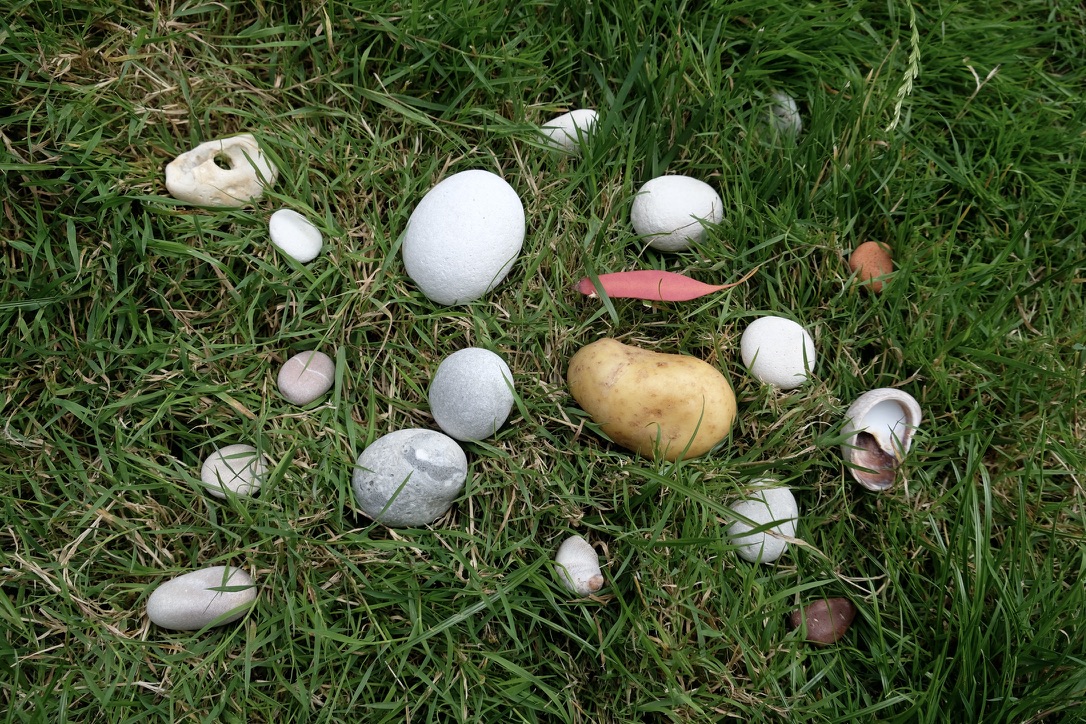 A circle of guests is invited to offer an ingredient to make a recipe for stone soup, which is itself a metaphor and action for the generosity of a communal meal made from many small contributions. Over the course of a lunch prepared and eaten together, a base stock will be enriched and blessed by the group. Each story of spice, herb, or vegetable will map migration and connection to the place and its politics.
In addition to sharing their own ritual knowledge, excerpts of connected texts will be read aloud together. Readings include selections from Anita Mannur's book Intimate Eating, Racialized Spaces and Radical Futures (Duke University Press, 2022). Tracing how people of colour, queer people, and other marginalized subjects sustain belonging, Mannur reconfigures how we think about networks of intimacy beyond the family, heteronormativity, and borders.
This gathering is an opportunity to come together and create something new, to share our stories, and to build community. It is a space for us to explore the intersections of land, food, race, gender, and sexuality, and to generate new ways of being in the world.
Expressions of Interest
We have limited number of places due to the size of the kitchen. To reserve a place, please send a brief Expression of Interest (c.100-200 words) to [email protected] with your story about the chosen ingredient you would like to contribute to the group. We are happy to receive Expressions via video or voice memo (up to five mins) as well as email.
Deadline for expressions of interest is 15 September 2023
Biographies
Rasheeqa Ahmad
Rasheeqa (Hedge Herbs) is a herbalist in her community in Walthamstow, North East London. She has been practising since 2012, offering treatment with herbal medicine and teaching about its many aspects, alongside a wider mix of work whose aim is connecting us as communities with the potential of this knowledge and craft as a way to develop healthier living systems and relationships. She has contributed writing to artist publications around these themes and has presented talks around the histories and politics of plant medicine and healthcare. Rasheeqa is inspired by her early involvement with the Radical Herbalism Gathering in exploring how to make plant medicine accessible and restore balance to its practice in the contexts of systemic inequalities and oppressions that are part of our shared histories. @HedgeHerbs
Taey Iohe 
Taey is an artist and writer whose work spans across diverse media, including text, moving images, social practice and assemblage through an Asian crip/queer feminist lens. Their practice fuses research-based works with personal narratives that challenge socio-botanical entanglements in social medicine and climate justice. Taey is a co-founder of the Decolonising Botany Working Group and has presented the performance A Refusing Oasis at Documenta 15 (2022). Taey holds a PhD in the programme of Gender, Identity and Culture at the School of English and Film, University College Dublin, funded by Writing On Borders. A member of the Feminist Duration Reading Group's Working Group, currently Taey is a resident at Somerset House supported by an exchange bursary programme. (@taey.iohe)
Taey acknowledges the support of the Develop Your Creative Practice grant from Arts Council England
Rachel Pimm 
Rachel (they/ them/ theirs) is a research-based artist searching for the origin of things, telling material stories, finding the political - the feminist, queer, sick, and postcolonial - in the animal, vegetable, and mineral. Their work is often collaborative and has been presented at the Serpentine Gallery, Whitechapel Gallery, and Royal Academy in London, and art centres in the US and around Europe. Rachel is Associate Lecturer at Camberwell College, UAL. @rachelpimm
Feminist Duration
This gathering is part of the Feminist Duration series which explores under-known texts, ideas, and movements associated with earlier periods of feminist activity in the UK. Initiated as part of a year-long residency at the South London Gallery in 2019, and moved online during the height of the COVID-19 pandemic, the programme juxtaposes earlier moments of feminist with current urgencies and struggles.
By restoring material texture to overlooked political and cultural movements, it seeks to resist versions of the past that reduce feminist struggle to one-dimensional stereotypes. Looking to the past to activate its nascent potential, the programme aims to identify tools that can inspire and enrich further collective action, promoting the intergenerational exchange of knowledge and experience. While honouring earlier feminisms, the series also highlights how collaboration, difference, and dissent have characterised previous feminist movements, and how feminists have both negotiated, and failed to significantly attend to, differences between themselves.
Feminist Duration is generously supported by the CHASE Doctoral Training Partnership.

The Feminist Duration Reading Group (FDRG) focuses on under-represented feminist texts, movements and struggles from outside the Anglo-American canon. The group has developed a practice of reading out loud, together, one paragraph at a time, with the aim of creating a sense of connection and intimacy during meetings.
The group was established in March 2015 by Helena Reckitt, at Goldsmiths, University of London, to explore texts from the Italian feminist movement of the 1970s and 1980s. Later in 2015 it relocated to SPACE in Hackney, East London where it was hosted by Persilia Caton until April 2019. From June 2019 to February 2020 the group was in residence at the South London Gallery, where it focused on intersectional feminisms in the UK context (a planned year-long programme that was moved online due to COVID-19). In 2023 the group was one of several groups selected for the Residents programme at Goldsmiths CCA, London.
FDRG sessions have been organised with Emilia-Amalia at Art Metropole in Toronto; Kunstverein Harburger Bahnhof and HFBK Hamburg, Germany; in London at the Barbican Art Centre, Chisenhale Gallery, Mimosa House, Mosaic Rooms, The Showroom, Advocacy Academy, AntiUniversity, Department of Feminist Conversations, and as part of The Table at the Swiss Church. Elsewhere in the UK we have gathered at Grand Union, Birmingham, De La Warr Pavilion, Bexhill-on-Sea, and Hypatia Trust, Penzance.  A sister group, NW FDRG, was set up in Liverpool by Kezia Davies in 2019. Members of the FDRG organised the two-week long events programme, 'Now Can Go,' focused on legacies of Italian feminism, across four London arts spaces, in December 2015.
The group usually meets once a month, in art spaces and community venues as well as non-institutional venues such as private homes or gardens.
The FDRG aims to be an inclusive trans-positive space. They welcome feminists of all genders and generations to explore the legacy and resonance of art, thinking and collective practice from earlier periods of feminism, in dialogue with contemporary practices and movements.
Working Group
FDRG sessions are initiated by a Working Group. Current members are Beth Bramich, Sabrina Fuller, Taey Iohe, Helena Reckitt, and Dot Zhihan.
Support Group
Activities are supported by a Support Group comprising former Working Group members Giulia Antonioli, Angelica Bollettinari, Lina Džuverović, Lily Evans-Hill, Mariana Lemos, Katrin Lock, and Ehryn Torrell.  Other former Working Group members are Félicie Kertudo, Ceren Özpinar, Sara Paiola, Justin Seng, and Fiona Townend.
 
More info: 
www.feministduration.com/