POSTPONED

Someone else can clean up this mess: BARBARA STEVENI & JAKOB JAKOBSEN
Future date TBC
This event has had to be postponed due to unforeseen circumstances. We are very sorry for any disappointment and will endeavour to reschedule.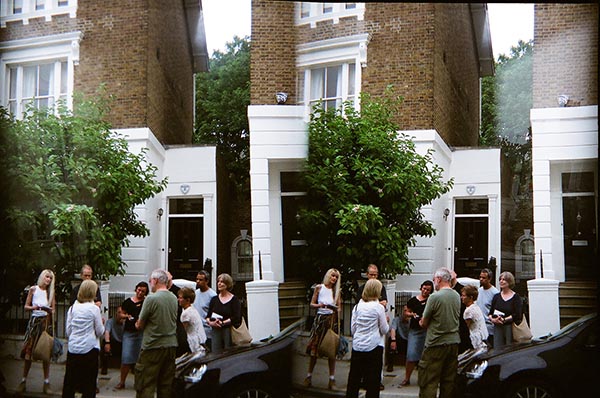 This performative exchange between the two artists takes as it's starting point Steveni's home during the 1960s and 1970s; 22 Portland Road in Notting Hill.  Drawing on Steveni's development as a dancer and artist in relation to her material life during those years, the conversation starts as a filmed exchange between the two artists outside 22 Portland Road, discussing the experiences that that house was witness to; making food, hanging out, socialising, making art, bringing up children. 
The short film (dir. James Price) will lead into a broader conversation at Flat Time House over the role of 'the home' as a site of reproduction and production, how the work of organising projects and bringing people together can be understood in relation to daily life.  

Barbara Steveni and Jakob Jakobsen first met at the Copenhagen Free University in 2002 and since then have continued to meet and talk on many occasions.
The event will be followed by drinks and a shared meal. Childcare is available but must be booked in advance. Places for the event are extremely limited. Booking is essential. Please email info@flattimeho.org.uk or call 02072074845.
BARBARA STEVENI
Barbara Steveni is an artist and the founder of the Artist Placement Group (APG). Between 1966 and the beginning of the 1980s, the pioneering artists' organization APG, negotiated placements for artists with government departments or corporations, using the notion of the 'open brief', in which the outcomes of the placement would not be agreed in advance. The work of APG was recently the subject of an exhibition at Raven Row Gallery (The Individual and the Organisation: Artist Placement Group 1966-79). Steveni's current work I AM AN ARCHIVE gathers artists and professionals across three generations in a series of participatory and documentary walks, taking place on the site of original APG placements, exploring the potential to reactivate APG methodology in the "greed economics of the day. Her recent work and performances have taken place at Whitechapel Gallery, Arnolfini, STUK and many more institutions internationally.
JAKOB JAKOBSEN
Jakob Jakobsen is a visual artist, educator and activist. He was cofounder of the Copenhagen Free University, active from 2001 to 2007; the trade union Young Artworkers (UKK) in 2002; the artist run television station tv-tv in 2004; and Nebula Publishers in 2010. He was professor at the Funen Art Academy from 2006 to 2012. Recent exhibitions include Image Politics/Billed Politik at Overgaden, Institute of Contemporary Art in Copenhagen and This World We Must Leave at Kunsthalle Aarhus in 2010 and Trauma 1 - 11: Stories about the Copenhagen Free University and the surrounding society in the last ten years at the Museum of Contemporary Art in Roskilde in 2011. He was part of And And And / dOCUMENTA13 with the The Antiuniversity Research Project initiated with Mayday Rooms, London in 2012.