To accompany The Psychopathic Now! on Saturday 8th December FTHo is hosting a reading group with Emmy Beber followed by a film screening event hosted by Jamie Sutcliffe. You are welcome to attend one or both events. Events are free but booking is required for the reading group.
1-3pm: Reading Group with Emmy Beber NOW FULLY BOOKED
Writer Emmy Beber, editor of The Bodies That Remain (Punctum, 2018), leads a reading group based on Jeff Nuttall's Bomb Culture, extrapolating a bodily politics of frailty, vulnerability and resilience from the post-atomic condition described by Nuttall's evocative text. Readings will be drawn from Bomb Culture and both contemporaneous and contemporary sources. You are welcome to stay and attend the film screening afterwards.
4-6pm: Film Screening with introduction by Jamie Sutcliffe
Writer and exhibition co-curator Jamie Sutcliffe introduces a selection of films that parenthetically book-end Bomb Culture's political, psychological and aesthetic concerns. Lindsay Anderson's March to Aldermaston (1959) and Jamie Wadhawan Cain's Film (1969) record a journey from popular anti-nuclear demonstration to an interest in the possibilities of anti-psychiatry and the insurrection 'of a million minds'.
Free, no booking required.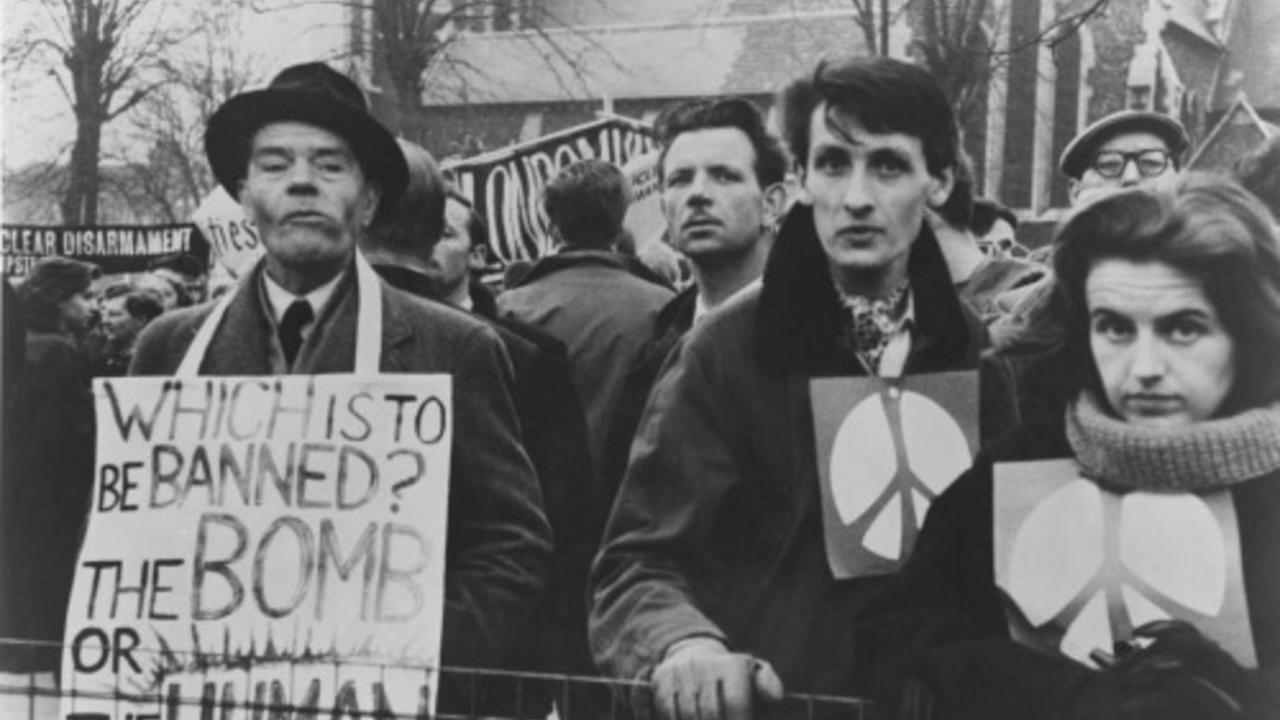 Information on films
MARCH TO ALDERMASTON Directed by Karel Reisz and Lindsay Anderson, 1959, 33 minutes
1958's Easter march to Aldermaston enjoys landmark status in the annals of peaceful protest. Its filmed record is similarly recalled as a milestone for campaigning documentary.
CAIN'S FILM Directed by Jamie Wadhawan, 1969, 27 minutes
Documentary on Alexander Trocchi (1925 - 84), Scottish born writer, poet, translator and author of 'Young Adam' and 'Cain's Book'. Featuring William S. Burroughs, Davy Graham and R.D. Laing.
INFORMATION ON CONTRIBUTORS:
Emmy Beber is a writer, editor and teacher in London. She performs as part of the collective and band WE with Pil and Galia Kollectiv and Victor Jakeman. Her edited volume, The Bodies That Remain, was published by Punctum Books, New York, in 2018.
Jamie Sutcliffe is a writer, curator, and co-director of the independent publishing house Strange Attractor Press (distributed by MIT). His essays, reviews and interviews have appeared regularly in Art Monthly, Frieze, Rhizome, The White Review and EROS Journal, while recent catalogue essays have been commissioned for The New Museum, New York, The Austrian Cultural Forum, London, and Amrit Jhaveri, Mumbai. He has chaired symposia at Wysing Arts Centre, Somerset House and The V&A, and currently co-edits both A-or-ist, a journal of new art writing, and Berserker, a critical anthology of unabashed genre work and underground comics. He is currently developing a two venue exhibition for Cafe Gallery Projects, London.