Daylong Event at Flat Time House, Artist Run and Peckham Liberal Club
Guest artists and writers include Sally O'Reilly, Megan Rooney, Audrey Reynolds, David Raymond Conroy, Lucy Vann, and Daisy Hildyard.
Organised by RCA Writing Programme in Residence
2pm - 7:30pm: Flat Time House & Artist Run
Artist Run: Unit 6, Bellenden Road Business Park, SE15 4RF
7pm - Late: Peckham Liberal Club: 24 Elm Grove, London, SE15 5DE
What happens on the threshold where the home and the public meet?
What kind of face does a place need to put on to become public-facing – and how can it express welcomeness and be welcomed?
When a house tries to make itself hospitable, what happens to us inside?
Join us for a day of workshops, performances and discussion, moving between three neighbouring venues in Peckham. Events include artist demonstrations, writers' seminars, performances, talks, and a 'pub' quiz full of the unexpected. Guests include Sally O'Reilly, Megan Rooney, Audrey Reynolds, David Raymond Conroy, Lucy Vann, and Daisy Hildyard.
Hosted by Flat Time House in collaboration with MA Writing students from the Royal College of Art.
Attendance is free across all three venues and all events but booking is required.
Click Here to Book a Place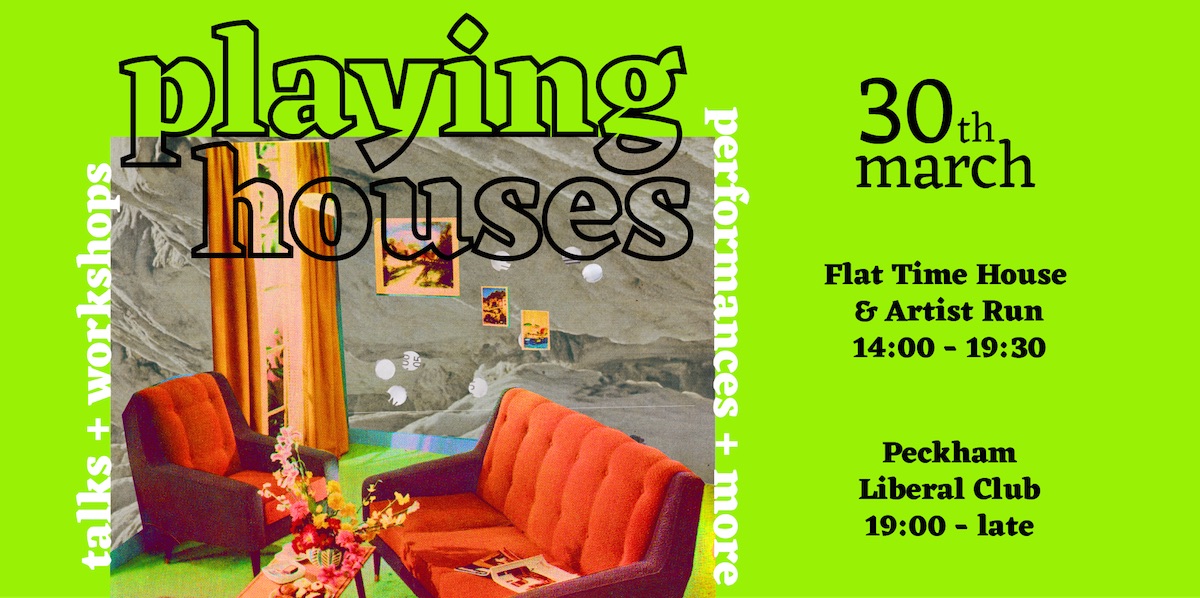 PROGRAMME
2pm-3.30pm @ Artist Run
TAP TAP: inside the body with Megan Rooney
Open to all ages. Limited capacity, please arrive early.
My mother had a sign above the stove which read, "A tidy home is a sign of a misplaced life." Out of isolation or perhaps out of pure boredom, she included me in all her domestic activities. We were taking care of the "nest" but it wasn't our cage. The house provided us with a certain kind of freedom and we took liberties with it.
In this performance lecture and making demonstration, Megan Rooney, an enigmatic storyteller whose work expands across painting, performance, written and spoken word, sculpture and installation, will engage with materiality and the human subject. Her work is deeply invested in the present moment: the festering chaos of politics with its myriad cruelties and the laden violence of our society, so resident in the home, in the female, in the body.
2pm-4pm @ Flat Time House
Reception Room: A reading and writing seminar with Audrey Reynolds
Open to all ages. Limited capacity, please arrive early.
Attendees are asked to stay for the full seminar.
Through the interleaving of texts and experiences this seminar will be used to produce new experiences and texts. Participants will engage with a selection of texts and audio that address some matters relating to dominions and domains, will and welcome, and public and private thresholds.
Artist and writer Audrey Reynolds will present her own writing and audio work interspersed with a selection of poetry and prose extracts by other writers. This will lead on to writing exercises focusing on, but not limited to, vignettes, prose poetry and interior monologues that examine the participants' experiences as potential guests, ghosts or imagined selves in Flat Time House.
4pm-5pm @ Flat Time House
Curdling: a performance with Esme Boggis
Join artist and MA Writing student, Esme Boggis, for a buttery performance in the kitchen of Flat Time House, which will attempt to interpret 1970's German-written cookbook – Buffets and Receptions in International Cuisine. The performance will enter a space of greasy re-enactment, slippery methodologies and muddied mistranslation to explore the inefficacies of effect and representation. 
2pm-7pm @ Flat Time House 
Flat Time House TV
Daytime TV for the curious: a specially selected afternoon of programming responding to the theme of 'Playing Houses'.
Broadcasting contemporary short film, moving image and music videos from artists and filmmakers, plus footage from the Flat Time House archive. Drop-in-and-drop-out all afternoon, grab a copy of the TV listings, help yourself to free tea and coffee.
Featuring John Latham, Laure Prouvost, Sam Wiehl, Pathé Film, and many more.
2pm-9pm @ online location TBA
Flat Time Radio
MORE INFO TBA 
5pm-7pm @ Artist Run
Artists' and writers' talks & performances
Limited capacity, please arrive early.
Three invited artists and writers give readings and performances on communication, habitation and the 'public' space - with subjects as diverse as the artist's archive, Tinder and the inside of a nuclear reactor.
Daisy Hildyard is a novelist and academic. She has a PhD on early-modern scientific writing. Her first novel Hunters in the Snow received the Somerset Maugham Award and a '5 under 35' honorarium at the USA National Book Awards. She currently runs a research project on animals and fiction at Northumbria University, and is working on a novel about nonhuman life forms. Her latest book, The Second Body, is an essay on the Anthropocene.
She will host a reading of a series of short texts and extracts which consider how humans and other animals make habitat, from Kafka's The Burrow to the microbes who live inside nuclear reactors at Chernobyl and Fukushima. There will be time for response and discussion after the reading.
Starts 5pm, running time – approximately 30 mins
Lucy Vann studied at the Manchester School of Art before completing an MA at the Royal College of Art. She is an artist and part time lecturer on Graphic Design at manchester School of Art, and holds a studio at S1 Artspace.
I've Come Here To Talk To People' is a monologue inspired by language used on dating apps such as Tinder, picking out tropes, one liners and moments of uncertainty used in biographies and conversation. The performance explores the presentation of the self and communication both on digital platforms and in public spaces.
Starts 5:45pm, running time – approximately 20 mins
David Raymond Conroy is an artist. His compositional works investigate the performance and construction of subjectivity, power and value within shared social space. He often assembles structures using objects, texts and images in order to investigate the relationships between desire and proposals of fidelity.
He will be exploring John Latham's archive, looking at the artist's extensive correspondence with the (art)world and his efforts to support and publicise his work without compromising his vision.
Starts 6:15pm, running time – approximately 30 mins
7pm-late @ Peckham Liberal Club 
Playing Houses Pub Quiz
In the evening, guests are invited into Peckham Liberal Club to digest the daytime's thoughts, events and conversations at Playing Houses, and participate in a 'pub quiz'. Guests can write, discuss and relive the day's activities in a quiz format. But unlike most quizzes, you may be asked to craft materials in your team or to write responses to esoteric, unanswerable questions – not necessarily answer, but to respond. Playfully, and with special guest hosts, the quiz will activate responses in the third and final venue of the day, asking questions of encounters in space and the unpredictability of what occurs in these situations.
Graphic design by Alec McWilliam of Boon Studio – 
@BoonStudio / https://www.facebook.com/boonstudioglasgow/