13TH OF APRIL 2019 3-5pm & 6-8pm
Flat Time House presents a live performance event by Louis d'Heudieres and Annika Kahrs. The event consists of Strings, a piece by Kahrs for string quartet, and a lecture-performance, it's about time, by d'Heudieres.
In Strings, a string quartet plays the opening bars of Beethoven's C minor op. 18 No. 4. In a dramatic progression, violins, viola and violoncello combine rising Fortissimo and quiet Staccati to a harmonic whole. This coordinated homogeneity comes to an end as the playing stops after the first melody and each musician swaps position and instrument with their neighbour to the right. With each other's instruments, things become very different. The playing starts a balancing act between fragility and catastrophe. A tone leaps from the sequence, and seconds of silence occur between sharp and lucid dissonance. Clearly unsettled, the participants fight through the score until every player has sat in every chair.
d'Heudieres' new lecture-performance it's about time uses La Monte Young's Composition 1960 #10 as a springboard for considering the infinities contained within music, time and space. In addition, new pieces developed specially for FTHo will be presented.
There are two events beginning at 3pm and at 6pm.
Tickets are pay what you can, but numbers are strictly limited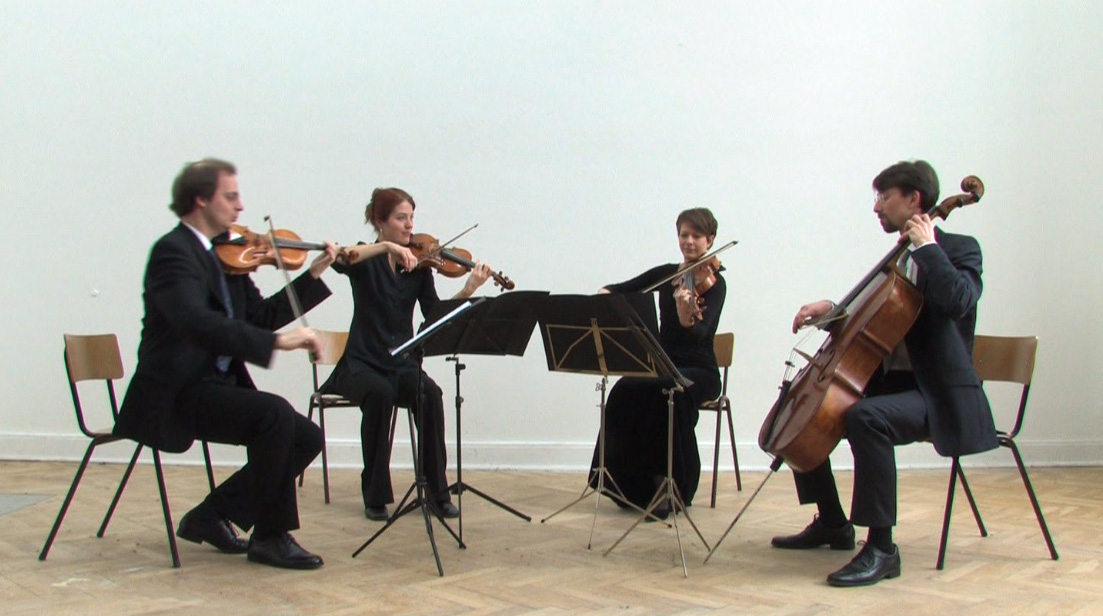 Annika Kahrs b. 1984 is an artist who primarily works with film, performance and installation. In her work she examines representation and interpretation; she is interested in both social and scientific constructs, as well as evolved organic relations such as those between humans and animals. Her films oscillate between obvious staging and documentary-like observation. Music is very important in her films; through her selection, and the ensuing adjustments during the editing process, the score turns to film, and, subsequently, this film as score can turn into another film in the viewer's mind.
Annika Kahrs has been awarded a number of prizes and scholarships including the George-Maciunas-Förderpreis in 2012, and first prize at the 20th Bundeskunstwettbewerb of the German Federal Ministry of Education and Research in 2011. Kahrs has exhibited internationally, including at the Hamburger Bahnhof – Museum für Gegenwart, Berlin, 5th Thessaloniki Biennale of Contemporary Art, Greece, On the Road exhibition in Santiago de Compostela, Spain, the Bienal Internacional de Curitiba, Brazil, Hamburger Kunsthalle, KW Institute for Contemporary Art, Berlin and the Velada de Santa Lucia festival in Maracaibo, Venezuela.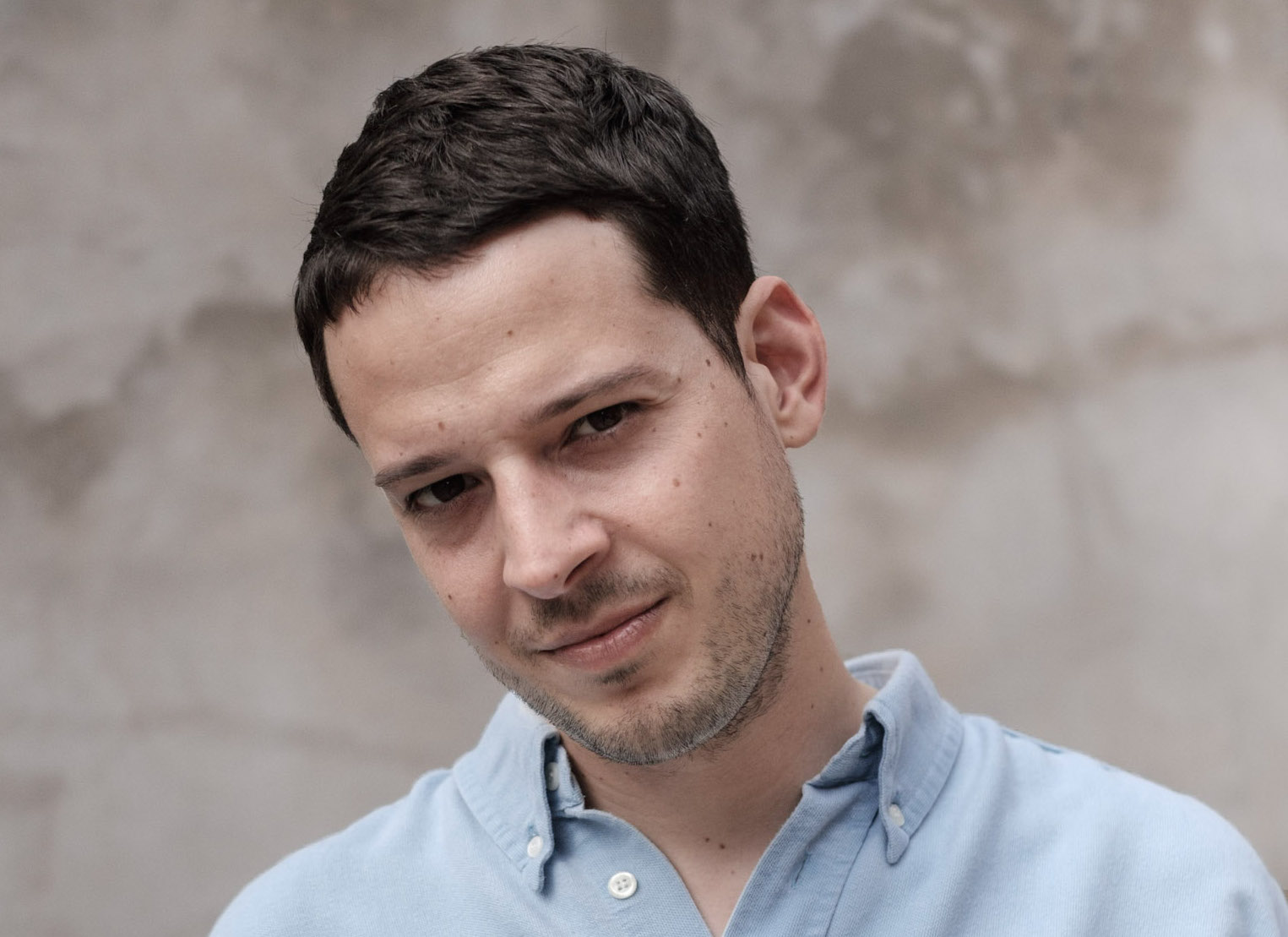 Louis d'Heudieres is a composer based in London since 2006. He has written music for (amongst others) Ensemble Nadar (Belgium), soundinitiative (France), Maulwerker (Germany), orkest de ereprijs (Netherlands), An Assembly (UK), Bastard Assignments (UK), x.y ensemble (UK), Juliet Fraser (UK), Jennifer Walshe (EI/UK), jetpack bellerive (Switzerland), Joseph Houston (UK), Antoine Francoise (Switzerland), and Eliza McCarthy (UK).
His work has been performed at concert series and festivals such as the Darmstadt International Ferienkurse fur Neue Musik, Labor Sonor, Unehörte Musik (Germany), Atlas Festival (Netherlands), Espace des Arts Sans Frontieres (France), No Hay Banda (Canada), Spectrum (US), Kammer Klang, Occupy the Pianos, An Assembly, Bastard Assignments (UK). He has collaborated with artist Annika Kahrs on several projects, leading to performances and installations at the Berliner Festspiele, Maerzmuzik, and SAVVY Contemporary, Berlin. He directed and translated the first French version of Tim Parkinson's opera Time With People, with the Nouvel Ensemble Contemporain and Hochschule fur Kunst Bern in La Chaux-de-Fonds, Switzerland. His works have been played multiple times on national radio stations such as BBC Radio 3, Resonance 104.4FM (UK), DR P2 (Denmark), and Deutschlandfunk Kultur (Germany), and his music has been released on CD on the Danish CDKlassisk label.
Some of the themes Louis's work explores are human minds and bodies as sonic/cognitive filters, vulnerability and failure in concert settings, and personal relationships with pieces of music.Since around 2015 he has been writing almost exclusively using sound as a medium for notation. He is currently studying for a PhD in composition at Bath Spa University with James Saunders as main supervisor and Matthew Shlomowitz as external supervisor. His chapter 'Colourful Interactions: composers, theatrical scores, and music as performance' was published inCollaborative and Distributed Processes in Contemporary Music-Making,ed. Lauren Redhead and Richard Glover(Cambridge Scholars Press, October 2018).