Thursday 28 September 4.30–6pm
To mark the opening of First Hand, two contributors to the exhibition, artist Mark Titmarsh and philosopher Sacha Golob (Centre for Philosophy and Art, King's College London) will discuss the figure of the artist-philosopher. Titmarsh will lead an overview on the history of the relationship between art and philosophy, taking in philosophers who include art in their writing or were significantly changed by their encounter with art, and artists who embed philosophical thinking within their artwork, as well as an examination of artists who write from Robert Smithson to Hito Steyerl. The talk will also introduce the practice of the /origin\forward/slash\ group, of which both speakers are members, and how it is situated within this context.  
Followed by exhibition opening and drinks reception 6–8pm
Free event, limited capacity, please click here to book via eventbrite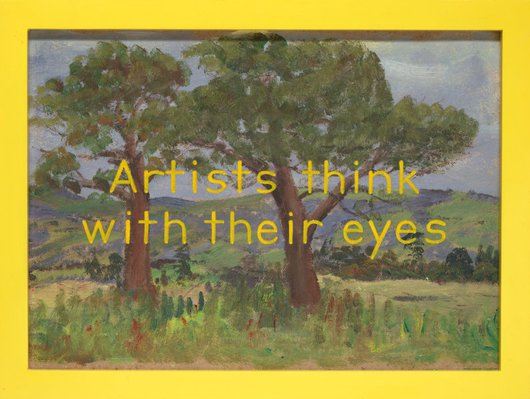 Biographies
Mark Titmarsh
Mark Titmarsh is a visual artist working in painting, video and writing. In Australia he was a significant contributor to the development of the postmodern debate in the visual arts in his role as co-editor of the Visual Arts magazine, 'On the Beach.' In the 1990s he co-founded the Sydney based artists group 'Art Hotline' that exhibited ephemeral works in non-gallery everyday sites. His book Expanded Painting was published by Bloomsbury in August 2017. Titmarsh is a lecturer in Design Studies at the University of Technology, Sydney (UTS) in Australia.
Sacha Golob
Sacha Golob is Professor of Philosophy at King's College London and Co-Director of the Centre for Philosophy and Art (CPA). He has published extensively on modern French and German Philosophy and the Philosophy of Art. His current research explores moral progress and decline. www.sachagolob.com
The Centre for Philosophy and Art
The Centre for Philosophy and Art is a major multi-disciplinary initiative based at King's College London.  Its aim is to bring together academics, artists, curators and gallerists to explore the connections between philosophy, theory and the arts. They do this through Film, Podcasts, Interviews and Live Events.  The Centre is committed to developing ongoing collaborations between artists and philosophers, and to exploring the way in which the format of such collaborations alters or deepens the interplay between the two approaches.