Thursday 23 March 4pm GMT, 6pm CAT
Flat Time House (FTHo) and Wayi Wayi Art Studio and Gallery, are hosting an online 'Incidental Mpala' to discuss how a greater platform for Zambian art can support both social change and a greater awareness of sustainable ways of working.
Online event with introductions by Gareth Bell-Jones, Agness Buya and Yande Yombwe. Presentation by Dr. Andrew Mulenga and conversation with artists Benjamin Mibenge, Mulenga Mulenga Jestina and Edith Sampa Chiliboy.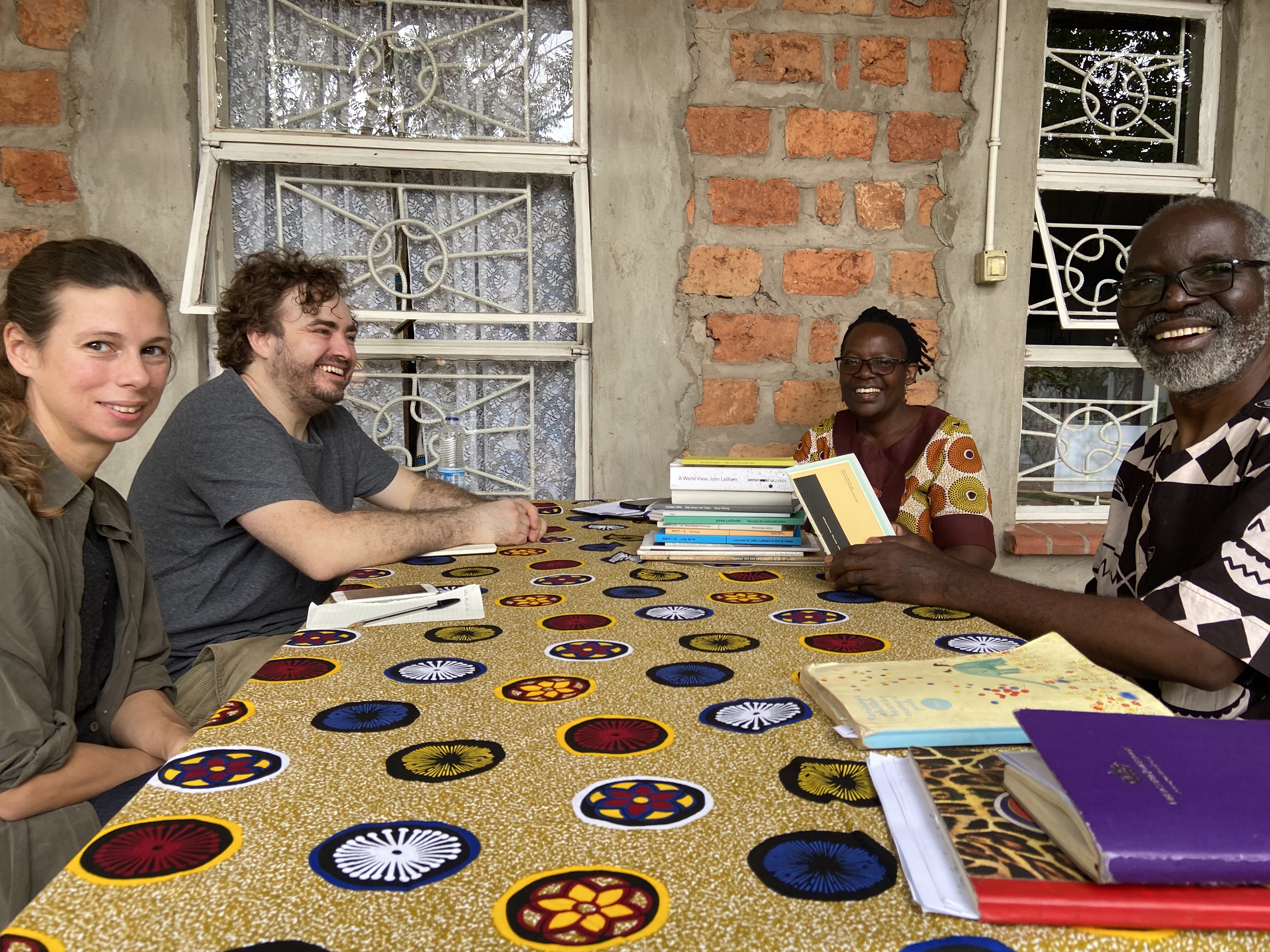 Flat Time House was the studio home of one of the most significant and influential British post-war artists, John Latham, who was born in Livingstone, Zambia in 1921. It is this coincidence of birth that has led to a collaboration between FTHo and Wayi Wayi Art Studio and Gallery, based in Livingstone and founded by artist couple Agness Buya and Lawrence Yombwe. Incidental Mpala has been programmed in collaboration and derives from a British Council funded research visit from FTHo to Zambia to support direct exchange between artists in the UK and Zambia. For this event a series of short presentations and conversations will be followed by questions from those in attendance.
The event will include an Introduction by Dr. Andrew Mulenga, Deputy Vice Chancellor at the Zambian Open University for the Creative Arts in Lusaka who will situate a distinctively Zambian approach to art making and the emergence of Zambian conceptualism, before meeting with artists Benjamin Mibenge, Mulenga Mulenga Jestina and Edith Sampa Chiliboy to discuss their practices. We invite attendees to join the discussion on the subject both in Zambia, the UK and internationally. 
A 'mpala' is a tumbuka word for village central point. As well as indicating a place for dialogue and community discussion, the term also suggests a passing on of knowledge between generations. John Latham coined the phrase "incidental person" for an artist who engages in wider contexts such as industry, politics and education and is "a resource and an instrument of change". By bringing together the two terms Wayi Wayi and FTHo suggest an equal and open dialogue on the role of the artist in future societies, as well as an openness to inter-generational artistic dialogue ­– key touchstones for each organisation.
Flat Time House and Wayiwayi Art Studio will be posting updates on this project on our social media, please follow our Instagram and Facebook pages @flattimeho and @wayiwayi_art_studio for more information about the project.
The Speakers
Dr. Andrew Mulenga is a Zambian Art Historian and the Deputy Vice Chancellor at Open Window University for Creative Arts. He has research interests in Modern and Contemporary Zambian art, Comparative Modernities, African Futurism and the Geopolitics of Knowledge. He is also an award-winning Arts and Culture columnist (2012 CNN African Journalist of the year Arts & Culture) whose focus is documenting the contemporary art scene of his home country Zambia. He currently publishes "Mulling over Art with Andrew Mulenga", a weekly art column in The Mast Newspaper (Zambia) and formerly published a similar column in The Post Newspaper (Zambia) from 2003 to 2016. Mulenga holds a PhD in Art History at Rhodes University in South Africa.
Edith Sampa Chiliboy (b.1993) is a Zambian photographer that specializes in fine art contemporary photography. She believes photography is a journey in which she not only gets to explore and understand the elements of the environments she lives in, but also a chance to explore her own existence and the role she plays in the in order to make a meaningful contribution to the current times she's existing in. She has contributed to various projects including 'Stories of Kalingalinga', photo covid19 Zambia hosted by the Zambian Visual Arts Council in collaboration with the Anglia Ruskin University of Cambridge, 'Fabricated Stories' by the Museum of Women's History and a fellowship with the Affects and Colonialism Weblab, Freie Universitat Berlin.
Mulenga J. Mulenga (b.1987) works in painting, sculpture, photography, installation and performance. Her work focuses on self, selfhood and origin by revisiting and reimagining old and new narratives that connect themes of gender and female ethnic discourse. She has exhibited widely internationally including at the Biennale of Contemporary Art of Seychelles 2017 and at the Dak'Art Biennale, Senegal 2018. She was awarded the most outstanding female Visual Artist National Ngoma Awards in 2019 and 2022 and was an artist-in residence at Gasworks studios, London, UK also in 2019.
Benjamin Mibenge (b. 1945) is an artist and environmental activist who has dedicated his life to tree planting. His graphic artwork combine social issues with the environmental, examining the role of humankind on the planet. Since 1986 Mibenge has received 6 awards as an Activist from local and International organisations. In 2019 was appointed by the Zambian Government as Ambassador for Forestry and Nature Conservation for Southern Province in Zambia. He is decades-long member of the Wildlife and Environment Conservation Society of Zambia and National Heritage Conservation Commission and a long-time volunteer in Mosi-o-Tunya National Park. In those roles, and for five years as director of trees for Greenpop Zambia, Mibenge taught everyone from school children to the Zambian president about the importance of trees. Students dubbed him "Uncle Ben" more than 30 years ago. Most of his art integrates what he describes as traditional conservation methods with other works describing a multitude of environmental issues. He hopes to continue illustrating the many aspects of climate change in his continued drawings. 
About
Wayi Wayi is a family run artist studio and gallery based in Livingstone specializing in Zambian art, crafts, design and community engagement. Wayi Wayi showcases historic mbusa cultural traditions, offers classes by appointment for people of all ages, apprenticeship and residency opportunities for emerging and established artists locally and internationally with an emphasis in women and youth empowerment programming through skills-training in the visual arts. Wayi Wayi is run by artist couple Agness Buya and Lawrence Yombwe together with their children Sunga, Yande and Kangwa who are all trained art teachers. Agness Buya and Lawrence Yombwe are among Zambia's most award winning artists.
Wayi Wayi's location, Livingstone, home of the Victoria Falls, a major tourist destination, poses questions of how artistic creativity can be environmentally sustainable in a tourist economy. In addition, Livingstone's short distance from Zimbabwe, Botswana and Namibia, as well as close dialogue with Mozambique, Angola and South Africa, places it at an intersection of regional discourse. 
Incidental Mpala
The research project between Wayi Wayi and Flat Time House was developed in dialogue with the artist Anne Bean, also born in Livingstone, who decided to travel to spend several weeks in the town, to make sure she would be there on John Latham's 100th anniversary. Through a series of connections, Anne met the artist, Agness Yombwe, one of Zambia's most eminent contemporary artists, and discussed the many expansive ways that artists can engage with society.

This project is supported by the British Council Cultural Exchange programme, which supports cultural organisations, festivals, artists, and creatives between the countries of Sub-Saharan Africa and the UK to create art, build networks, collaborate and develop markets and share artists' work with audiences.