A rare lecture recording and two films by John Latham form the starting point for three conversations around the themes Not Knowing, Flat Time (House), and the Artist Placement Group/the artist as Incidental Person by invited artists, writers and curators including Gill Addison, Gareth Bell-Jones, Paul Clinton, Katherine Jackson, William Kherbek and Jo Melvin.

Chelsea College of Arts Banqueting Hall
16 John Islip Street, SW1P 4JU London, United Kingdom

Free, all welcome, no need to book.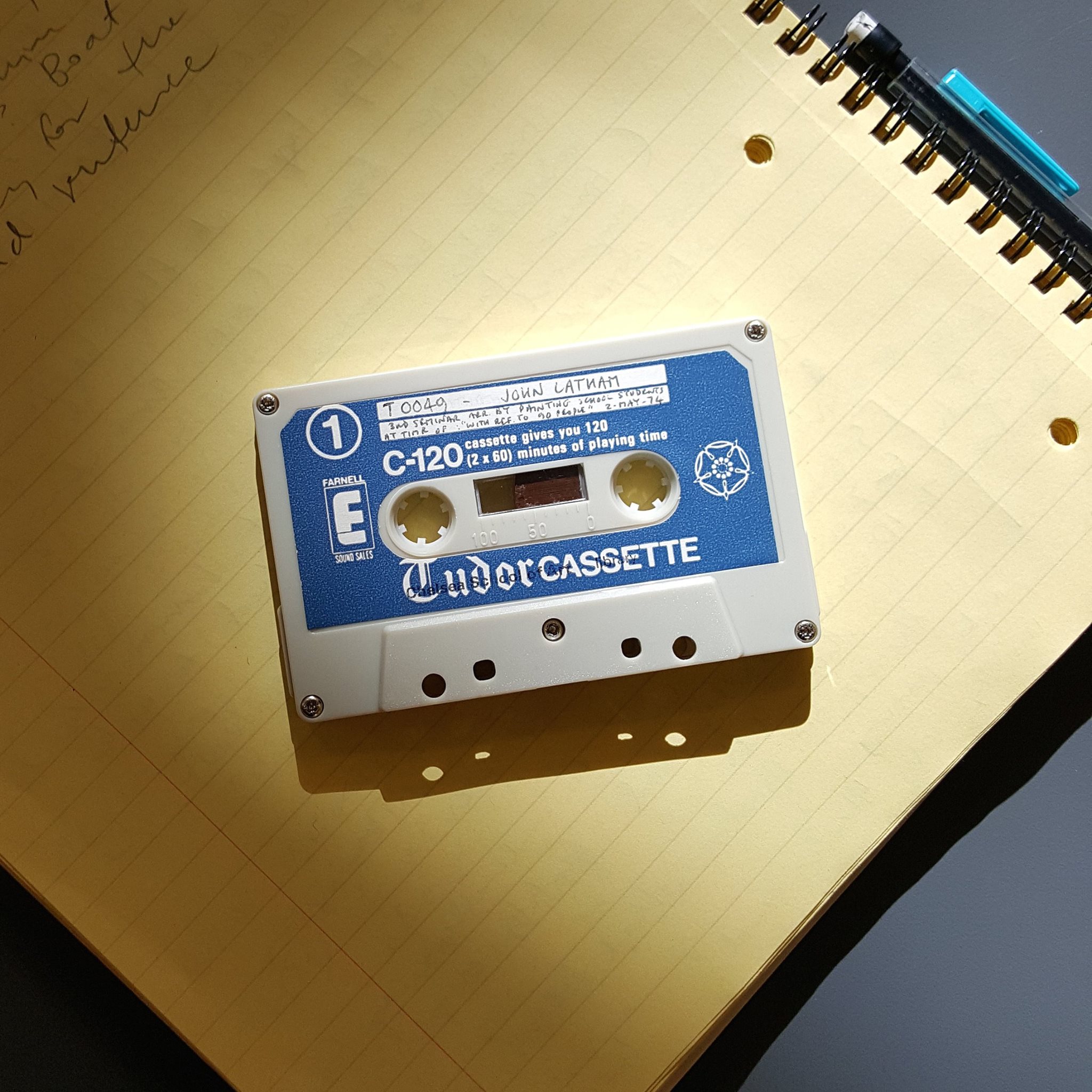 Gill Addison is an artist and academic based in London. Her recent projects negotiated 'how' and 'where' research manifest as an activity, event, and material within artist film and video practices and histories.

Gareth Bell-Jones is a curator and writer, currently curator/director of Flat Time House. From 2010-14 he was a curator at Wysing Arts Centre, Cambridge and a regular visiting tutor to the RCA, Curating Contemporary Art Department.

Paul Clinton is a writer based in London. He is associate editor of frieze and Frieze Masters Magazine. In 2015 he co-curated the exhibition 'duh? Art & Stupidity' at Focal Point Gallery, Southend-on-Sea.

Katherine Jackson is a PhD candidate at the University of British Columbia and currently a visiting researcher at the Slade School of Fine Art. Her dissertation research focuses on the Artist Placement Group and John Latham in 1970s UK. She has worked as Flat Time House's archive and research specialist since 2015. 

William Kherbek is the writer of the novels Ecology of Secrets and ULTRALIFE (Arcadia Missa, 2013/2016) and the epic poem, Pull Factor (2016). The video-poem collection Ephemera was posted work by work to Youtube in 2014. His essay "Technofeudalism and the Tragedy of the Commons" (2016) appeared in the first issue of Doggerland's journal, and he has contributed essays to the "Intersubjectivity" series from Sternberg Press. 

Jo Melvin is a Reader in Fine Art, Archives and Special Collections at Chelsea College of Arts. Her curatorial projects include an ongoing collaboration with the performance collective JocJonJosh and 'Five Issues of Studio International' at Raven Row. Recent writing includes the essays "The Xerox Book" for Paula Cooper Gallery (New York) and "British Art and Conceptualism 1966-1979" for Tate Britain.

Emma Gradin is an independent curator and research student at Chelsea College of Arts developing and deploying curatorial strategies founded on extended states of not-knowing and creative suspension in the current context of time-shortness and accelerated productivity/consumption. 

This Has NOT Been Cancelled is made possible by the UAL: Camberwell, Chelsea, Wimbledon Graduate School Student Initiative Fund.