14 March 2023 6.30pm Gameplay starts 7pm
The board game Art & My Career created by Belgian-Spanish artist Olivia Hernaïz approaches the under-representation of women and gender minorities in the contemporary art world. This is a special opportunity for players of any gender to play the game and discuss the ideas within it in a mediation session with Hernaïz and specially invited arts professionals, artists and academics.
Olivia Hernaïz: 'Since the beginning of my career, I faced many challenges related to my status as a female artist. I therefore conceived a game that depicts different careers in the art world in the West. The structure of the game is inspired by the game "Career", made in the fifties by the American sociologist James Cooke Brown. The content of the game was made on the basis of hundreds of confidential testimonies of female and male players in the art world.'
From artist to curator, including professor, gallerist, art educator, art historian and museum director, the participants are invited to put themselves in their shoes in order to better understand their work conditions and their struggle. The playful form of the game makes it possible to subtly approach this sensitive subject. The game sessions aim to open the dialogue and allow participants to express their opinions, share their gaming experience and, if appropriate, reflect on their personal stories.
Very limited places, to book a place click here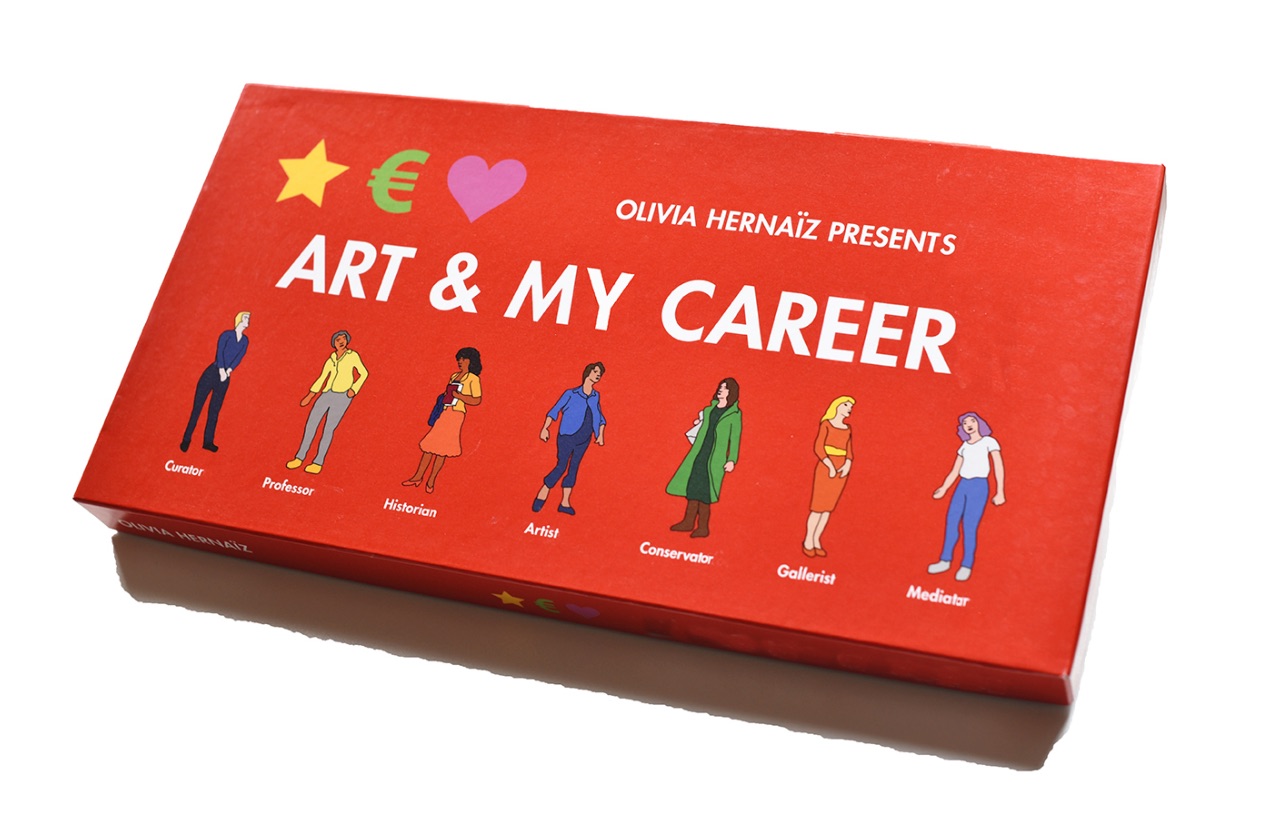 Art & My Career has been included in mediation sessions and exhibitions in many major art institutions and art schools across Europe. The first copy of the game is in the KANAL Pompidou Library Collection, Paris.
Olivia Hernaïz is a Belgian-Spanish artist born in 1985. She first studied law in Belgium and Argentina. While practicing as a copyright lawyer, she completed a BFA at La Cambre, ENSAV in Brussels. In 2016, she obtained an MFA at Goldsmiths University of London. In 2022, she was a laureate from the two-years postgraduate HISK programme in Gent, Belgium. In 2017, Hernaïz won the first prize of Art Contest, a leading Belgian competition supported by the Boghossian Foundation. Consequently, she had her first solo show in the Museum of Ixelles in Brussels, entitled As Long As The Sun Follows Its Course.
In 2019, she was chosen by the Belgian Ministry of Culture (WBI) to be the visual artist in residence at La Cité Internationale des Arts in Paris. In 2018, she was the recipient of a fully funded residency at Can Serrat near Barcelona. In winter 2019, she joined the residency The Power of Sound at Guest Projects, a space founded by Yinka Shonibare Studio in London.
Her installations have been featured in multiple exhibitions around the world, most recently '(un)common values', NBB, Brussels (2022), 'Various Positions', HISK, Brussels (2021), 'Savoir Faire', ISELP, Brussels (2021), 'Beste Kunstwereld', Lichtekooi art space, Antwerp (2021), 'To Thomas', YGREC, Paris (2020), 'All About You', The Koppel Project Hive, London (2019), 'Push Your Luck', Island, Brussels (2019), 'Abracadabra', Moscow International Biennale For Young Art, Moscow (2018); 'Le Consulat', Collectionair, Lisbon (2018), 'Les Flâneuses', Art Night London (2018) and 'The Gathering', Panthera Today, Brussels (2018). In 2021, she had her second solo show at Mu.ZEE in Ostend, entitled La Eterna Juventud. Her works are part of public and museum collections such as Mu.ZEE in Ostend, M Leuven, the National Bank of Belgium and KANAL Pompidou Library.