18 June–2 July 2020 OPENS ONLINE 18 June 5–7pm
Over the past term students on the BA (Hons) Design for Art Direction course at London College of Communication have been engaged in research about work in relation to the legacies of Flat Time House, John Latham and the Artist Placement Group (APG). Works included in this online exhibition consider various questions surrounding labour conditions such as feminised labour, disembodied communication, social exclusion and the overproduction of content.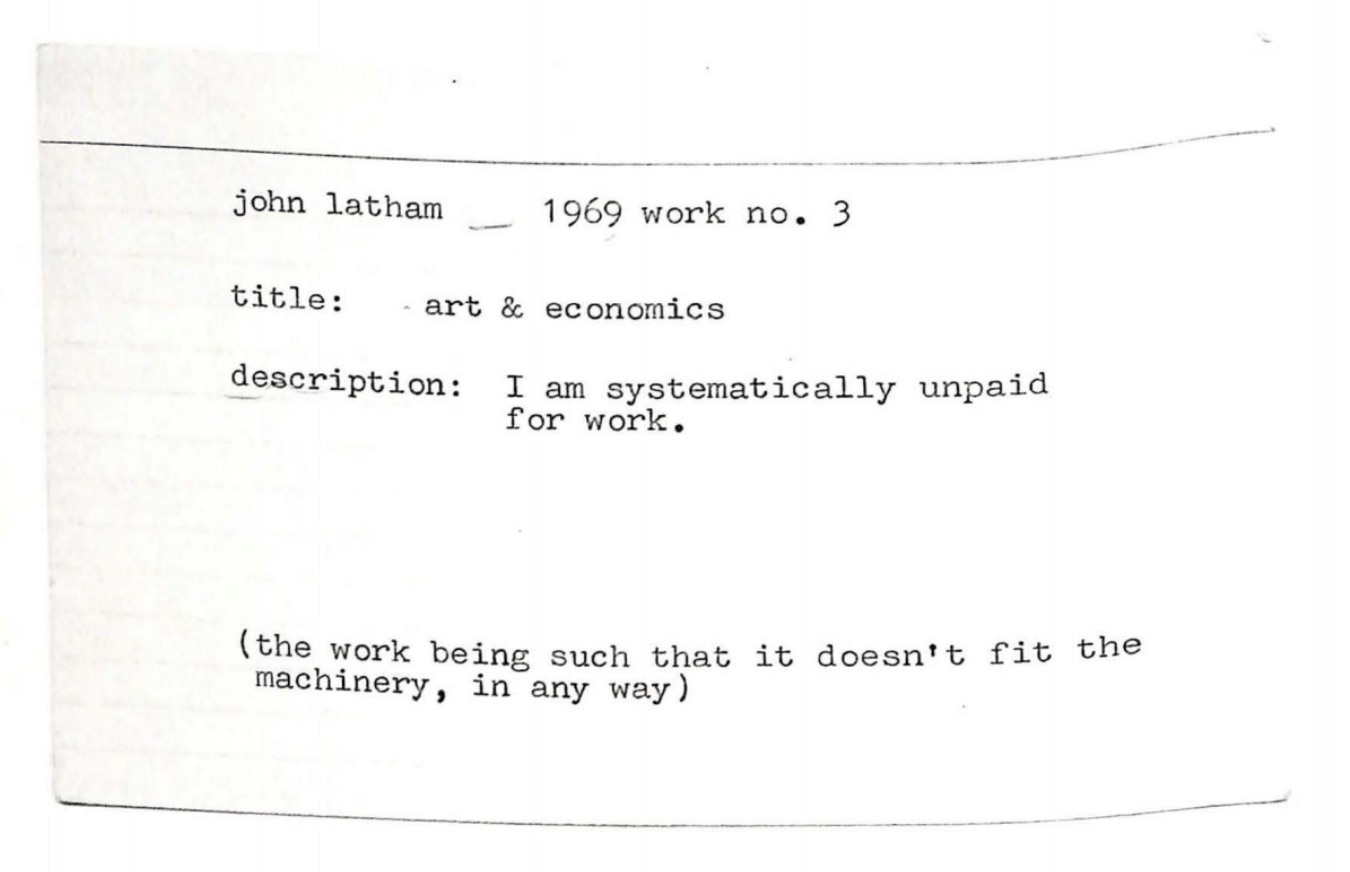 The APG re-situated the artist's value from the art world into the structures of industrial workplaces. The experimental and interactive approaches of the APG have informed our collective research into an exhibition structured within the space of Google Sheets. The artist Hito Steyerl defines labour as a process containing a 'beginning, a producer, and eventually a result'.* In transferring labour online, this process becomes disembodied as it 'produces a subject by means of alienation'.*
The exhibition repurposes a Google spreadsheet, asking it to act as the host to an online exhibition of audio works within a schema representing the floor plan of FTHo. Each room engages the specifics of John Latham's original interpretation of the FTHo domestic space: Mind, Brain, Body, Hand and Face.
The sudden shift to the internet as a host for all of our work and social interactions occurring due to the COVID-19 pandemic has amplified the pitfalls and potentials of online collaborative spaces. The identification with Google's software transforms into an uncertainty about where this relationship is going. Where are we going Google?
* Steyerl, H. (2011) Art as Occupation: Claims for an Autonomy of Life. Available at: https://www.e-flux.com/journal/30/68140/art-as-occupation-claims-for-an-autonomy-of-life/ (Accessed: 1 June 2020).  Ibid
Archive Material Series
As parallel programming to the Overpresent exhibition, Maria Lissoni and Chiara Petru have produced the Archive Material Series. This archive works as both an extension of and a prelude to the programmed talks with Tyler Coburn, Anita Israel and Smita Tharoor. Using a series of keywords drawn from the talks, their research method is based on a process of context analysis and support function. Here, context analysis is related to the means of production, distribution and display, and support function considers how the material underwrites and nuances the recurring themes of the upcoming conversations. For each established keyword, two archival resources have been selected and framed through a rubric of opposition and affiliation.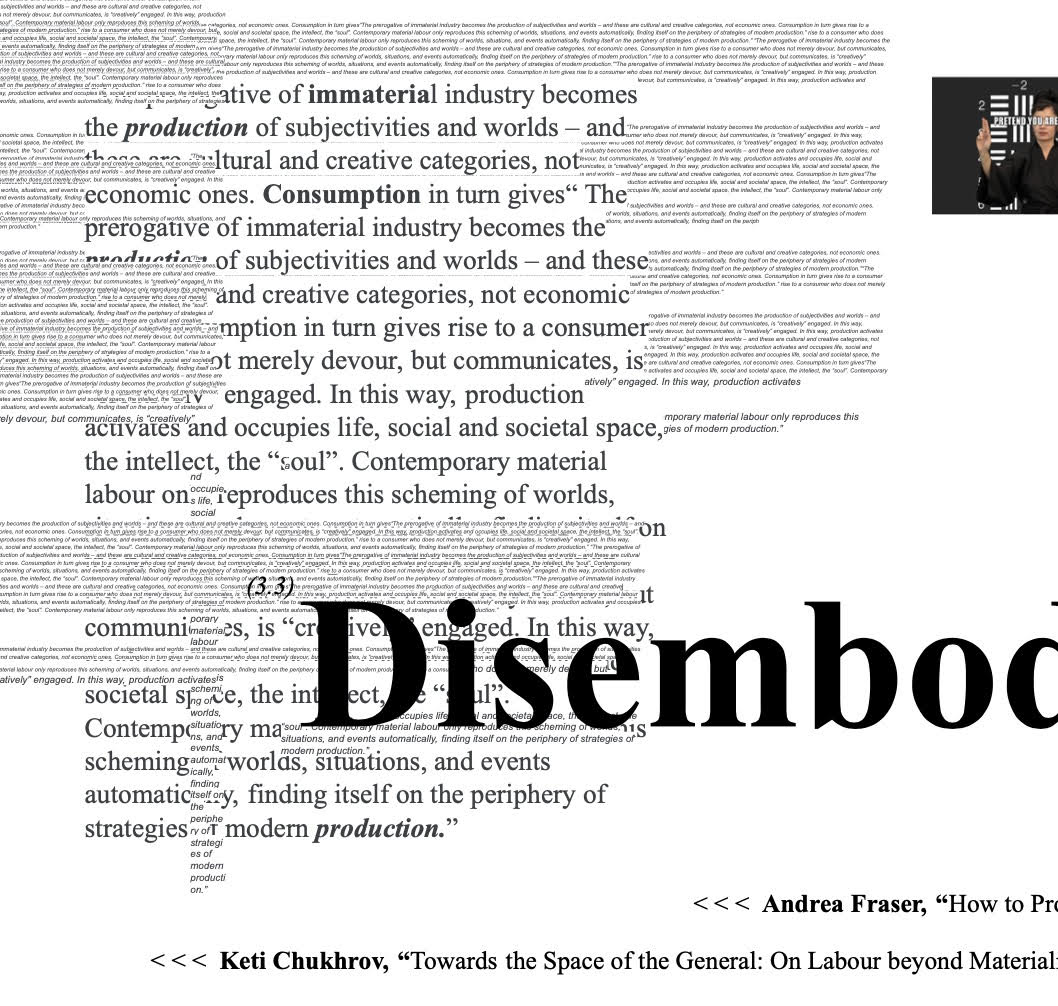 Event Programme
Friday 19 June
12pm - 1pm Anita Israel & Smita Tharoor in conversation
Anita Israel and Smita Tharoor will discuss the UCU industrial action that took place across UK universities in February and March 2020, and the role of unconscious bias within institutions. What can be learned from the recent industrial action, and what must be done in higher education institutions to address structural injustices?
Event takes place via Zoom. To Join click here. Meeting ID: 944 4295 5605
4pm - 5pm Tyler Coburn in conversation with Rebecca Stringer & Agata Slomka chaired by Adam Gibbons
Artist Tyler Coburn will discuss his work 'I'm that angel' (2011-ongoing) with the organisers of this exhibition Rebecca Stringer and Agata Slomka. I'm that angel reflects on cloud computing through a fictional character - the 'content farmer' - and his increasing anxiety as he finds himself identifying and merging with the data server he feeds. A similar unease is apparent in the exhibition Overpresent, in works addressing the impact of digital systems on material and immaterial labour. Coburn's character asks 'Do you love Nietzsche as much as me and are you available to work 11am to 7pm on a daily basis?'
To download a pdf of 'I'm that angel' click here.
Event takes place via Zoom. To Join click here.
 
Meeting ID: 939 6849 8560
Thursday 2 July 
3–4pm Overpresent Publication Launch
Please join BA (Hons) Design for Art Direction for a public event to mark the end of the exhibition where they will be presenting a publication to accompany the show. Available as a working document in Google Slides, the publication presents a provisional compendium of research expanding on keywords drawn from the exhibition's public programme which featured Tyler Coburn, Smita Tharoor and Anita Israel. A conversation will explore the possibilities of the Overpresent publication, an ongoing online collaborative research space.
Event takes place via Zoom. To Join click here. Meeting ID: 728 2651 4774
Biographies

Anita Israel is the Education Officer with Arts Students' Union at UAL.
Smita Tharoor is a coach, speaker, broadcaster, and recipient of the Global Diversity Leadership Award. She has delivered workshops around unconscious bias in many institutional settings including on the BA (Hons) Design for Art Direction course.
Tyler Coburn is an artist and writer based in New York. He has presented work at Centre Pompidou, Paris; The Whitney Museum of American Art, New York; Bergen Konsthall; Kunsthalle Wien; Hayward Gallery, London; Para Site, Hong Kong; and Art Sonje Center, Seoul. Coburn is the author of three books: I'm that angel (2012); Robots Building Robots (2013), published by the Center for Contemporary Arts Glasgow; and Richard Roe (2019), published by Sternberg Press.
Agata Slomka and Rebecca Stringer are students of BA (Hons) Design for Art Direction at London College of Communication. They have been working collaboratively on curating Overpresent, connecting their interests in designing digital experiences, art direction and activism.
Adam Gibbons is an artist, writer, lecturer and together with Eva Wilson, is co-commissioning editor of the publication " ", an ongoing series of books around art, publishing and dissemination. He is a founding member of the artist group Am Nuden Da, who have been exhibiting internationally since 2008. In 2019 Gibbons completed a book with Tyler Coburn for the series " " published by NERO, Rome. Gibbons is a lecturer at London College of Communication on BA (Hons) Design for Art Direction.
Curators: Agata Slomka and Rebecca Stringer. With support from Adam Gibbons and Oisin Byrne
Assistant Curators: Chiara Petru and Maria Lissoni
Thank you: Gareth Bell-Jones, Jeremy Hutchison, Tara Langford, Mary Vettise, Graphic
Design: Alice Whittick and Emma Bouraba
Sound Mixing: Sam Scott
Archive: Chiara PetruMaria Lissoni
Activism Editor: Tarek Tahseen
BA (Hons) Design for Art Direction is a unique course that explores the practical, conceptual and communications skills related to design and art direction. The course is about practice, but it also prioritises critical and reflective approaches to visual culture and broader social, economic, political and environmental contexts.