28 September–28 October 2012
Anna Barham, Julika Gittner, Heather Phillipson with work by Bob Cobbing. This exhibition takes experimentation with phonetics as a starting point, addressing the abstraction of language through the physicality of sound itself. Curated by Bridget Crone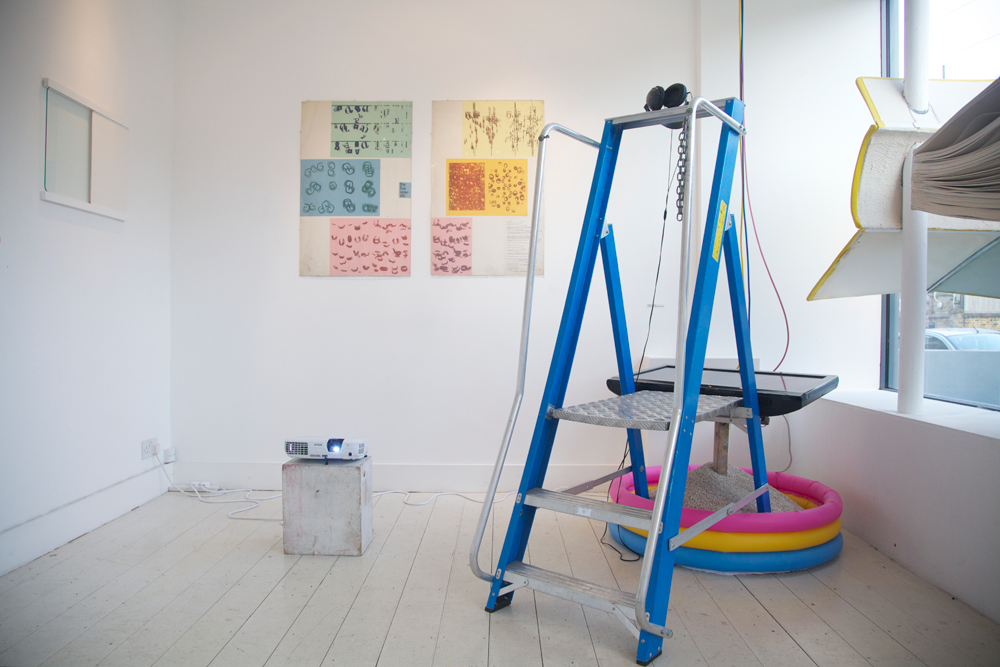 Alliteration, tonal patterning, feedback, distortion, stretched and reshaped vocalizations are explored through work by London based artists, Anna Barham, Julika Gittner and Heather Phillipson alongside a selection of the poet, Bob Cobbing's photocopier works. 

Cobbing was a prolific poet, publisher and cultural organiser, who worked for more than fifty years writing and then performing his visual poetry, as well as facilitating the work of others through the activities of organisations such as, Hendon Arts Together / HAT (during the 1950s to early 60s), Better Books and the early days of the London Film Co-op (1960s), and the Writers Forum (for nearly 40 years). During the 1960s in particular, Cobbing and John Latham were peers, both moving in the circles of activity that revolved around Better Books.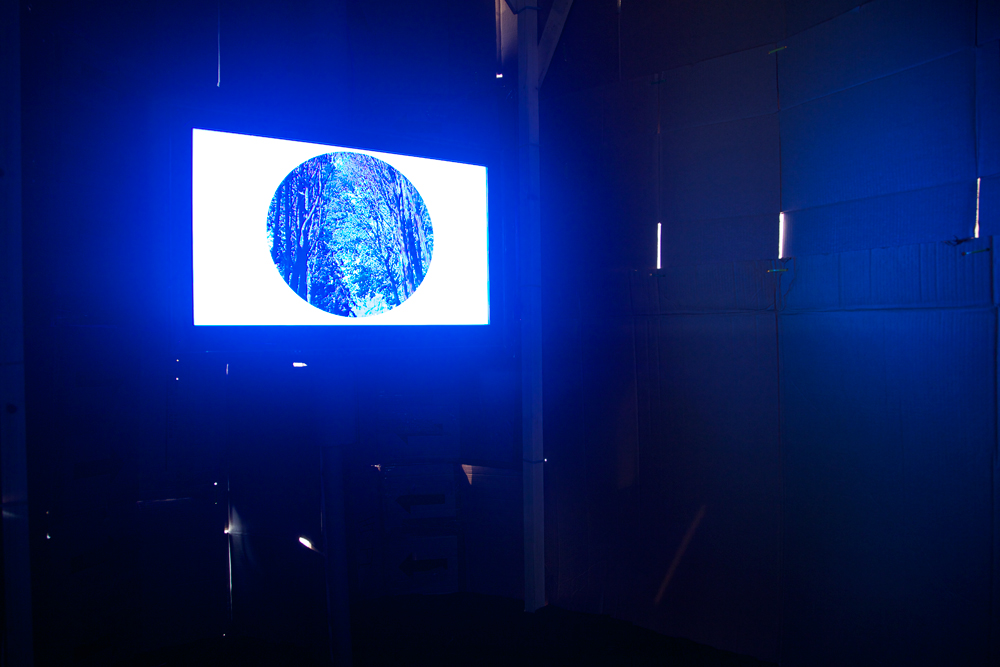 The work in EYE MUSIC FOR DANCING, displays an attitude and thinking of language in tandem with the body so that at times we are immersed in its physical display, such as in the case the of Julika Gittner's soft form sculptures, or in an expanded image-field as is the case in Anna Barham's remaking of her work, Slick Flection (2009). Heather Phillipson's trio of video works takes on John Latham's own mapping of Flat Time House as a body, and she responds to the various areas of the house by literally moving into the body through the series of works that take us into the head, the torso and finally perhaps the whole body is immersed.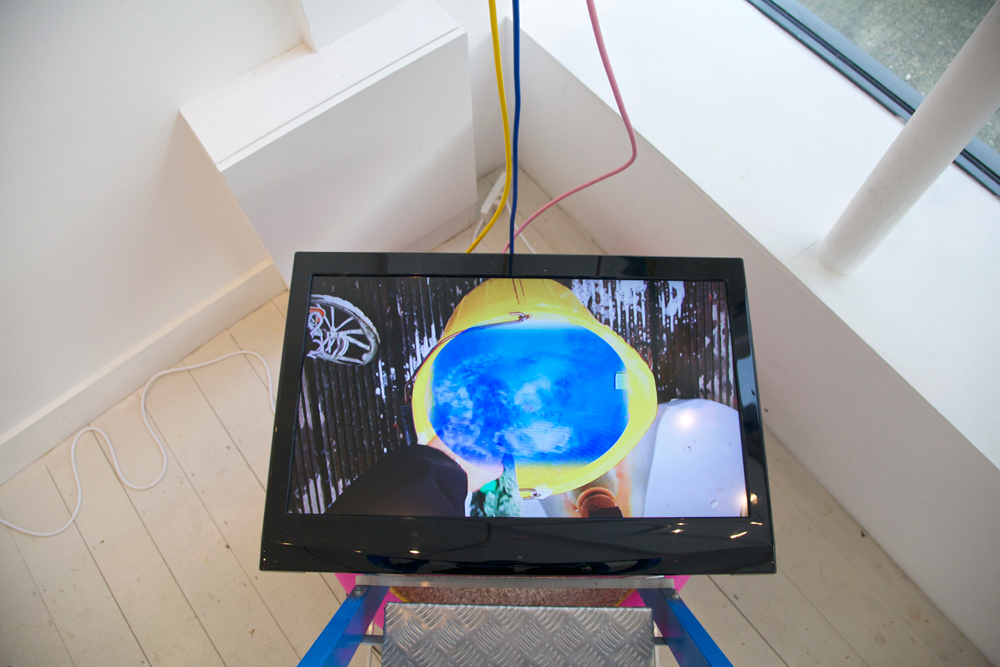 EYE MUSIC FOR DANCING thinks through Cobbing's work as both a siphon and a method for an exhibition. Responding to Cobbing's description of his process of working with the photocopier (and prior to that his Gestetner duplicator) as a form of dance, EYE MUSIC FOR DANCING focuses on the physical shape and movement of words as sound in performance. Or as the poet Robert Sheppard put it: "Shape as a new script for a fresh phonetics, momently discoverable."*

* Robert Sheppard, "Bob Cobbing: Sightings and Soundings" in Jacket magazine, no. 9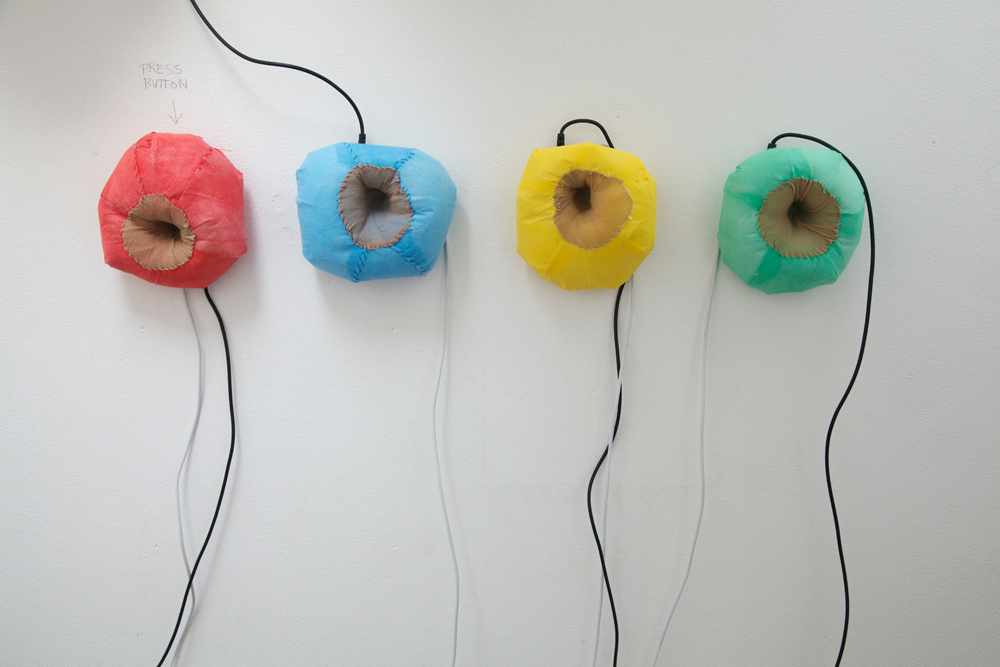 More information:

1. EYE MUSIC FOR DANCING is curated by Bridget Crone. Bridget Crone is a curator, writer and lecturer based in London. She has an ongoing interest in questions of staging, theatre and time in relation to performance and moving image work. Her book, The Sensible Stage: Staging and the Moving Image a
discussion of staging in relation to time and the event, including an interview with Alain Badiou is available now through Cornerhouse Books.

2. The exhibition title EYE MUSIC FOR DANCING refers to the poem, Music For Dancing (1972), which includes the lines: You do it with the whole of you, muscular movement, voice, lungs, limbs. Bodies join in song and movement. A ritual ensues."

3. Anna Barham is an artist based in London and exhibiting internationally. Her work will be shown in a solo presentation at the Frieze Art Fair (with Arcade), and in Revolver Part II at Matt's Gallery during October. Past exhibitions include solo shows at International Project Space, Birmingham, and a commission for Art on the Underground at White City Station. Group exhibitions include at the Drawing Room, London and MHKA, Antwerp.

4. Julika Gittner is an artist and architect. Her work has been exhibited across the UK and Europe as well as in China and including at Embassy Gallery, Edinburgh; Whitechapel Gallery, London and the Arnolfini, Bristol. She has held solo shows or performances at Banner Repeater, London; DADA Haus, Zürich and Paradise Row, London. Julika's curatorial collaborations include the recent exhibition, Westworld, at xero,kline,coma, London and All that Glitters is NOT Institution, Whitechapel Gallery, London.

5. Heather Phillipson is a London based artist who works with video, sound, text and live events. Heather's work and live performances have been shown in exhibitions including the London Open, Whitechapel Gallery, London; Space Release, CIRCA, Newcastle; Remote Control, ICA, London and Performance as Publishing, Kunsthalle Basel. Heather also participated in Pool: An Observer's Guide to the Garden Marathon (with Will Holder), Serpentine Gallery (2011), and A Dying Artist (curated by Ed Atkins and Sion Parkinson),ICA, London.

6. Bob Cobbing (1920-2002) was a prolific poet, publisher and cultural organiser. In the early 1950s, Cobbing set up a series of arts groups in Hendon including art, writing and film societies known as Hendon Arts Together. He later went on to become the manager of the infamous Better Books bookshop in Charing Cross Road where he was instrumental in setting up the London Film-Makers Coop. Cobbing established the Writers Forum in 1963, which continues as a publisher, workshop and network for writers today.

7. Bob Cobbing's work appears in EYE MUSIC FOR DANCING alongside new work made by the artists especially for the exhibition. In this way, Cobbing's work has provided a catalyst for conversations regarding the performance of text and voice in contemporary art practice alongside discussions of rhythm, repetition and ordering systems. Cobbing's visual poetry therefore acts not as a point of comparison that opens up questions of "now and then" but rather as a siphon, that is as a means to open up new questions about our work today and at the same time offering the opportunity to revisit (and perhaps "re-see") Cobbing's work along the way.