Saturday 9 & Sunday 10 August 12–6pm
Starting from a series of photographs of Bellenden Road taken by John Latham in 1986, this workshop will speculate about how urban space and environment is constructed, and what allegories and associations we can draw from it.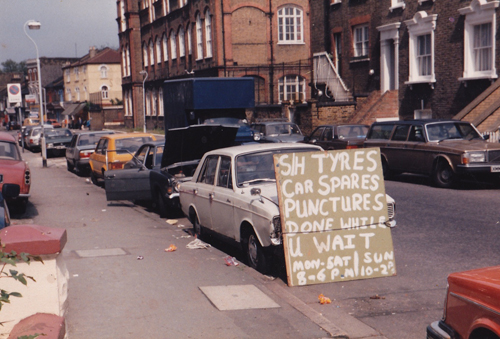 Over two days the group, accompanied by artist Sean Lynch, will discuss and diverge from this topic, taking several walks around the local area. Participants should bring a story to share about a public place they often think of or experience. It could be a fact, a rumour, an opinion or an action played out on the street. Photographs, notes and artefacts found are all welcome and Sean will share his own research with the group.
Over two days participants will knit together these threads into a collection of thoughts and ideas as a challenge to the ever-increasing privatisation of public space.
This event is free however booking is essential. Lunch will be provided.
Sean Lynch (b.1978, Ireland) lives in London and Askeaton, Limerick. He studied fine art at the Stadelschule, Frankfurt am Main. In recent years his artworks have been exhibited at the Camden Arts Centre, London, Irish Museum of Modern Art, Dublin, and Frankfurter Kunstverein, Frankfurt am Main, along with recent solo exhibitions at the Dublin City Gallery The Hugh Lane Gallery, Dublin and Modern Art Oxford. In 2015 he will represent Ireland at the Venice Biennale.